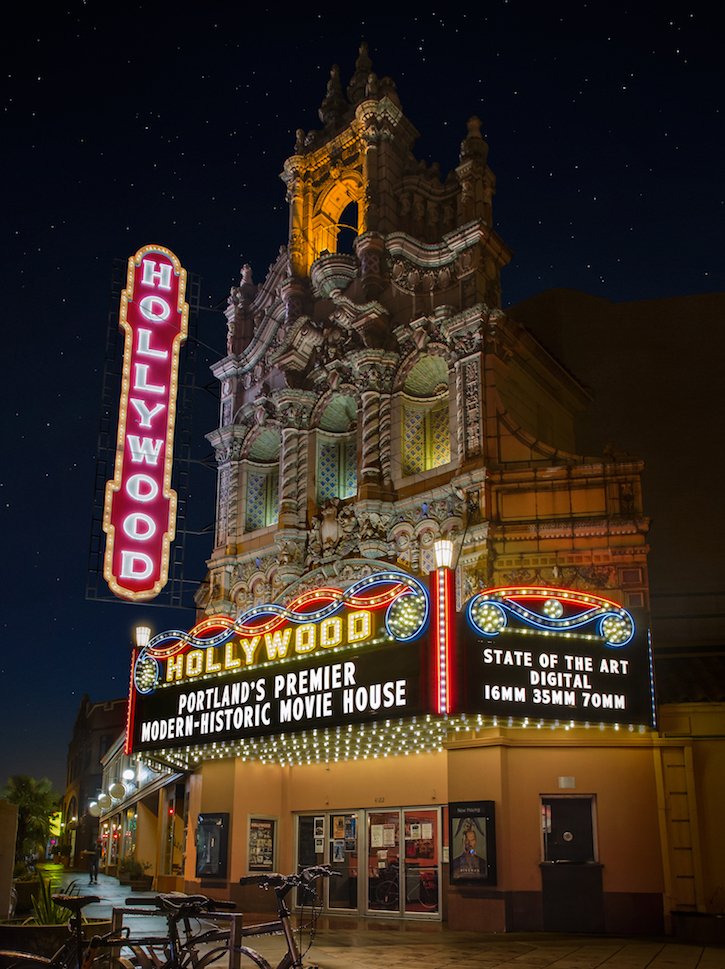 Image by Studio Jelly
The Hollywood Theatre at Portland International Airport is a free 17-seat free microcinema showcasing short films by Oregon filmmakers post-security in Concourse C. The program is updated quarterly. To submit your film for consideration, visit The Hollywood Theatre's Film Freeway festival page.
The mission of the Portland International Airport Art Program is to provide a portal into the dynamic cultural life of our region and provide a showcase for Northwest expression. Exhibits at PDX feature the best of our area's painters, sculptors, photographers, illustrators and other visual artists… but where would Oregon be without its filmmakers?
Oregon is home to renowned film festivals in Bend, Bandon, McMinnville and Portland. In 2016, Portland welcomed the fifth annual Northwest Animation Fest. Popular television show like Grimm, The Librarians, and Portlandia film here regularly, and the list of feature films created in Oregon is endless!
At PDX, we're embracing and celebrating film with the Hollywood Theatre at PDX in Concourse C bringing the diverse works of our regional filmmakers to the travelling public.
Films screened at the Hollywood Theatre at PDX are short-format programs on a looping reel. That means passengers can stop, relax to enjoy a short film or two and then move along to catch their flights. The sad news? The theater is located post-security, accessible only to ticketed passengers. The good news? It's free.
The microcinema serves the Portland International Airport's 16 million annual visitors. Ticketed passengers can drop in free of charge to watch films while waiting for their flights. The Hollywood Theatre at PDX features wonderful short films by Oregon filmmakers.
Current Program:
THAT FIRST CRUSH, Josh Lunden:  A cinema-obsessed young woman attempts to live out a scene from her favorite film.
ANIMATING LIFE: Behind the scenes of innovative Portland area-based animation studio LAIKA, the production house behind CORALINE, PARANORMAN, and KUBO AND THE TWO STRINGS. See more at Portland Art Museum's exhibit "Animating Life: The Art, Science, and Wonder of LAIKA."
YOUR VOICE ON THE RADIO, Dave Depper (featuring Laura Gibson): A collaboration between two longtime friends and mainstays of Portland music, Dave Depper and Laura Gibson. The track can be found on Depper's acclaimed 2017 record EMOTIONAL FREEDOM TECHNIQUE.
VELO HOOT, Mary Lai: A diurnal fuzzy owl and his bicycle has a grand day planned for the apple of his eye. Unfortunately, these plans are dashed! Or are they?
FOULWEATHER TRAWL, David Baker/Oregon State University: Sarah Skamser of Foulweather Trawl provides fishermen with their most essential and handcrafted equipment: their nets. But hers are designed with sustainability and ocean health in mind.
NINA, music by Reyna Tropical, music video by Karina Ripper & Marc Ripper: This debut music video melds urban and tropical locales and creatures in a hypnotic dance of sunlight, nightlife, palm leaves, and percussion. Reyna Tropical is Fabi Reyna (guitarist and founder/editor-in-chief of She Shreds) and Sumohair (DJ/Producer), both Mexican expats based in Portland and Los Angeles.
MAGIC WHEELCHAIRS, Great Big Story:  Magic Wheelchair is a global non-profit organization that creates custom wheelchair costumes for kids. In addition to bringing joy to the costumed kids and their families, these designs can act as a "cure for the day" by liberating kids from the stigma so often attached to wheelchairs.
A DAY, Quincy Woo:  Born out of a hope that the experience of peace can contribute to a long-lasting peace. Born out of a belief in the power of cultural exchange. Born out of a belief in the excellence of craft. The Portland Japanese Garden is a place to discard worldly thoughts and see oneself as a small but integral part of the universe.
THE KID, Jeff Wingrad: Music draws a boy into a strange dream world where his life becomes a metaphor for the challenges of his impending adulthood. Accompanied by friends and foes and those he can't tell apart, he is led back to where he started with a new sense of self.
IF THESE WALLS COULD TALK, Vika Haiboniuk: A story about Portland murals: a publicly accessible art gallery for those who stop to notice. It is about dedicated people who work on evolving public spaces into places that invoke emotional attachment, about artists who bring a little unusual to the mundane, and about a person whose life looks nothing like theirs, but whose soul has benefited from what they do.
THE BEAST FROM A BAZILLION FATHOMS, Patrick Neary: Follow along as an ill-tempered sea monster bent on world destruction achieves one small victory during his ferocious rampage.
THE NUMBERS, Sika Stanton & Donovan Smith: As Portland's urban core has gentrified, thousands of residents have been displaced to neighborhoods east of 82nd Avenue, an area that locals call "The Numbers." In this video, young people living in The Numbers talk about their hopes and concerns for their community. This film was commissioned by Oregon Humanities for the This Land multimedia project and was made possible by a Creative Heights grant from the Oregon Community Foundation.
PORTLAND'S GODFATHER OF SOUL, Great Big Story: Over the course of his 40 years as an R&B musician, Ural Thomas has shared the stage with the likes of Mick Jagger, Otis Redding and James Brown. But instead of taking his talents to New York or Los Angeles, Thomas stayed true to his native Portland, Oregon, becoming a legendary figure within the city's blues scene.
Watch the current films online here: Now Playing.
_________________________________________________________________________________________________
The Hollywood Theatre @PDX project is made possible through the generous partnership of the Port of Portland, ZGF Architects, Potestio Studio, PAE, KPFF, Triad Speakers, Erskine Group, Planar/Leyard, Joel Hamberg Painting, Sherwin-Williams, Rejuvenation, Blue Chalk, and Security Signs, as well as the funding support of Travel Oregon, the Fred W. Fields Fund of the Oregon Community Foundation, the Oregon Arts Commission's Arts Build Communities program, the Oregon Cultural Trust, and the Calligram Foundation.
Hollywood Theatre at PDX is now accepting film submissions! For submission details, follow this link. Please direct all questions regarding submissions to Hollywood Theatre at (503) 493-1128.
Read more about the Hollywood partnership in the March 23rd edition of the Portland Tribune and also in OPB's February 2nd broadcast on State of Wonder.