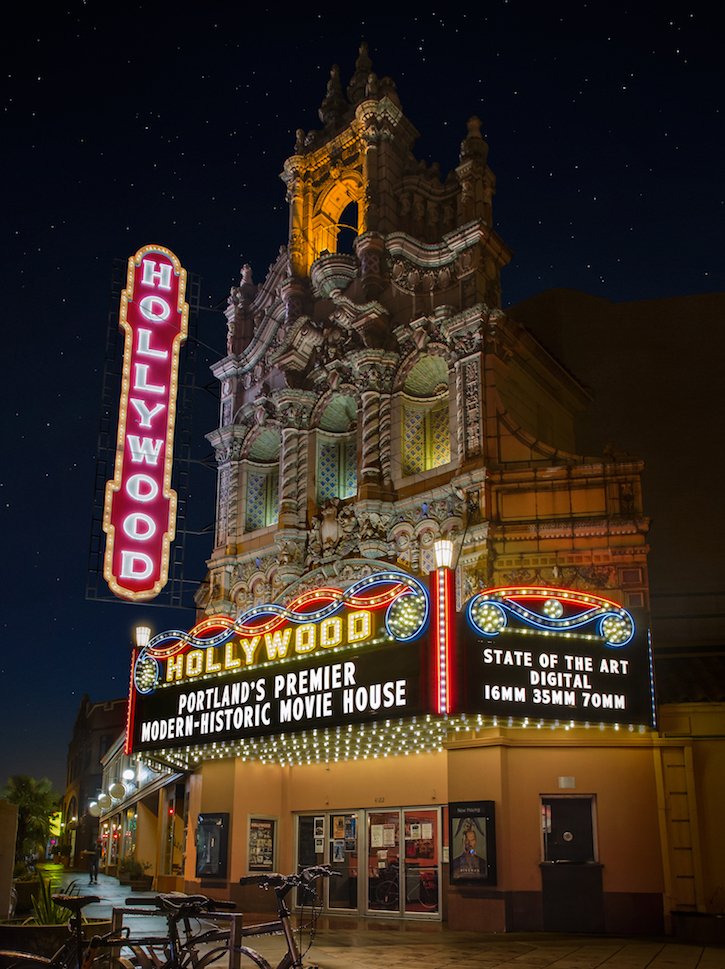 Image by Studio Jelly
The Hollywood Theatre at Portland International Airport is a free 17-seat free microcinema showcasing short films by Oregon filmmakers post-security in Concourse C. The program is updated quarterly. To submit your film for consideration, visit The Hollywood Theatre's Film Freeway festival page.
The mission of the Portland International Airport Art Program is to provide a portal into the dynamic cultural life of our region and provide a showcase for Northwest expression. Exhibits at PDX feature the best of our area's painters, sculptors, photographers, illustrators and other visual artists… but where would Oregon be without its filmmakers?
Oregon is home to renowned film festivals in Bend, Bandon, McMinnville and Portland. In 2016, Portland welcomed the fifth annual Northwest Animation Fest. Popular television show like Grimm, The Librarians, and Portlandia film here regularly, and the list of feature films created in Oregon is endless!
At PDX, we're embracing and celebrating film with the Hollywood Theatre at PDX in Concourse C bringing the diverse works of our regional filmmakers to the travelling public.
Films screened at the Hollywood Theatre at PDX are short-format programs on a looping reel. That means passengers can stop, relax to enjoy a short film or two and then move along to catch their flights. The sad news? The theater is located post-security, accessible only to ticketed passengers. The good news? It's free.
The microcinema serves the Portland International Airport's 16 million annual visitors. Ticketed passengers can drop in free of charge to watch films while waiting for their flights. The Hollywood Theatre at PDX features wonderful short films by Oregon filmmakers.
Current Program:
"Armor del Amor," Kirk Kelley/HouseSpecial: From world-renowned animation studio HouseSpecial and Director Kirk Kelley comes a kind of nature "documentary" that follows the mating rituals of Dasypus novemcinctus (the nine-banded female armadillo) to reveal the dark underbelly of modern mammalian dating.
"Roost: The Crows of Downtown Portland," Irene Tejaratchi Hess: As dusk falls, thousands of crows descend upon Portland's park blocks. This "murder of crows" is explored through the eyes of a child, then further explained by a specialist from Portland's Audubon Society.
"Fossil Radio," Tommy Harrington/Sean Flinn & the Royal We: Not unlike Herman Hesse's Steppenwolf or The Wizard of Oz, we follow the singer, Sean Flinn, as the Fossil Radio carries him on a journey through past and present, fantasy and reality, only to find his bandmates pulling all the strings. The film fuses long, choreographed takes in a 1963 Buick Wildcat with digital rear-projection of 8mm and 16mm film footage dating back to the 1950s — actual footage from the childhoods of the singer and his father, who also appears in the film.
"In My Home," Cheryl Green: Created for the Free Our People Film Contest at the Center for Disability Rights, "In My Home" brings to the surface the systemic bias in the U.S. toward institutionalizing people with disabilities. This documentary is a quiet exploration of home, color, choice, and love.
"Relive The Oregon Trail," Great Big Story: One of the most iconic computer games of your youth was actually created before computers existed. The first version was essentially played on a typewriter – this is the story of "Oregon Trail."
"River Gold," Brady Holden: "River Gold" follows your not-so-typical Pacific Northwest angler, Olivier Gandzadi, who is obsessed with catching what most Americans label as a trash fish – the common carp. Raised in Paris, Olivier has brought his passion to the Pacific Northwest, where he's found a deep connection with the Columbia River.
"Warehouse Samba," Gabriel Shalom: Video sampling and synchronized audiovisual counterpoint create a fusion of contact improvisation and musique concrete. A trio of dancers move through an empty industrial warehouse.
"The Water's Fine," Human Access Project: A peek into the unorthodox advocacy of Human Access Project's mission work of "Transforming Portland's Relationship with the Willamette River." The movie is a product of the Portland-based Media Institute for Social Change's Summer Documentary Program.
"Death," Shelley Short: This is a music video for a song called "Death," written by Shelley Short and recorded by Peter Broderick out on the Oregon coast. The video was shot and edited by Chicago-based filmmaker Lena Rush.
"Rajneeshees in Oregon," John Rosman/Oregon Public Broadcasting: Thousands of people from around the world came to a remote stretch of Oregon to build a thriving city. It was created to fulfill a vision from an Indian spiritual leader, and in five years, it would all come crumbling down with convictions of attempted murder and the largest bio-terrorist attack in U.S. history.
"Oregon: Only Slightly Exaggerated," Travel Oregon: From Travel Oregon and Wieden + Kennedy comes this anime-inspired look at Oregon's many attractions—only slightly exaggerated.
"The Famished Frog," Shelby Menzel: A stop-motion short by Shelby Menzel. Watch as a unique frog has a hard time catching something to eat.
"Soar: Oregon V2," Ryan Ao: Soaring over Oregon via a drone can be like a meditation, flying in a slow, smooth motion over this lush, green, beautiful state in this wonderful new perspective of touring Oregon. Film by Ryan Ao. Music by Brent McCune. Dedicated to Pat Kubin: 1958-2018.
_________________________________________________________________________________________________
The Hollywood Theatre @PDX project is made possible through the generous partnership of the Port of Portland, ZGF Architects, Potestio Studio, PAE, KPFF, Triad Speakers, Erskine Group, Planar/Leyard, Joel Hamberg Painting, Sherwin-Williams, Rejuvenation, Blue Chalk, and Security Signs, as well as the funding support of Travel Oregon, the Fred W. Fields Fund of the Oregon Community Foundation, the Oregon Arts Commission's Arts Build Communities program, the Oregon Cultural Trust, and the Calligram Foundation.
Hollywood Theatre at PDX is now accepting film submissions! For submission details, follow this link. Please direct all questions regarding submissions to Hollywood Theatre at (503) 493-1128.
Read more about the Hollywood partnership in the March 23rd edition of the Portland Tribune and also in OPB's February 2nd broadcast on State of Wonder.