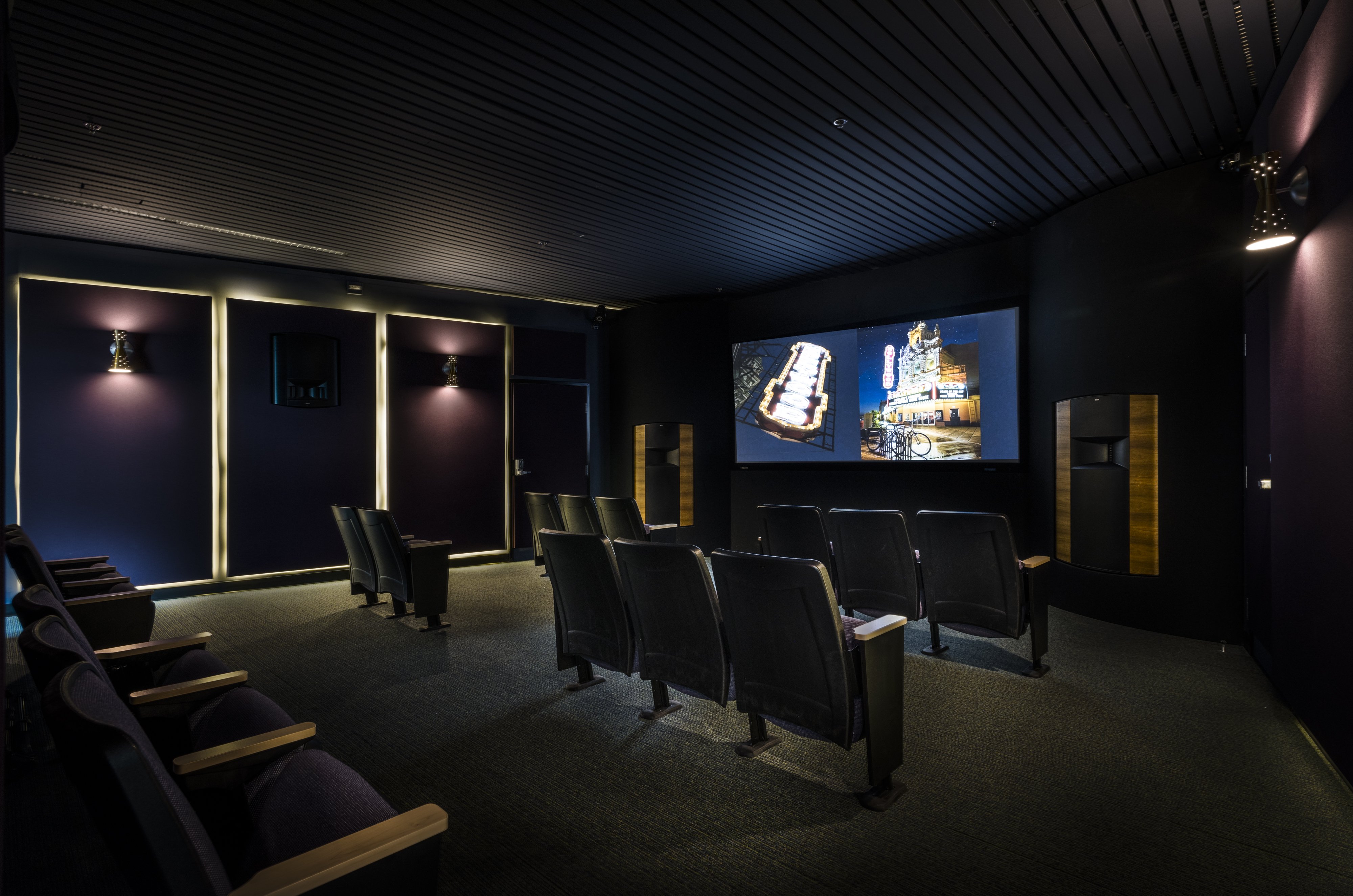 Located post-security in Concourse C, The Hollywood Theatre at Portland International Airport is a 17-seat microcinema. Free and all ages, the theatre showcases short films by Oregon filmmakers with programming updated quarterly. To submit your film for consideration, please visit the Hollywood Theatre's Film Freeway festival page, click here.
Now Playing: Fall 2018
Harvesting One Million Christmas Trees, Great Big Story: Welcome to Holiday Tree Farms—the largest Christmas tree farm in the world. Located in Corvallis, Oregon, 30-year veteran tree farmer Mark Arkills uses a combination of helicopters (that's right, helicopters) and brute force to harvest over one million trees every year. With a sales window of just a few short weeks, stopping is not an option. Watch:
Meet the Neighbors, Uncage the Soul: Throughout the region are lesser known historic towns filled with wonderful people and details that only a few folks know about. So come on in and meet the neighbors in four of these small communities. They would love to show you around! Watch Meet the Neighbors: Cascade Locks:
When You Go, Darren Hanlon: When You Go was shot on location at the Sou'wester Lodge in Sea View WA, and features owner Thandi Rosenbaum who plays herself, and various guests who were staying in the park at the time. Other notable cameos include Portland local label owner Eric Isaacson (filmed in Mississippi Records), singer Shelley Short and her Dad Joe Short (fishmonger). The song comes from Hanlon's 2015 release "Where Did You Come From?" Directed by Jeff Rowles with extra shots by Emilee Booher. Edited by Natalie van den Dungen. Watch:
Why I Fight, Anna Yeager: In a world full of challenges for young women of color, these strong young Latinas always find hope. That hope and strength can fill a bleak world with vibrant color, encouraging them to continue reaching higher; to keep fighting. Watch:
Blue, Ants Ants Ants & Chris Purdin: This song by kids' band ANTS ANTS ANTS was inspired by a child's question: "What is the biggest animal of Earth?" The answer, a blue whale, informed the tune and this visual celebration of the color blue by Portland animator/illustrator Chris Purdin. Watch:
PROTECTED, Jeremy Monroe: Follow river paddler, author, and conservationist Tim Palmer through the enchanting waters of Oregon's Wild Rivers Coast, which has the highest concentration of National Wild & Scenic Rivers in the US. With just a canoe, a camera, and an old van, Tim finds his bliss and his calling on these rivers and has found a way to share their beauty. Watch:
Open-Hearted Doorman, Nick van der Kolk and Darren Pasemko: A special bond is made between a single woman in New York and the Doorman who stands watch in her building. Watch:
Sole Doctor, Paula Bernstein: After serving the community at George's Shoe Repair in Portland, Oregon for more than 50 years, George Thrower is preparing to pass the family-run business on to his son, Joshua, a former modern dancer. Mia, Josh's young daughter, also learns the family trade. Watch the trailer:
Wild Ones – Standing in the Back at Your Show, Matthew Ross: The story of a man trapped in a mundane lifestyle. He sees an opportunity to break his routine and go on an adventure with an unlikely person. Watch:
Insect Poetry, Marilyn Zornado: Tucked quietly away in the corner of a writer's study, The Insect Literary Society has convened this night to share new poems written by a few of its members. The poems range in tone from the dreamy to the earthy and amusing, and the subject matter is the stuff that insects' lives are made of – metamorphosis, anatomy, danger, nature, beauty, and love. Watch:
Photograph of the interior of the PDX Hollywood Theatre Microcinema by Bill Purcell.