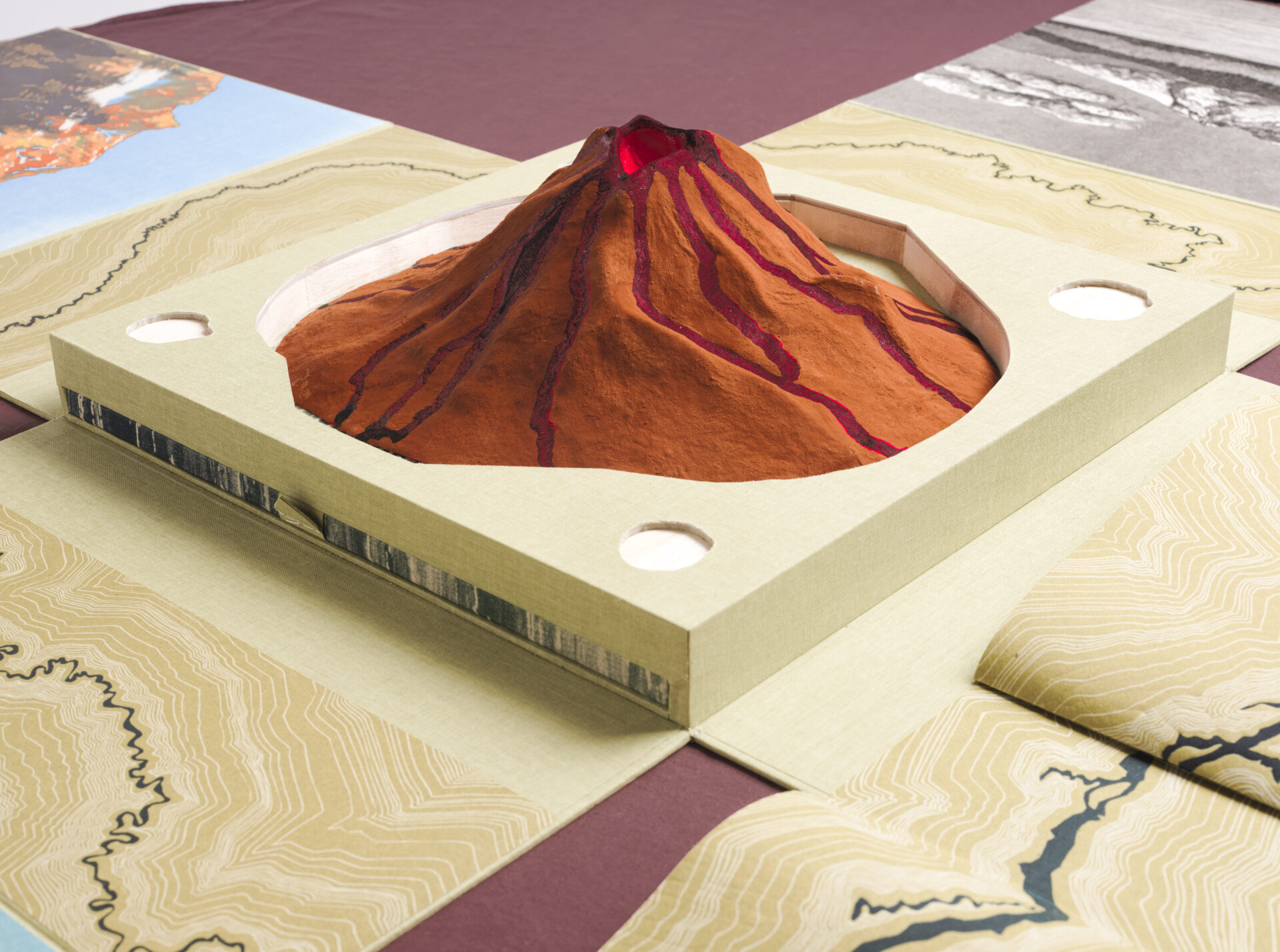 Stories are both history and prophecy—time is circular—stories are among our most potent tools for restoring the land and our relationship to it. -Robin Kimmerer
Owed to The Mountain is a wondrous expertly crafted sculptural artist book about Mt. Hood by Portland artist Diane Jacobs. On view post-security in Concourse D of PDX within the display case between Gate D9 and D10—through July 2023.
Diane Jacobs uses her hands, heart, and critical thinking to make artist books, installations, mixed-media sculptures, and works on paper utilizing printmaking, drawing, and text. She uses materials that surprise and stimulate associative and visceral reactions in an effort to interpret society and initiate change. Through her creative process, Jacobs examines and conveys the complexities, contradictions, and injustices of our world. Her intention is to spark curiosity and use that flame to ignite further self-reflection and action.
Owed to The Mountain cultivates a powerful story that inspires knowing a place deeply, sharing Indigenous wisdom, and building a community that turns its love for a mountain into action.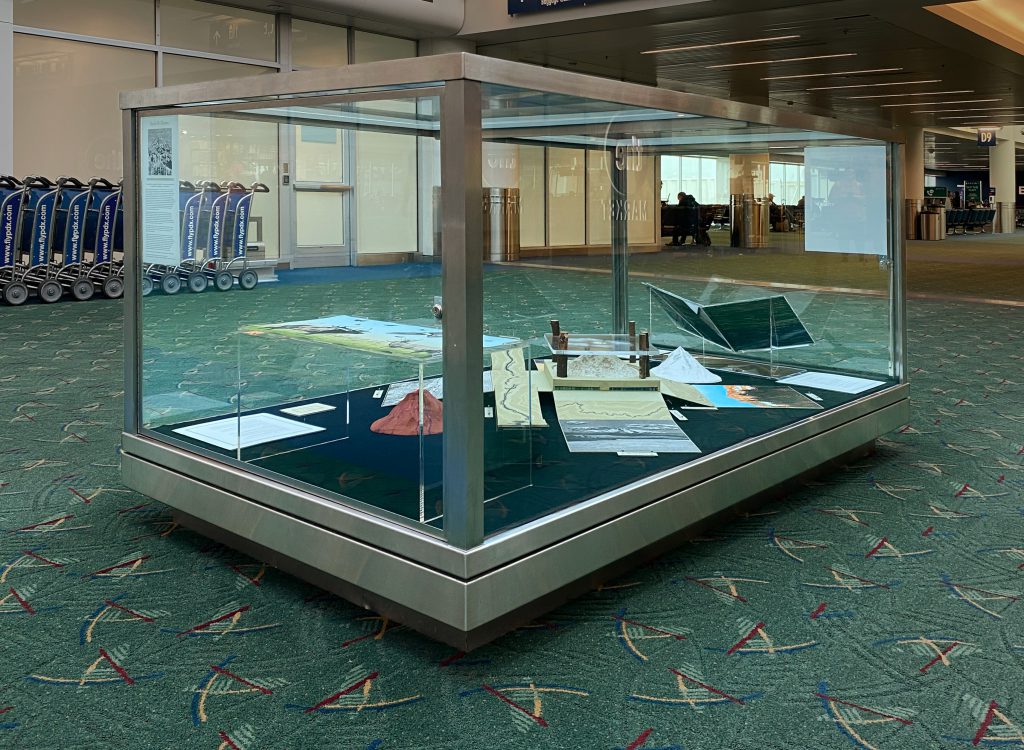 Mt. Hood has the 6th largest carbon stores of all National Forests in the country! By galvanizing a movement that advocates for the US Forest Service management plan to be updated, Mt. Hood can be celebrated and treated as a living ecosystem and increase its climate resilience.
Through this project's research, interviews, and by spending time on the mountain, Diane Jacobs understands how important it is that we protect clean drinking water, promote wildlife habitat restoration, support forest maturation, and prioritize the vision and cultural traditions of Native communities, including the practice of controlled burns. We owe it to the Mountain.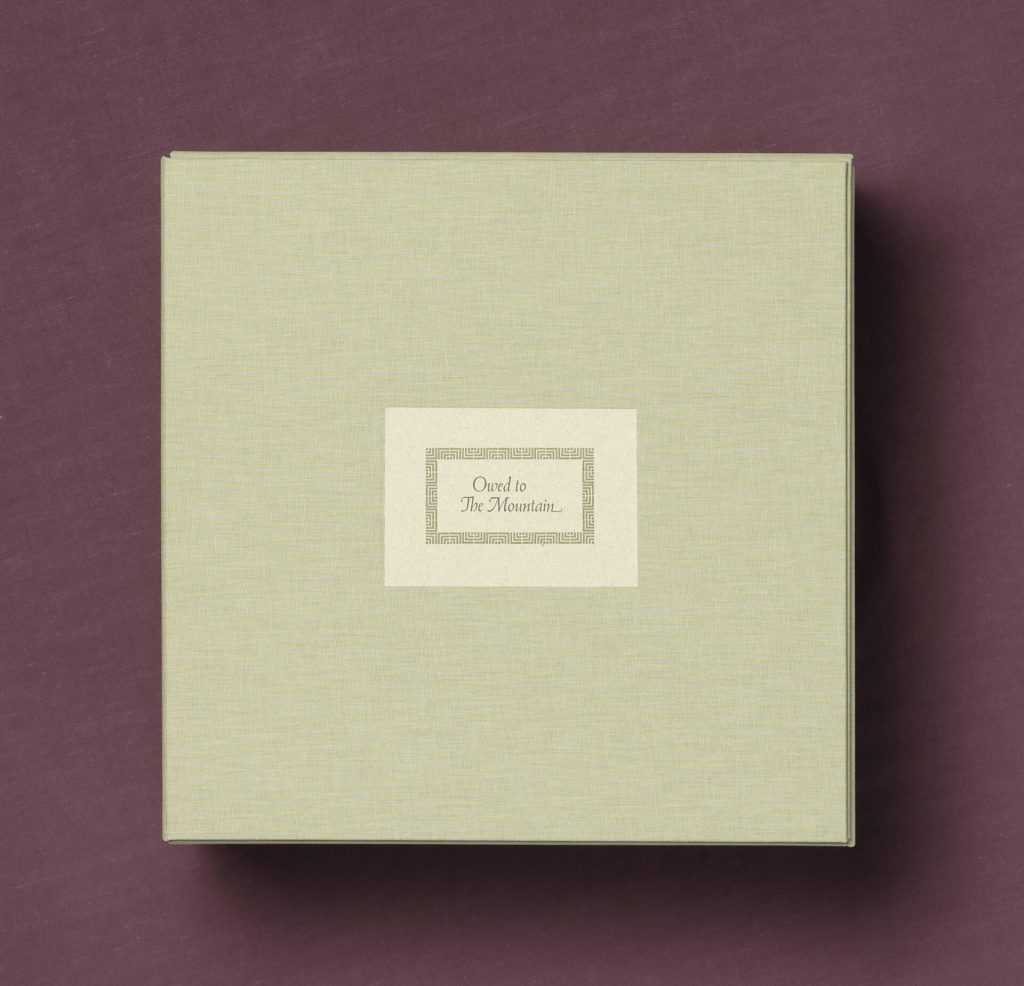 The book's box unfolds one leaf at a time, to reveal each of the four directions. The Mountain is featured in four different printmaking techniques: West face—etching, North face—wood engraving, East face—lithograph, South face—reduction woodcut.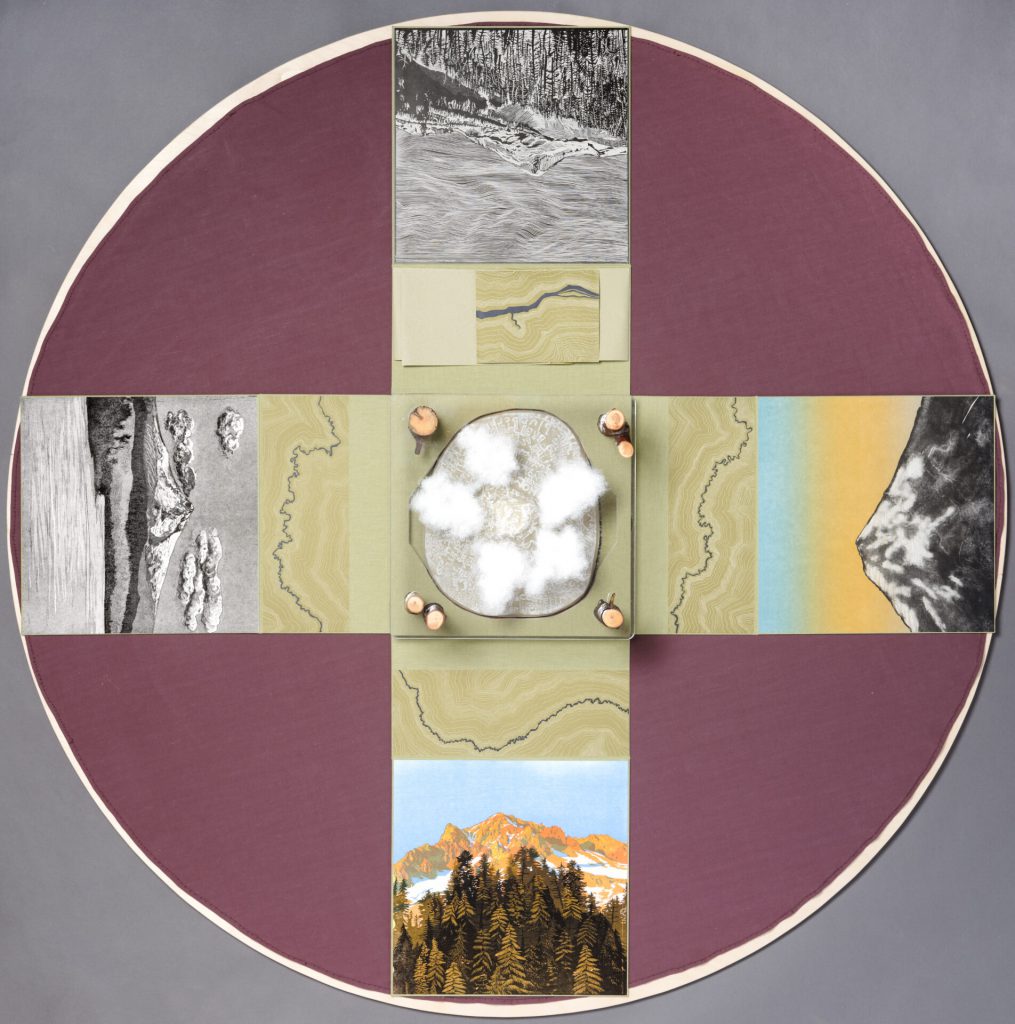 There are four linoleum-cut river prints and three handset letterpress-printed stories from the Confederated Tribes of Warm Springs. The box opens flat and in the center, a paper mountain peeks through a cloud layer held up by five tree trunks. There are three handmade paper mountain skins nested inside one another. The outermost layer is made with Celadonite pigment and accentuated with white ink exposing words. The middle surface details the dwindling glaciers and the innermost represents the volcanic strata.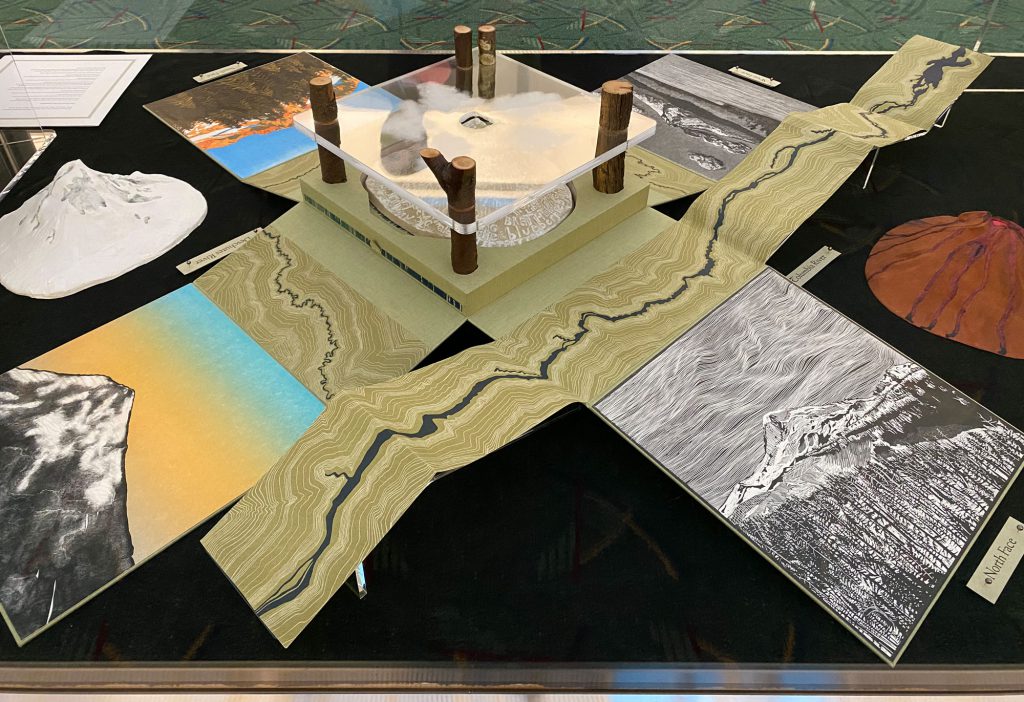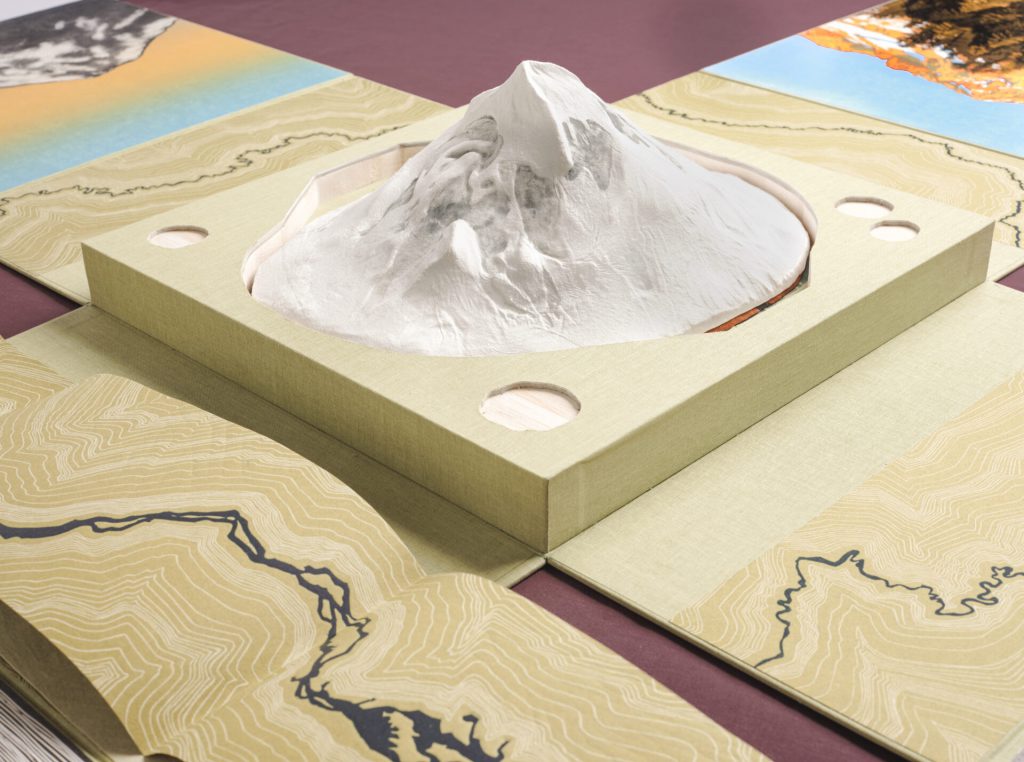 Beneath the mountain rests a fine-press book. Animal ink drawings in various colorful ecosystems and habitats appear amongst the text, documenting the changing seasons. The stories weave multiple Native voices that underscore the value of friendship, reciprocity, interdependence, and cooperation.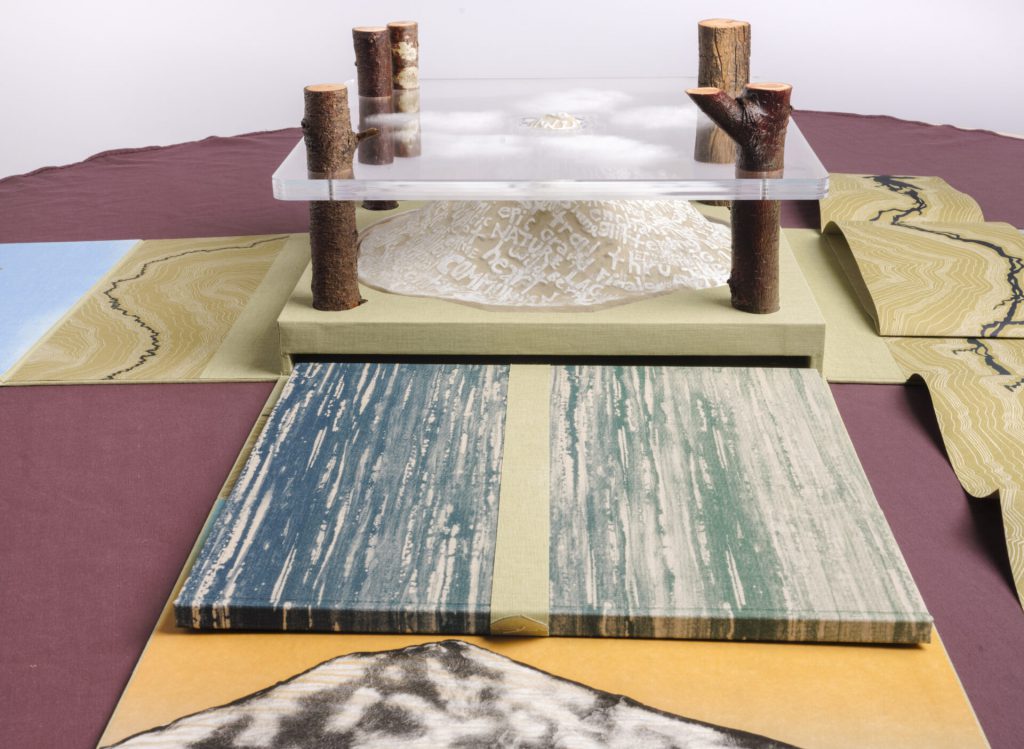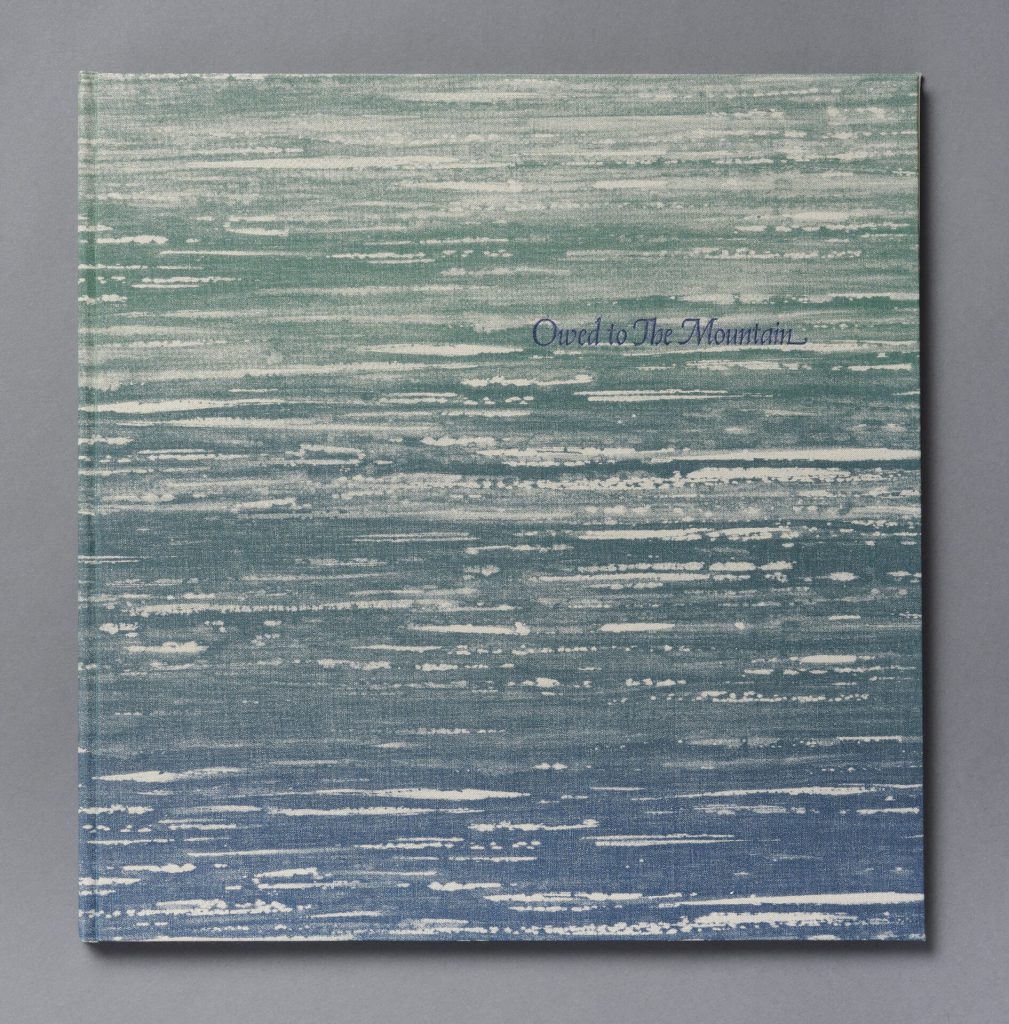 Materials and printmaking techniques for the fine-press book include solar etching plates developed from Sumi ink animal drawings, a monoprint centerfold, a water motif silkscreen printed on book cloth for the hardcovers, end sheets made from eco-printing plants found on Mt. Hood, habitats created from pressure printing and reduction woodcuts, and stories handset in Weiss foundry type (Roman and italic 12 pt., 14 pt., and 18 pt.) and printed letterpress. Book pages are Zerkell paper, end pages are Rives lightweight, and the beaver and river otter were printed on mulberry paper and adhered to the inside covers.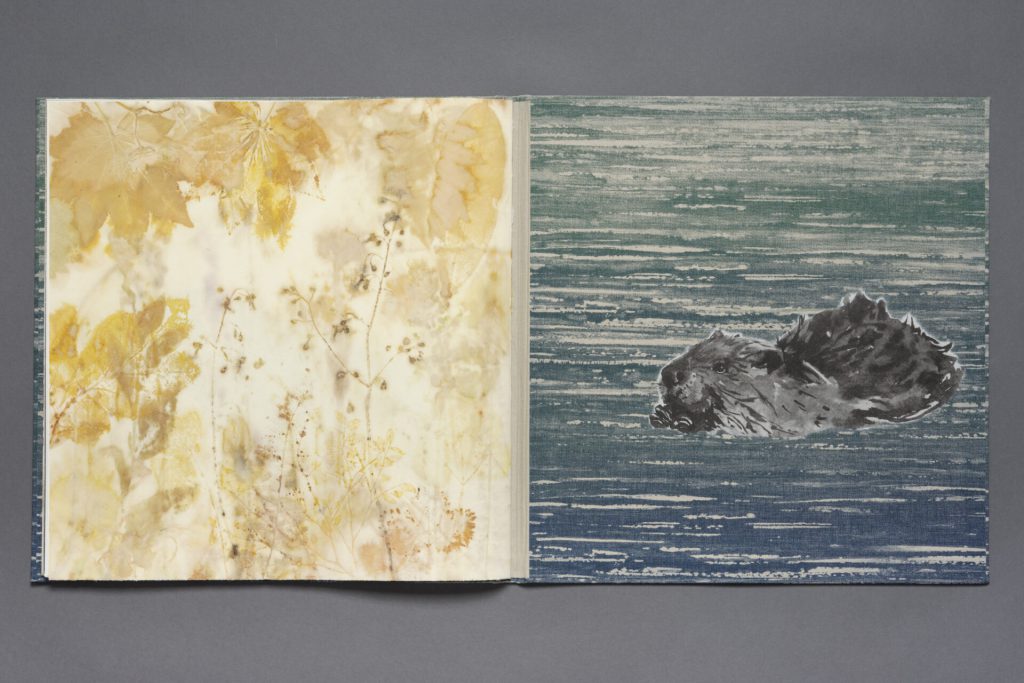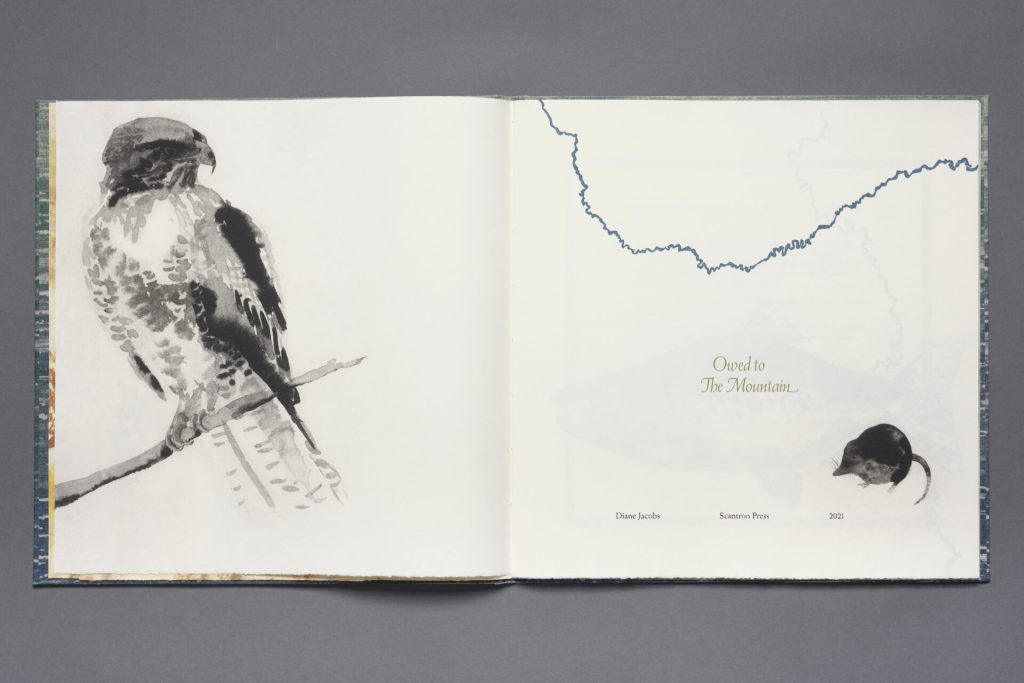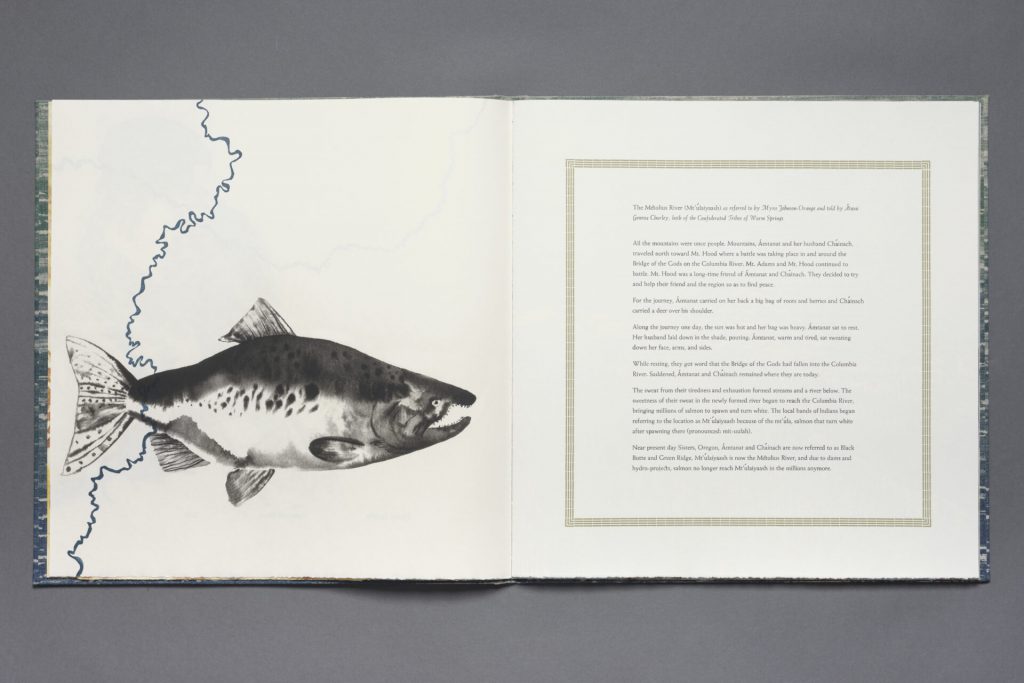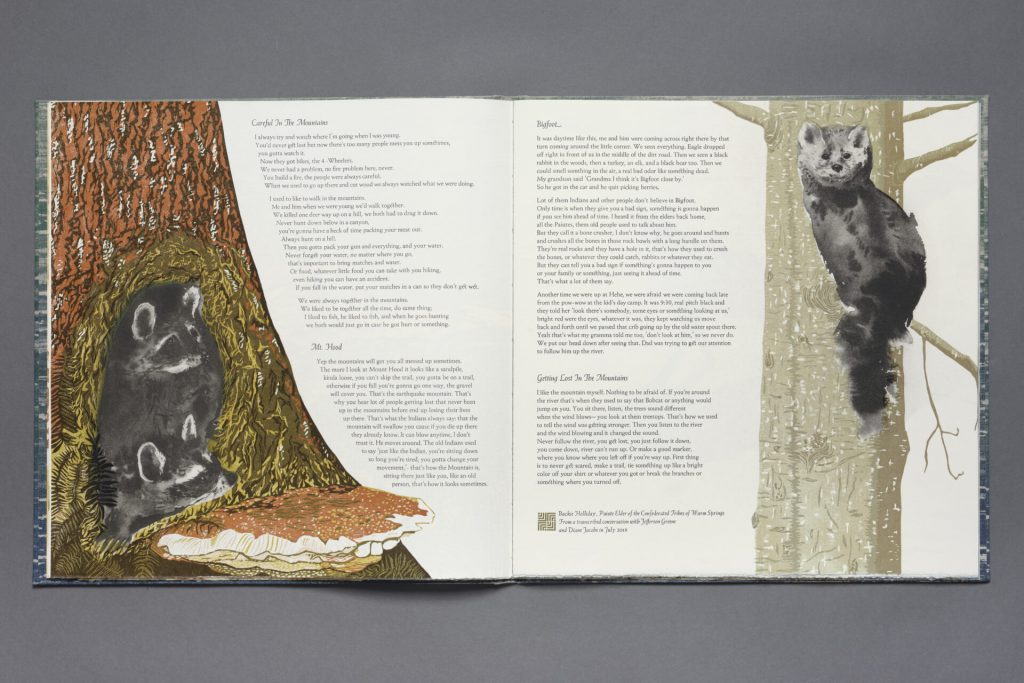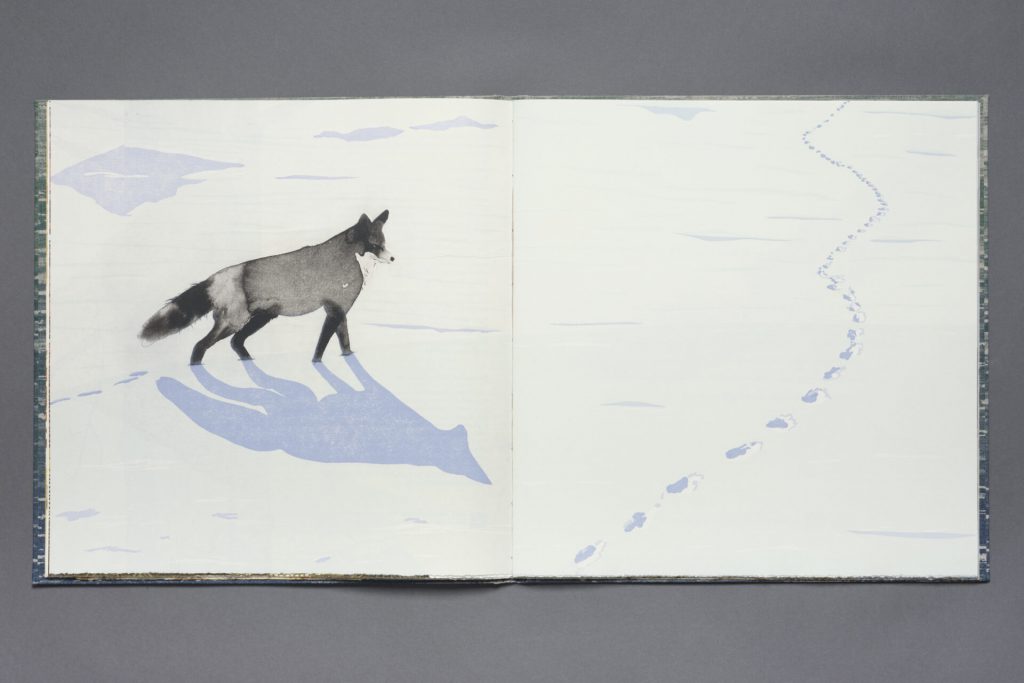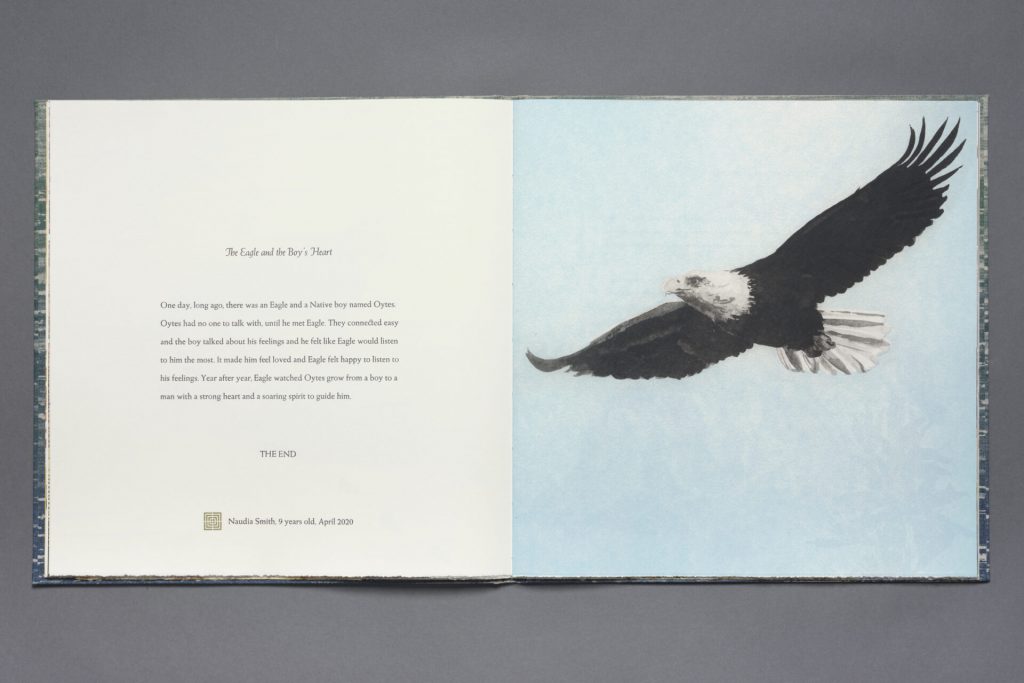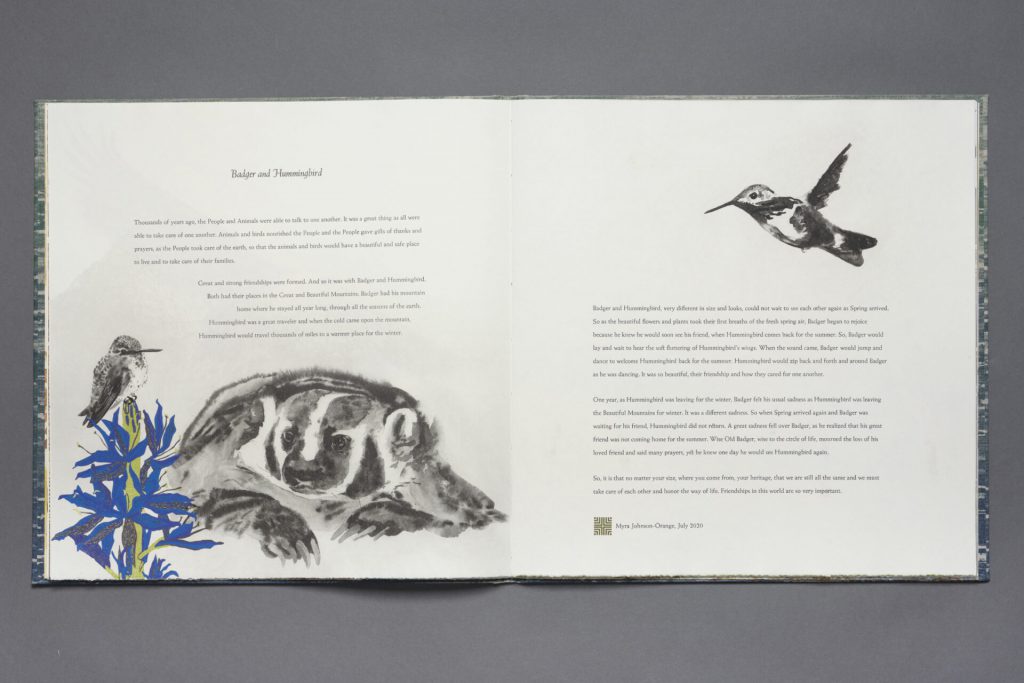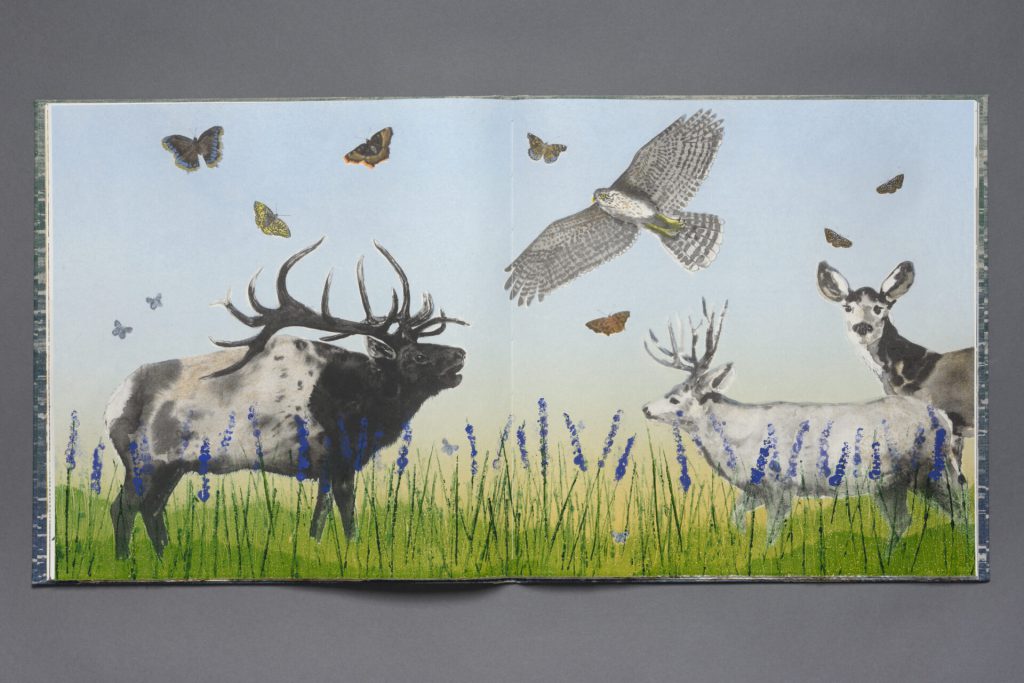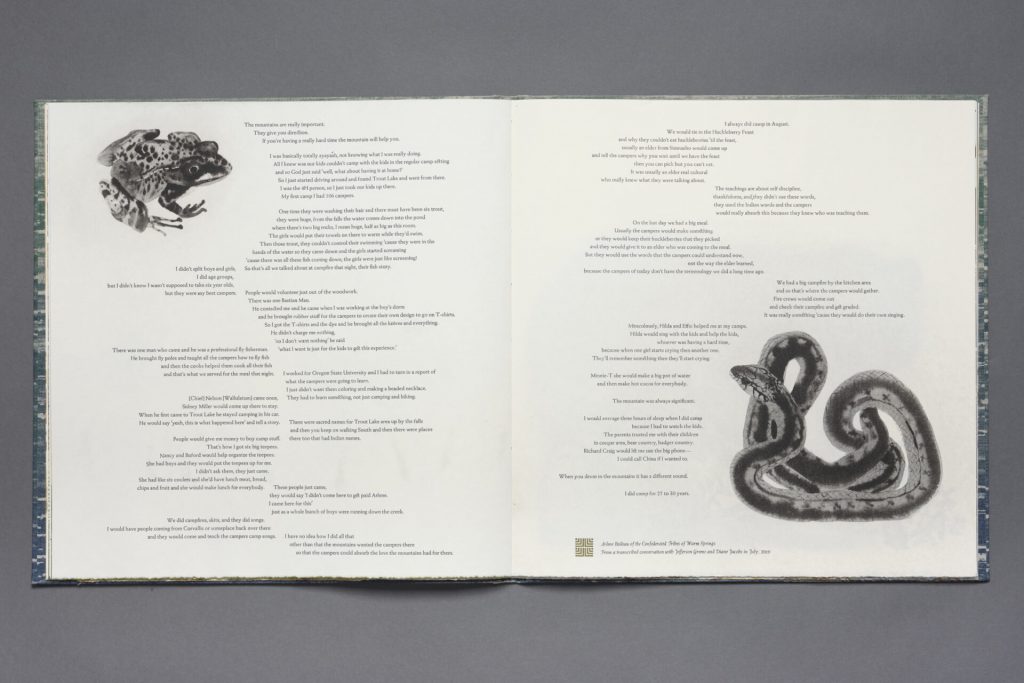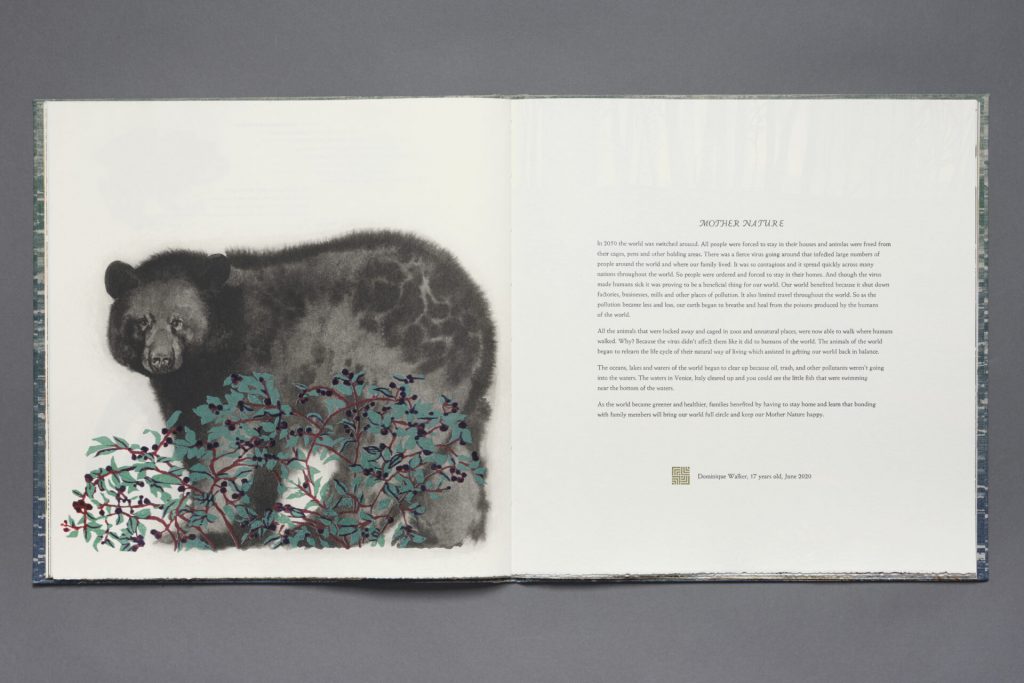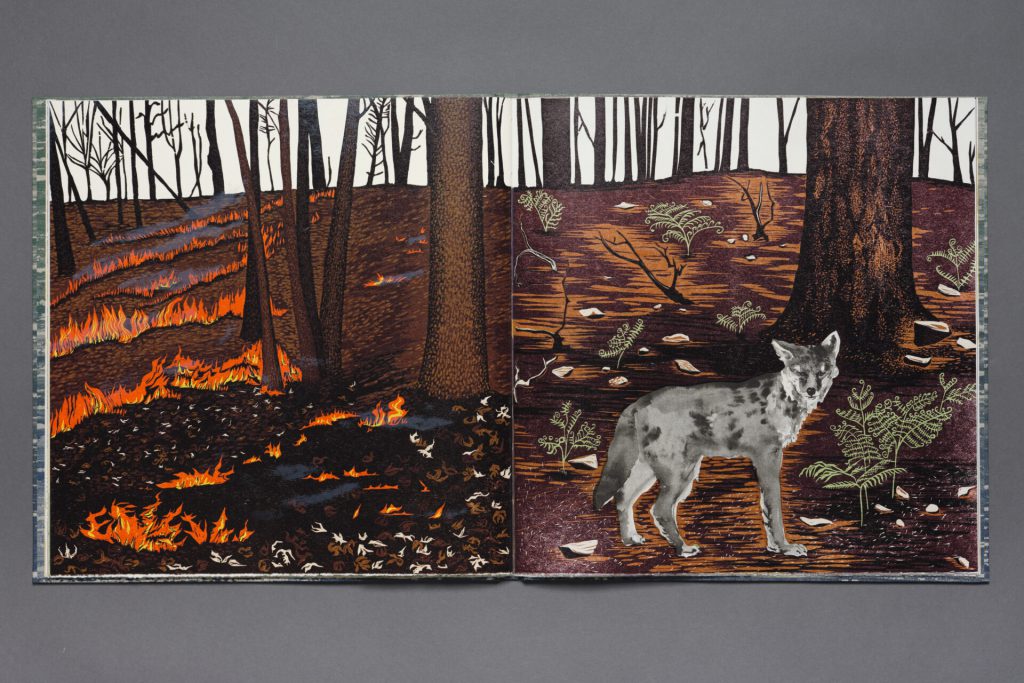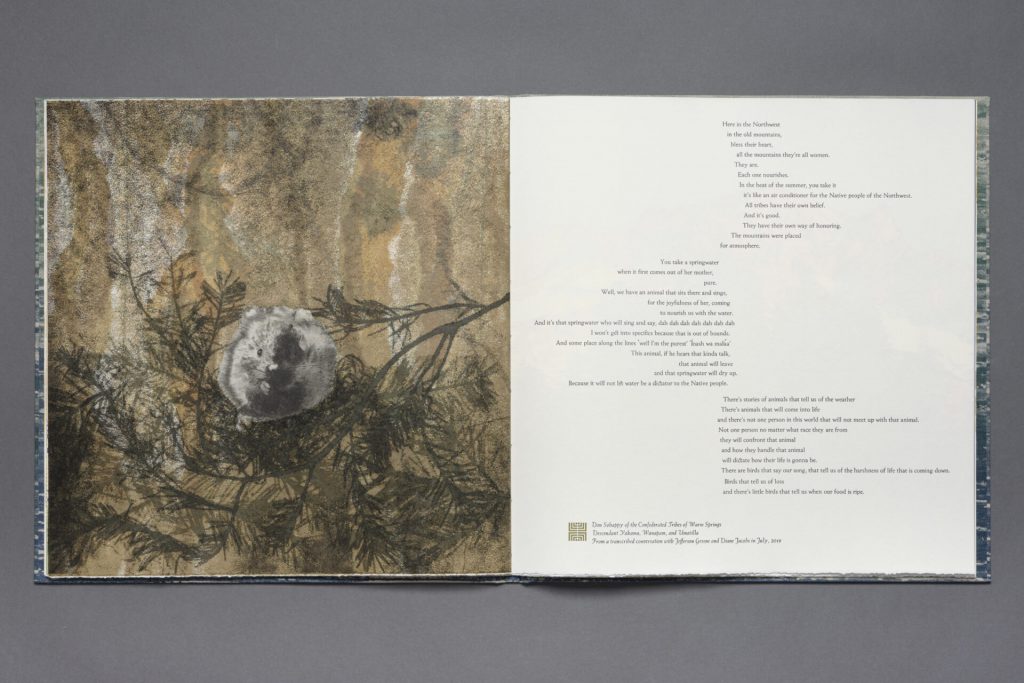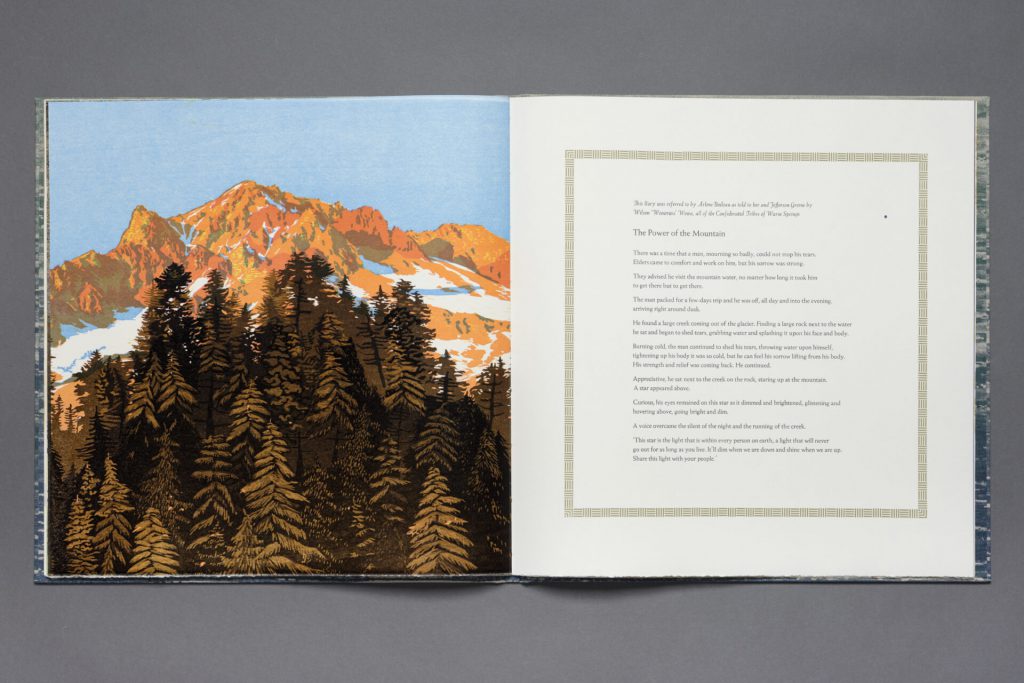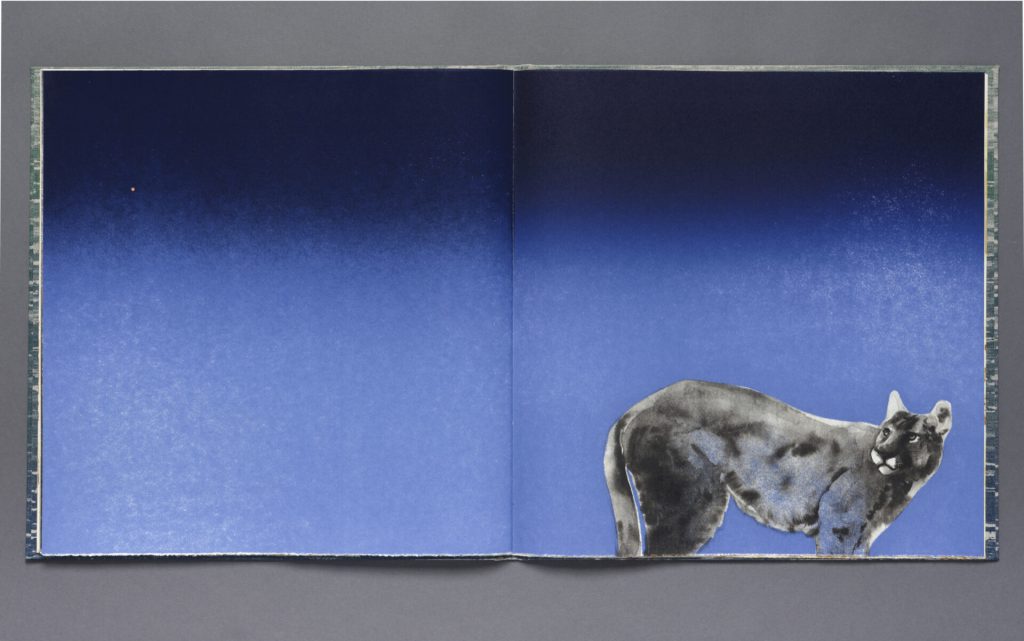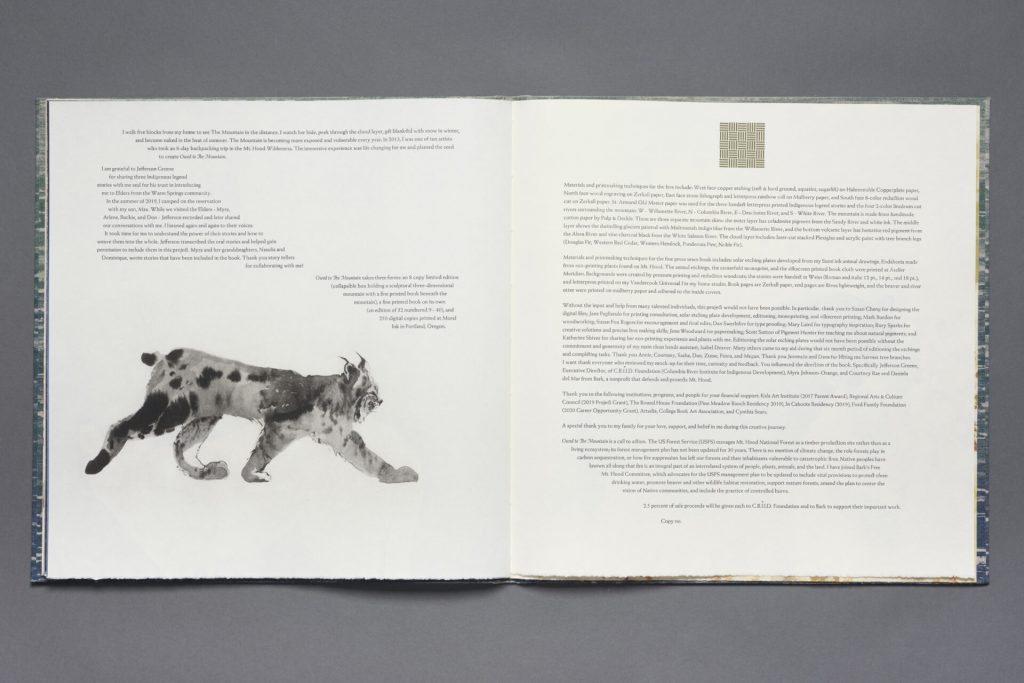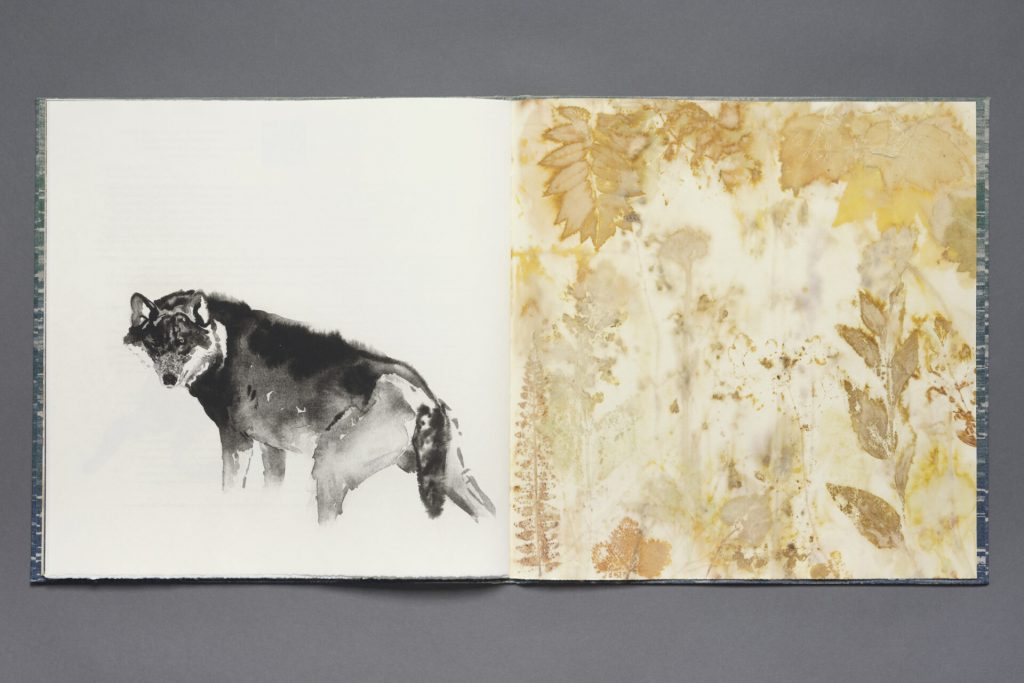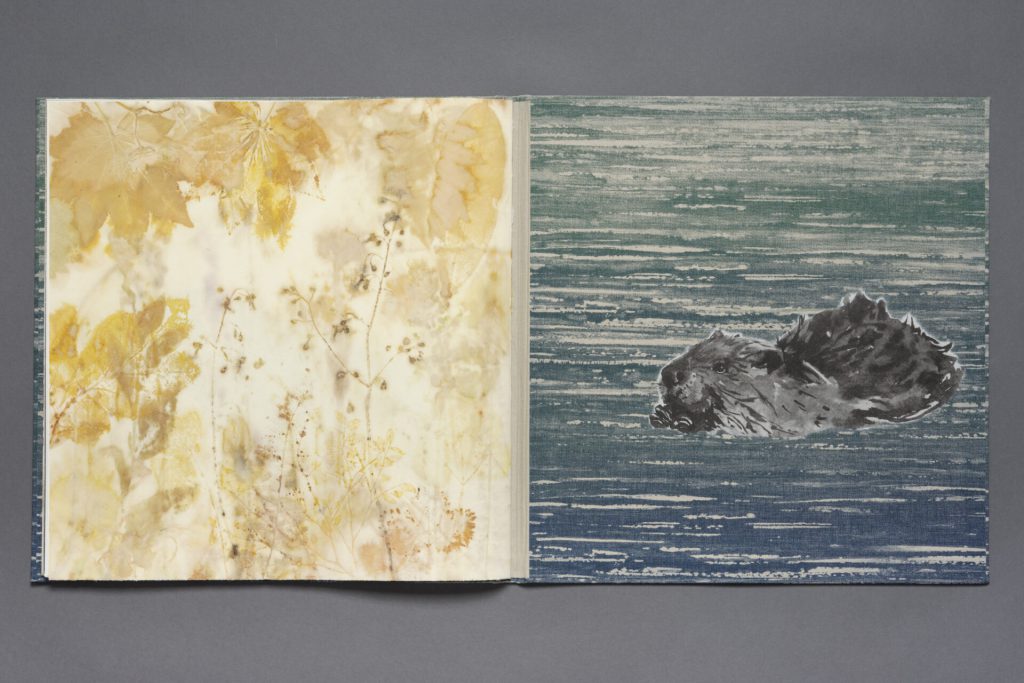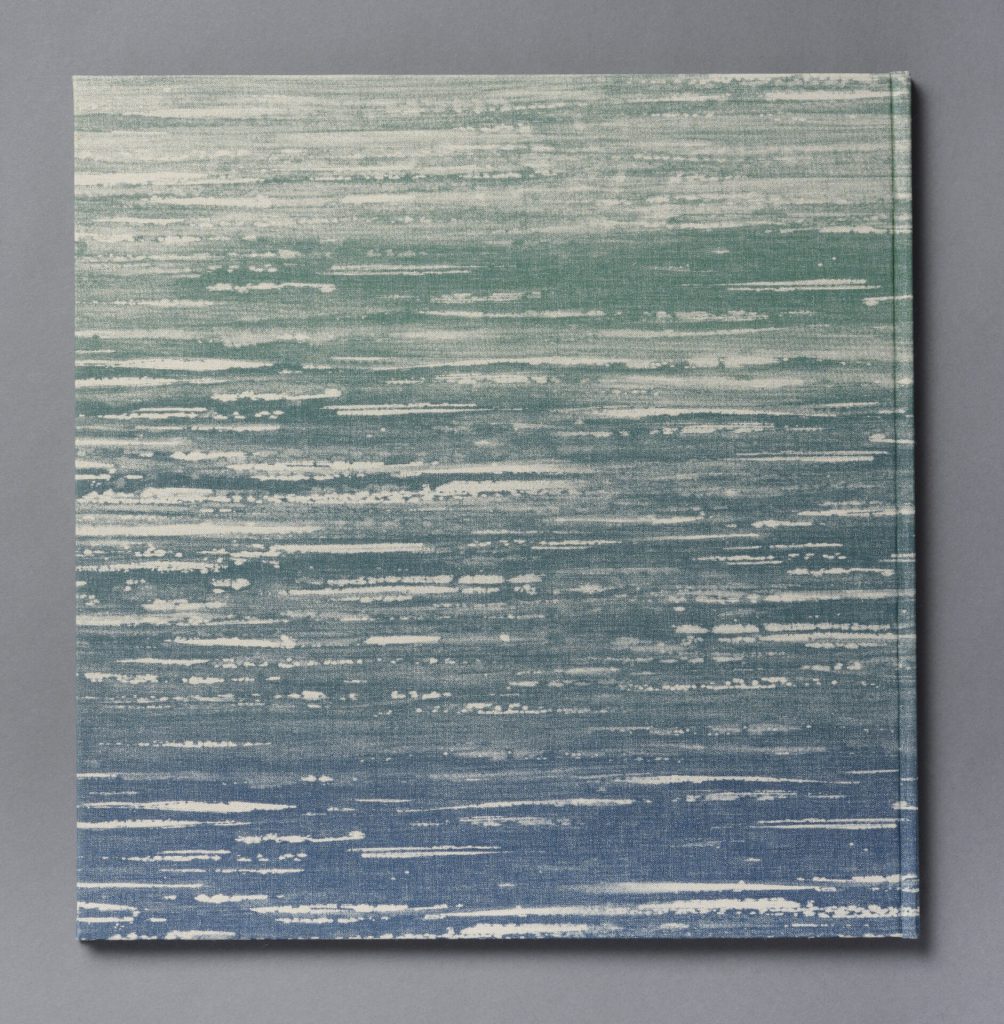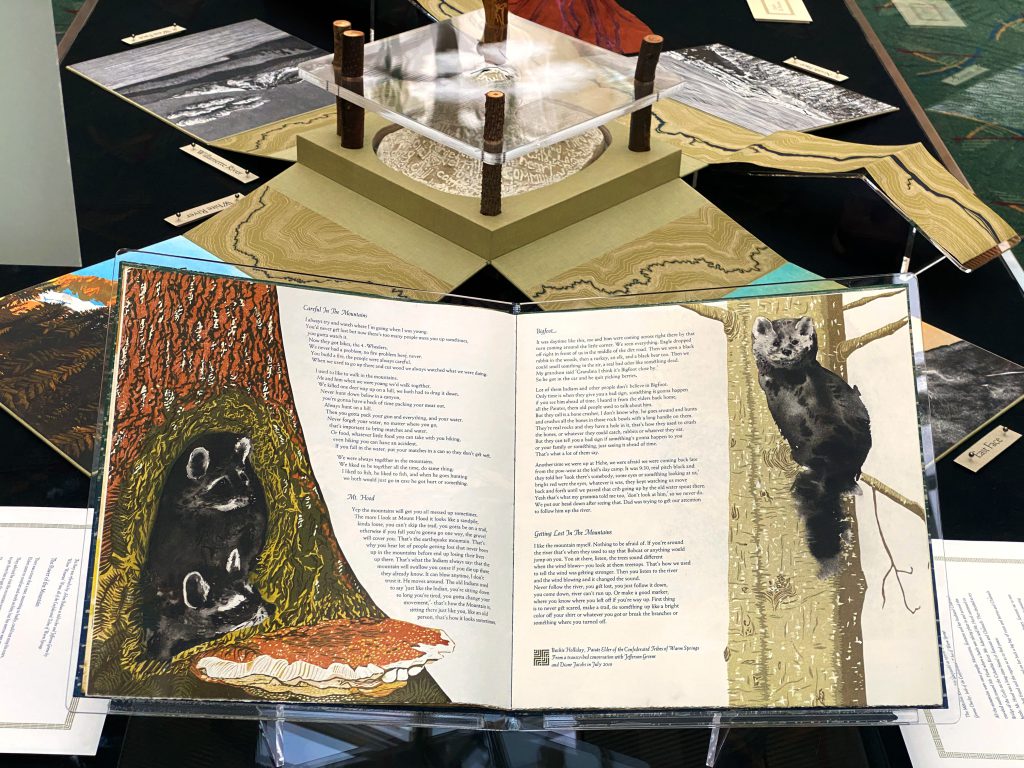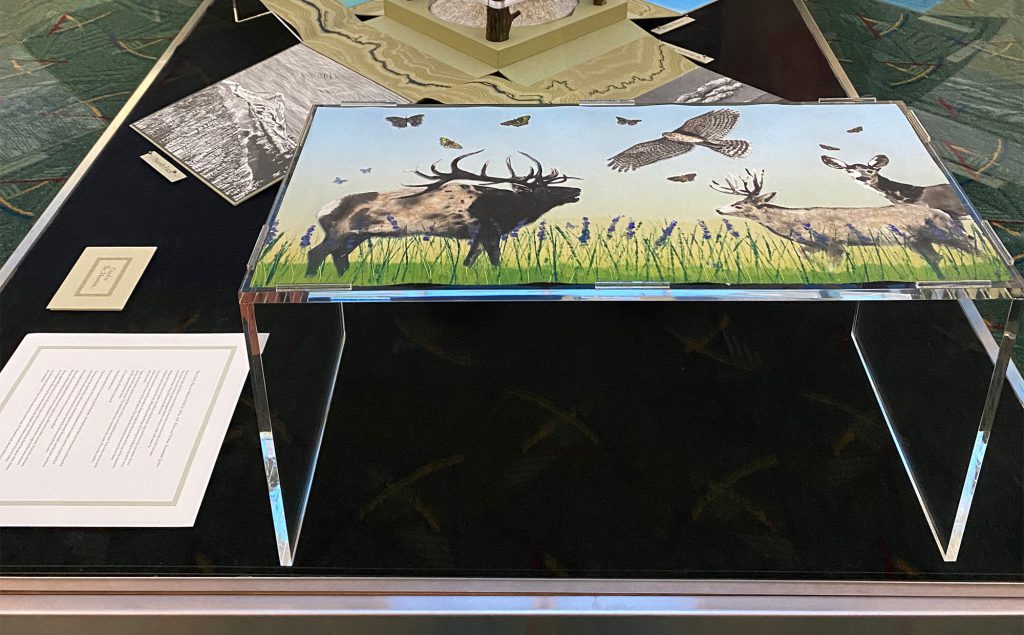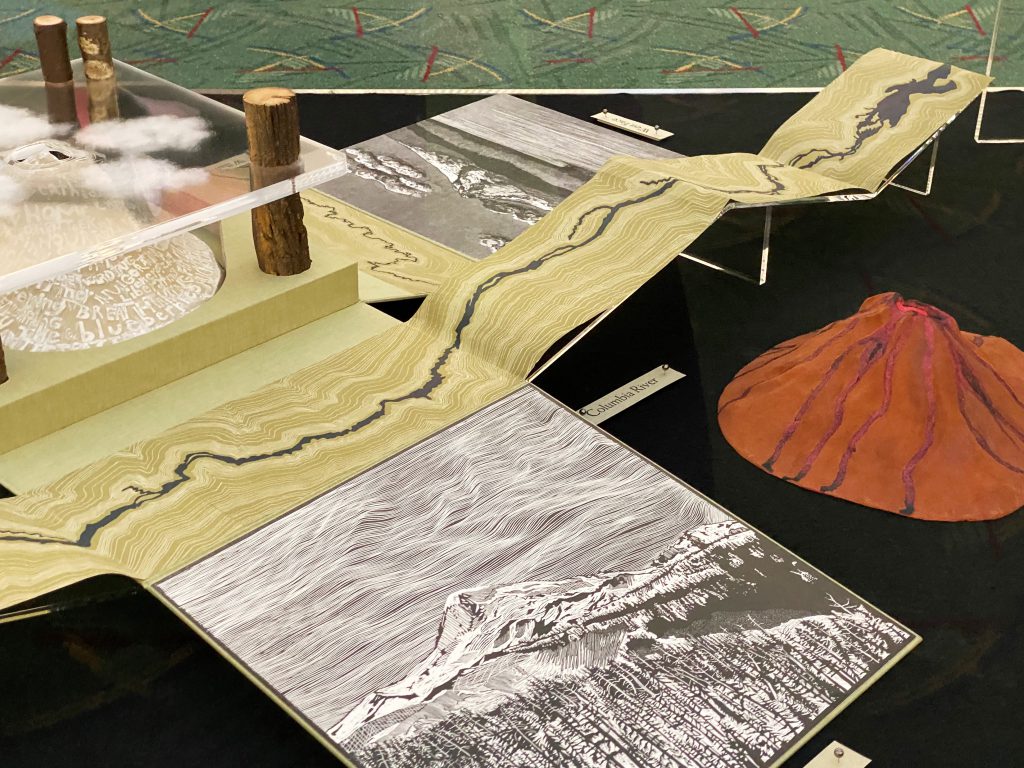 Owed to The Mountain takes three forms: an eight-copy limited edition (a collapsible box holding a three-dimensional paper mountain with a copy of the fine-press book beneath), the fine-press book (a 32-copy edition numbered 9 – 40), and a digital edition of 250 copies printed at Morel Ink in Portland, Oregon.
I understand all living beings to be interconnected; I listen to the silence of our climate crisis and grieve; I know women's rights are human rights; I see white privilege needs to be part of every discussion; I believe land is sacred; I utilize intimacy, humor, imagination, irony, urgency, and agency to create a dialogue with my audience. Story is a powerful form of communication.
I am fascinated by materials. I balance wishbones, I carve woodblocks, I set metal type, I weave human hair, I play with words, I burn poetry into magnolia leaves, I twist wire, I cast shadows, I print plants, and I sculpt clay.
I draw animals with Sumi ink in search of capturing their essence: one dark eye, one bright; the bend of an ear; the comical stride leaving footprints in the snow; a scurrying shrew; a keen sense of smell; locking eyes with a mountain cat. —Diane Jacobs
Diane Jacobs grew up surf-fishing, creating potions, and drawing incessantly. At age 12, she traveled with her family to Japan, planting seeds for a lifelong interest in cross-cultural understanding. As an undergraduate, Jacobs discovered her deep connection to forests, feminist thinking, and social justice—her work continues to be informed by the cross-pollination of these elements.
Diane Jacobs received her MFA in printmaking from San Francisco State University. Her artwork is in the Portland Art Museum, The de Young, The Achenbach Foundation of Graphic Arts, Getty Research Institute, SFMOMA, Library of Congress, among many other special collections in libraries across the country.
Thank you Ford Family Foundation, Regional Arts & Culture Council, and The Puffin Foundation for the grant funding. Completed in 2021 by Diane Jacobs of Scantron Press in Portland, Oregon.
Owed to The Mountain box set, book, and individual page photos courtesy of the artist.
Instagram: @dianedeejart
For more information about this exhibition or artwork inquiries please contact Diane Jacobs at: dianejacobs2@icloud.com