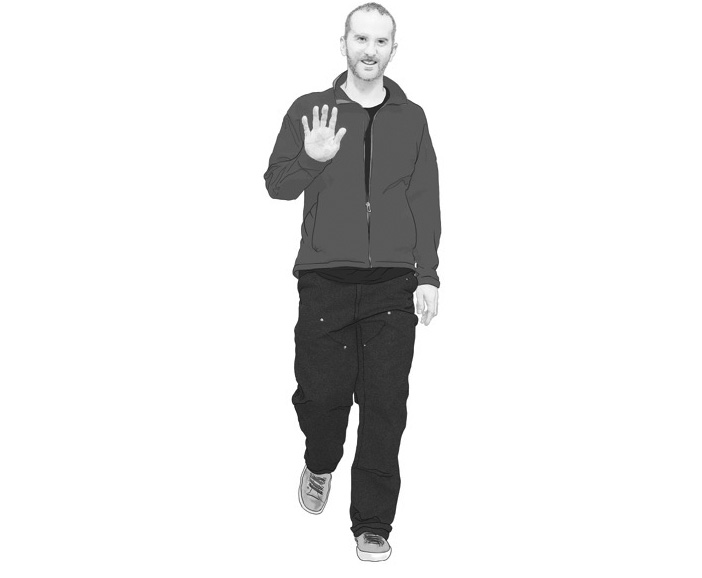 Angels Passing, Michael Hoeye, Concourse A cases, December 4, 2015 – June 10, 2016
Angels Passing is a sketchbook from Portland artist, Michael Hoeye, of people from his neighborhood. Michael was inspired by these seemingly ordinary people that passed his way. Strong, happy, dignified, funny, elegant, hopeful, dreamy, mischievous – in his work he tries to capture a tiny fraction of the magic they bring to the streets we share.
Apropos to an airport, Angels Passing features characters that have been removed from context. Drifting by, they talk on their phones, sip their coffee –  each following his or her own private itinerary. Where are they going? Why? From where have they come? Unless we ask the questions, we simply do not know.
Angels Passing is a reminder that we only think we understand our world. We make judgments. We manage and organize the files of our minds. But are we really seeing the person before us? Have we stopped to consider what our preconceptions tell us about ourselves?
Each of Michael Hoeye's characters holds a mirror for us to examine our reactions. Do our minds seek similarities or jump to differences? Do we recognize the beauty each person carries? While it's human nature to seek the familiar, in learning to recognize our likeness in every face, the world becomes a little gentler. Kinder. And maybe, so do we.
Text for the exhibit was written by Joanne Mulcahy, an essayist, biographer and ethnographer whose writing focuses on cultural issues.
Read more about this exhibit in the March 23rd edition of the Portland Tribune!