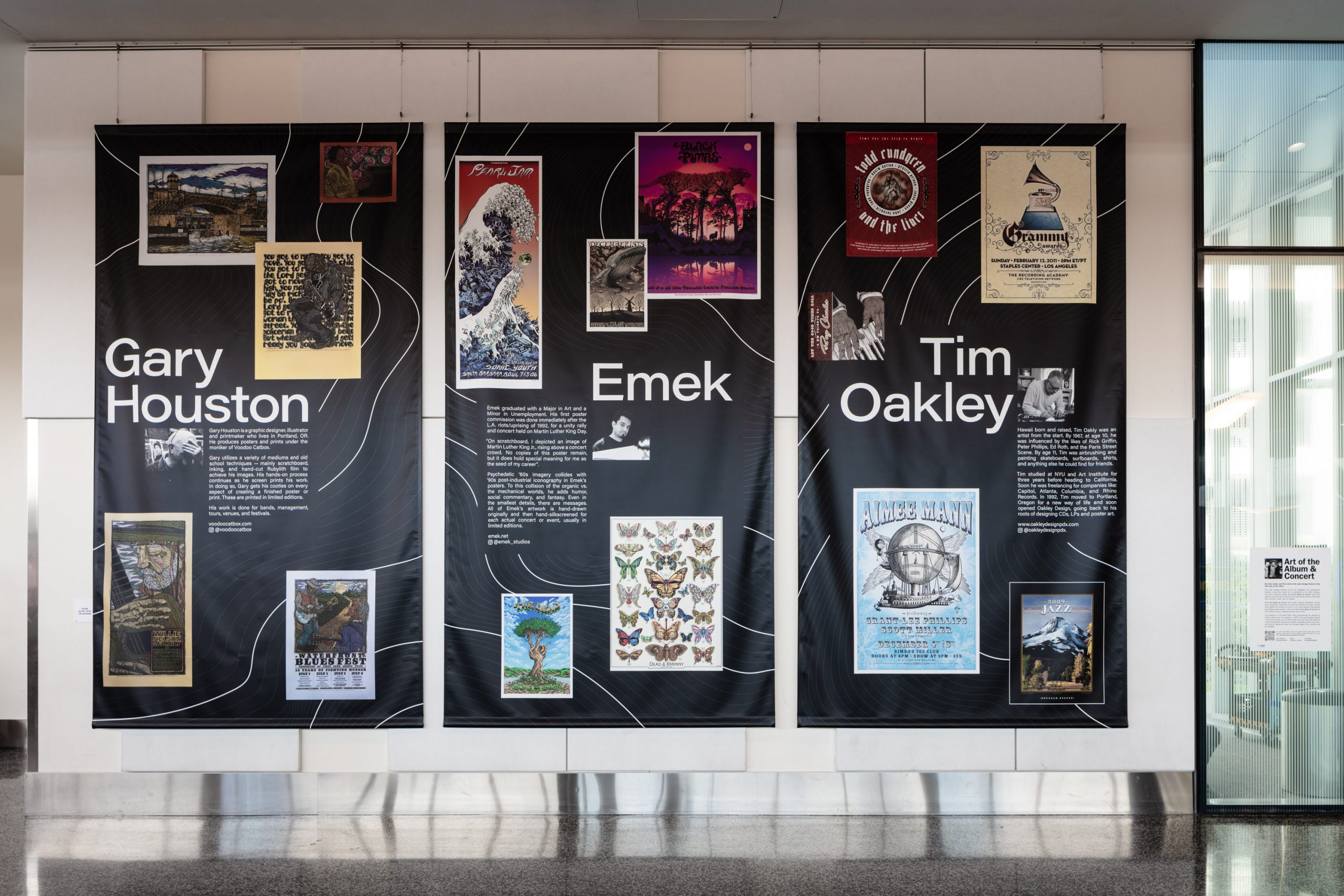 For 60 years, The Lake Oswego Festival of the Arts has proudly presented unique art exhibits including more than 600 local, national, and international artists. Visitors can also experience live music on two stages, performances, kids' activities, artist demos, and a variety of food. It's free to the public (donations encouraged) and attracts thousands of festival-goers each year.
The PDX Temporary Rotating Exhibition Program is honored to partner with The Festival through a special satellite pop-up exhibit of three unique large-scale banners highlighting the collaboration between music and visual art in the celebration of the Festival's 60th birthday. The PDX exhibit is currently on view within PDX's PACR Rental Car Lobby through September 2023.
This year's featured exhibition at Lakewood Center For The Arts (and as a sneak peek at PDX) titled Art of the Album & Concert invites the public to view the work of three of the top poster artists in the world; Gary Houston, Emek, and Tim Oakley. The three men are Portland, Oregon locals but have created original works for international musical greats, including Elton John, Rolling Stones, Soundgarden, Willie Nelson, Foo Fighters, and the Grateful Dead.
See Gary, Emek, and Tim's work at the Lake Oswego Festival of the Arts June 23-25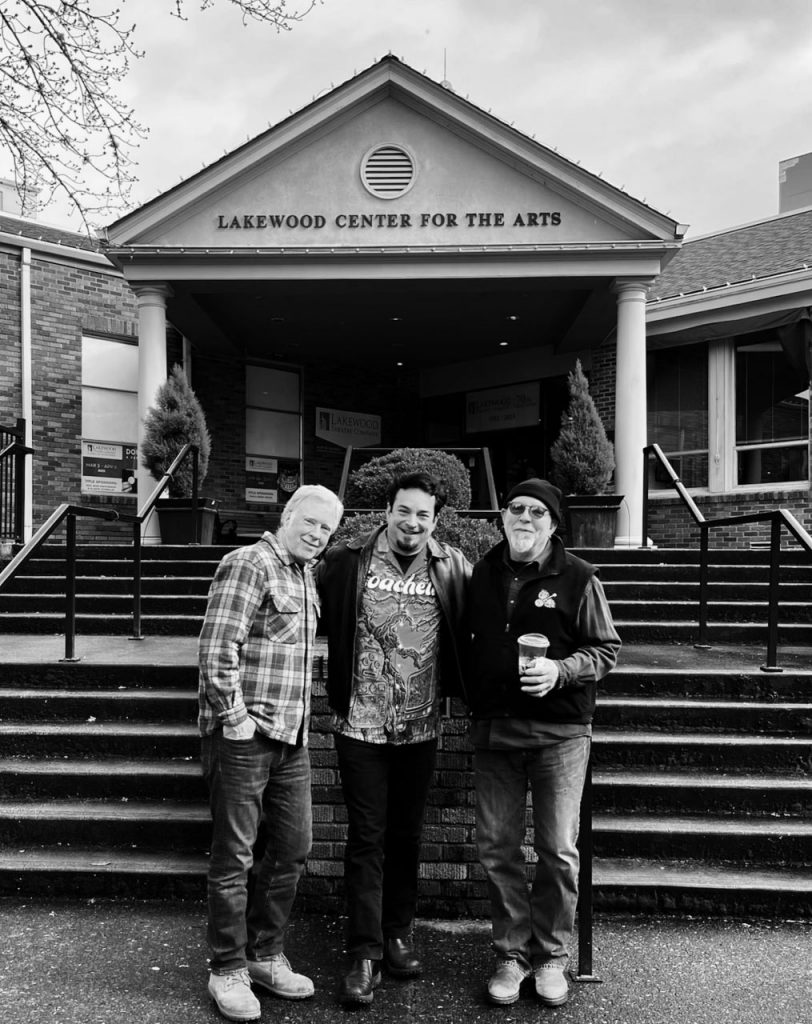 Art of the Album & Concert at the Festival includes a special installation of the artists' work, along with a deep dive into how vinyl records are made, and the story behind the artwork of some of our most beloved international and Oregon-based bands. Look for the Art of the Album & Concert at the Festival's home, Lakewood Center for the Arts. The exhibit promises to make patrons look at the visual work and creativity that goes into the music industry in a whole new light.
The trio have teamed up to create a special installation spanning art from their dynamic careers. Look for concert posters, album covers, signed books, and even artfully-crafted drum skins, lamps, and more! No need to wait in a long concert line, select limited edition posters will be for sale at the Festival!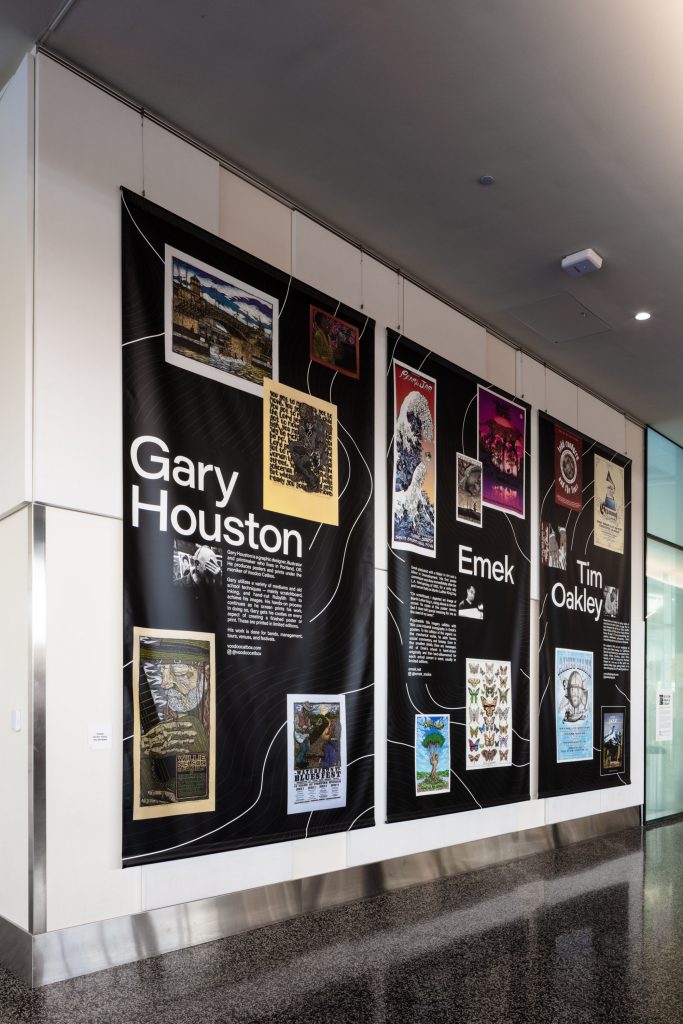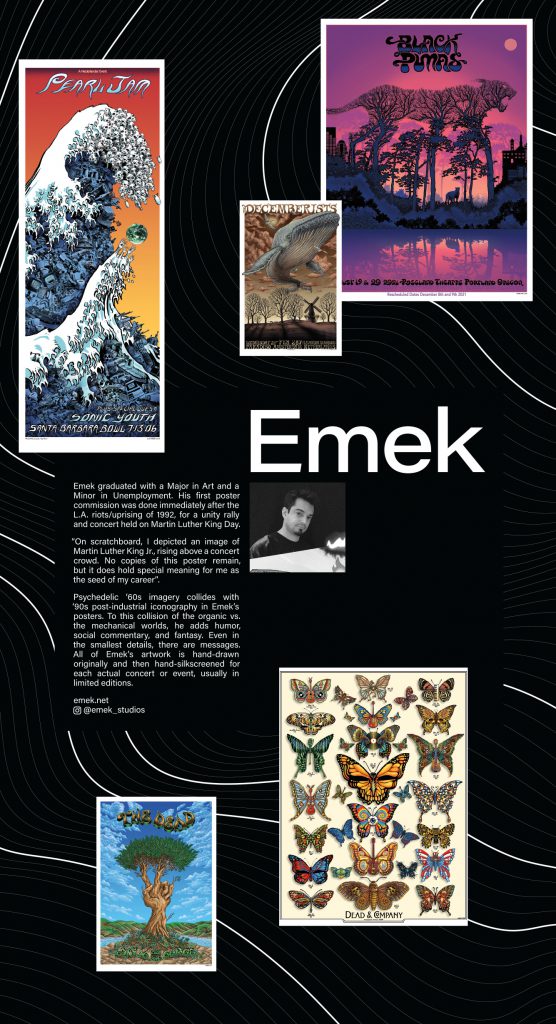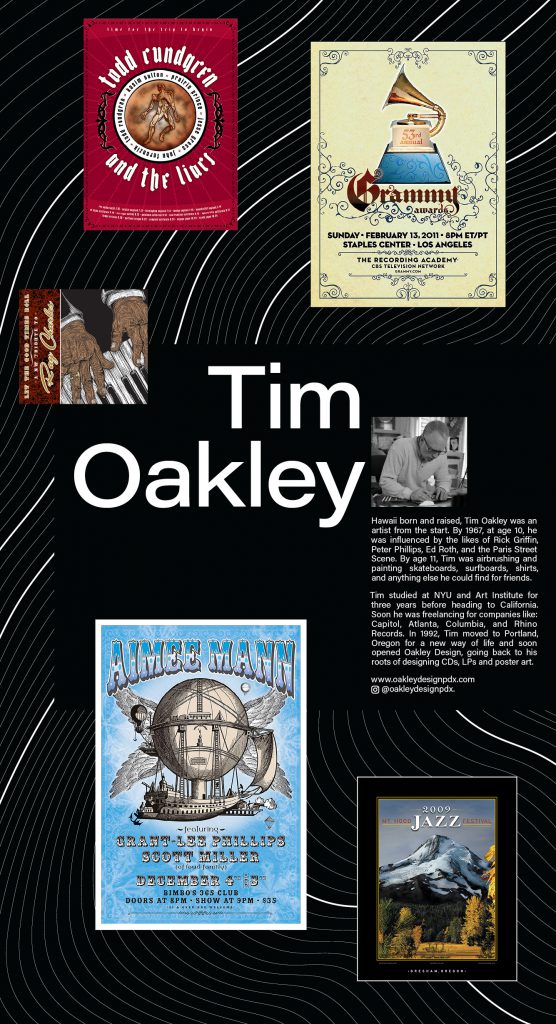 The Festival is a non-profit FREE event championing the diversity of artistic talent since its inception in 1963! The Lake Oswego Festival of the Arts attracts up to 30,000 visitors over the three-day weekend. Look for thousands of pieces of art within incredible exhibits, live music, and food at Lakewood Center and George Rogers Park. Shuttles will be available.
For more information about the overall mission and history of the Festival, along with the other exhibits being showcased this June, visit lakewood-center.org/festival-of-the-arts.
Gary Houston: @voodoocatbox
Emek: @emek_studios
Tim Oakley: @oakleydesignpdx