Artist Beth Kerschen is a problem-solver. Her toolbox is full of local images she has been obsessively collecting since 2009. Each photo-collage she builds brings her one step closer to solving her self-inflicted quandary: how to tell the story of Portland.
Portland: East Meets West (top image) is Beth Kerschen's large-scale installation at PDX. In it, Beth attempts to capture the essence of our town by using local iconic images like Powell's bookstore (pre-renovation); the original zoo-bomb bike tower; Voo-Doo Donuts and Hollywood Theatre. A traditional Portland bungalow is tucked quietly to the right of the Bagdad. The house sports a peace flag and the yard offers passers-by free reading material from it's yard library box. Paul Bunyan towers high above the scene from his Kenton neighborhood home. Even Paul stands as a reminder that nothing stays the same. Originally located at North Interstate Avenue and North Argyle Street, he now lives on the corner of North Interstate and North Denver.
In her artwork, Beth attempts to preserve the present through a sense of nostalgia.
"This piece is a celebration of Portland at this moment," Beth says. "There's so much hype about Portland right now…people are drawn here and it's changing quickly. I wanted to capture what Portland is today – like a snapshot of a current memory."
Beth modifies her images using Photoshop and photo-stitching to create surreal depictions of real scenes. She knocks out backgrounds, adds roses where there are none, and stacks buildings into high towers. Her process allows her to play with perspective, spatial relation, and size until her unique interpretation of Portland emerges.
At 115″ x 360″, Portland: East Meets West is Beth's first venture into large-scale printing. Typically Beth works smaller, transferring her images to light-sensitive polymer plates (a process she calls Polymer Photogravure). Then she runs the etched plates through a printing press to create her fine art prints.
Watch a video of Beth in action.   
For the PDX artwork, Beth printed on Sintra plastic panels and overlaid Plexi panels that were printed in reverse. This concept gives the work a similar layered effect as her smaller fine art prints, with the added durability of materials that will withstand a long-term public installation.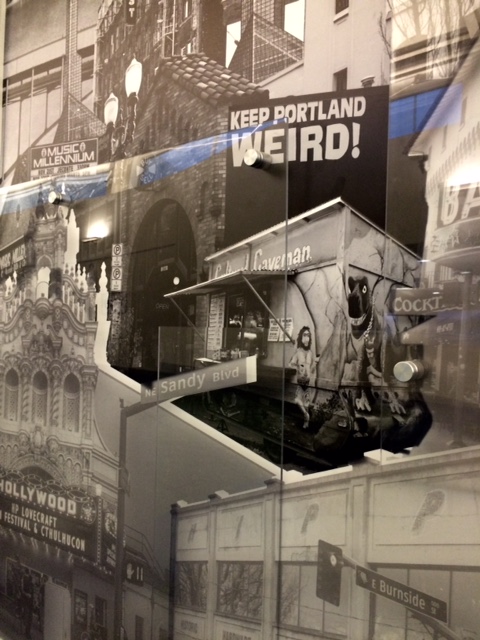 In case you're not able to access Beth's post-security work at PDX on Concourse B, she also created a smaller version (48″ long) of Portland: East Meets West. Currently, it's featured in The Pull of the Print exhibit at Verum Ultimum Art Gallery through April 30th.
"It may be difficult to find a home for the larger work when the PDX exhibit ends in January, 2017. I thought I'd make something smaller and more manageable in the meantime", Beth says.
As a full-time artist, Beth juggles her time between her retail line, Urban Retrospectives, and her fine art. She uses the same toolbox of images for both, but presents them differently.
To learn more about Beth, listen to her interview on KBOO Community Radio.