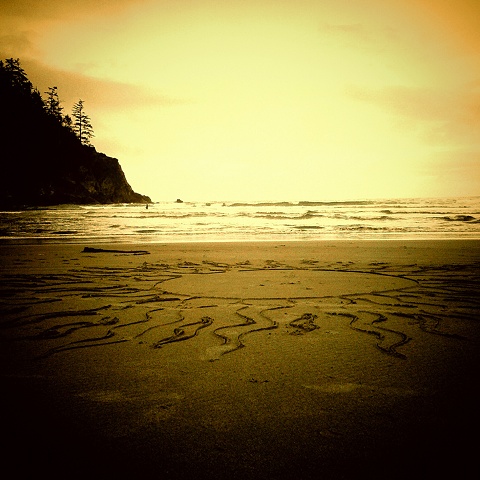 For nine months of the year, we Portlanders tread through puddles, shoulders slumped and hoods pulled tight as we scrunch our faces against the sideways rain. Around here the saying, "Umbrellas are for tourists" is about as common as "Keep Portland Weird". We've become one with the rain.
With the first glimmers of sunlight we emerge, pale and confused, from our movie marathons and novels and, squinting, venture into daylight. We rub our eyes. The world is new. Spring has sprung; tulip trees are in bloom and the whole city feels like one neighborhood party.
"This is why I live here", people remark as the city comes alive with festivals. Sidewalk cafes bustle and (fair-weather) bikers and runners rush by. We rove and stroll, rediscovering every treasure lost since the November rains began.
Portland photographer, Keri Friedman, has made a career of exploring Portland, capturing the nuances of our fair city. Her work, Portland Vignettes, is on display along the Concourse Connector at PDX through July 15.
Recently, Keri spoke about her inspiration and some exciting new photography apps that are accessible to anyone.
Keri, what kind of energy would you say best describes Portland? How do your photographs translate that feeling?
Portland's energy is weird, quirky, artistic, inviting and colorful. You might argue that it's not as weird and quirky as it once was, but whether genuine or affected, it's eye-catching and contributes to what this city is. From day one when I moved here 11 years ago, I knew I had to capture it with my camera. It took me a while to figure out what my view of Portland would be, but when I hit upon it with my Vignettes series almost 7 years ago, I knew it would be the way I would  express and capture my experience in this city. 

I think my photos catch the little bits and pieces of Portland daily life and color – some are humorous, some more serious, some are just little moments that I wanted to remember. These images, for me, capture the wonderful and weird people and places and details of Portland and give me an instantly nostalgic feeling…which seems more and more appropriate as things are changing here so quickly.
What equipment do you use? Right now, what's your favorite toy in your camera toolbox? Any new filters or lens you're excited about?
I love funky manual lenses. I love film too, though I don't shoot it very often anymore – but it's what I learned on, developing my own black and white Tri-x in a wet darkroom (and scratching it up every time – that part I didn't like) and then bringing out the latent image in a pool bathed in yellow light (that part I loved).  But I mainly shoot digital today and I love lenses that emulate the richness and emotion of film, that are manual focus and have heft, that make the process of making a photograph in this quick-snap digital age as tactile and thoughtful as possible. My two favorite lenses these days are the Lensbaby Velvet 56, and an old Canon FD f/1.8 manual focus lens that I use via an adapter on my new Sony A7 II. The Sony is a mirrorless camera, meaning it takes interchangable lenses – but as there's no mirror inside it's much smaller and more compact than typical DSLRs. But it's still a super powerful little camera with a full frame 35mm-sized sensor. Full disclosure: I work for Lensbaby (there couldn't be a better job for someone who loves photography than to work for a company that makes creative camera lenses), and I honestly love what we make. The Velvet 56 I mentioned above is one of those hefty, tactile, wonderful feeling manual-focus lenses. It gives your images a beautiful film-like quality straight out of camera, with a soft, vintage glow. It's the lens most often on my camera.
What filters and effects are you using in the PDX exhibit, Portland Vignettes?
Contrary to most everything else I shoot with, the Portland Vignettes series is shot on a point and shoot camera, a Samsung that runs the Android OS…it's like a phone (except you can't make a phone call on it) with a really nice little optical zoom. When I was first experimenting and trying to figure out how to document my vision of Portland, I started on an Android, my first smart phone.  At the time, there were very few interesting photo apps for Android, save an app called Vignette. I experimented and experimented until I found the mix of customized filters that gave my photos a vintage sepia-toned warm feel. Then I eventually upgraded to the Samsung camera with the optical zoom that ran Android. Mostly these images are straight-out-of-camera, color and filters are applied within the app, with a tiny bit of tweaking done in Lightroom or Snapseed.  
Most people carry some brand of smart phone with them, especially when they travel. Are there special apps or camera effects readily available that people can utilize to begin experimenting with their own images?
Today there are a TON of apps available out there and a lot of them give you very powerful control over your images. Vignette, as I mentioned above, is still my personal favorite, but Snapseed is an all around great editing app for Android & iPhone. Camera Awesome is also really easy and versatile –  and of course Adobe makes mobile versions of Photoshop and Lightroom.
No matter what town you may be exploring this spring, hopefully Keri's images will inspire you to tell the story of your own adventures. Want to have your own vignette image of Portland featured on our blog? Send your Portland adventure image to greta.blalock@portofportland.com. Ten images will be selected to be featured on this blog post!