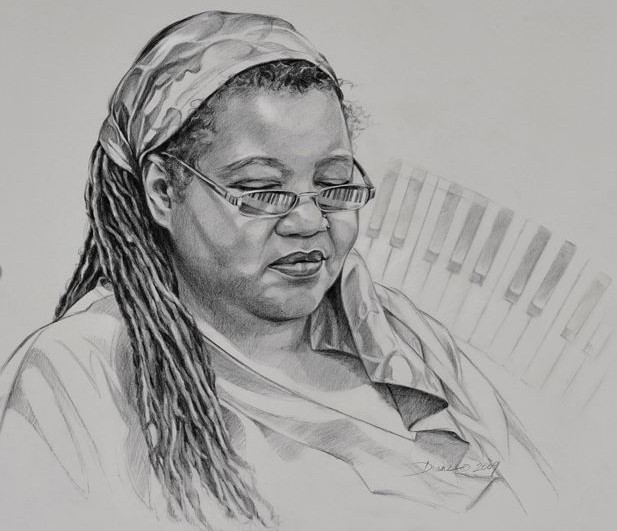 Celebrate the women of blues and jazz on Concourse E with Diane Russell's portraits of regional musicians.
Diane Russell's exhibit Portland Soul: Portraits in Jazz & Blues features sixteen regional talents. Since March is Women in History Month, we're shining the spotlighting on our female artists: Janice Scroggins, Linda Hornbuckle, Nancy King, LaRhonda Steele, and Esperanza Spalding.
Historically underrepresented, women have nevertheless been instrumental in shaping the backbone of blues music. Cathartic and emotional, few genres stir the heart like blues. While mainstream music dances safely around societal issues, blues delivers its missive with disarming candor.
Between 1923 – 1945 especially, the blues enabled marginalized women in society to voice their experience of social repression through song. While first women of blues Ma' Rainey and Bessie Smith gained initial recognition by adhering to the shallow stereotype of their day, their growing popularity eventually afforded them the opportunity to express their more genuine selves. Toward the close of the 1920's, Ma Rainey – one of the first black women to record on a label – had earned enough money that she was able to purchase a touring bus with her name on it. In 1928, Bessie Smith wrote and recorded "Thinking Blues", a reflective song about love and regret. This truer expression was in stark contrast to songs that were typically written for female performers by men.
Female blues artists weren't exclusive with their empathy. Often, as witness to the human condition of their time, they championed both sexes. When Billie Holiday began performing Abel Meeropol's Strange Fruit as a protest against racism and lynching, she feared the repercussions that might follow. Many record labels declined to record the controversial song, despite its popularity during her live performances. Finally, Holiday recorded Strange Fruit under the Commodore label in 1939 and again in 1944. The 1939 recording became her biggest selling record, with one million sold.
Women fighting for their place in the voting booth and in the work place found strength in music that inspired collective action and change. These original blues divas bravely opened a doorway for feminine expression, passing the torch to other soulful singers. In the 1960's and 70's Janis Joplin's raw passion and Nina Simone's hypnotic storytelling became synonymous with the American Civil Rights Movement.
This month we celebrate our own blues and jazz heroes, close to home, as they continue to influence the sound and culture of our time.
Janice Scroggins was a master of blues, jazz and gospel styles. Janice moved to Portland from Oklahoma in the 1970's. Because she began playing piano at the age of two, she referred to music as her "first language". Playing with Esperanza Spalding, Thara Memory, Linda Hornbuckle, Curtis Salgado, Mel Brown and others, she was a fixture in our community's strong network of musicians. Janice Scroggins passed away on May 27, 2014, only a year after being inducted into the Oregon Music Hall of Fame.
Linda Hornbuckle, much like Janice Scroggins, was immersed in music from childhood. Linda began singing at six years old at the Grace & Truth Pentecostal Church in Portland, Oregon. From there, her talent and passion for singing blues, gospel and soul grew to reach an international audience. Linda toured and recorded with Nu Shooz, Quarterflash and Dan Reed and was the lead vocalist for the Motown revue band, Body and Soul. In 2010, Linda Hornbuckle was inducted into the Oregon Music Hall of Fame. She passed away October 4, 2014 – only a few months after her dear friend, Janice Scroggins.
Nancy King is a powerful jazz singer from Springfield, Oregon most noted for her strong improvisational scat chops and wide vocal range. Nancy has performed with Jon Hendricks, Vince Guaraldi, Dave Friesen, Glen Moore, Tom Grant and many other greats. In 2001, Nancy was inducted into the Jazz Society of Oregon's Hall of Fame. In 2008, the City of Portland honored Nancy by officially naming February 22nd Nancy King Day.
LaRhonda Steele began singing in church in Oklahoma when she was 13 years old. Since moving to Portland, she has performed with Curtis Salgado, Linda Hornbuckle, Janice Scroggins, Paul Delay, Obo Addy, Thara Memory and others. In addition to performing with her husband in The LaRhonda Steele Band, LaRhonda is the choir director for the Portland Interfaith Gospel Choir. The choir employs Black Gospel Music to spread the message of Love, Equality and Cooperation to our community and world.
Esperanza Spalding, from Portland, Oregon, is a largely self-taught jazz bassist, cellist, and singer. An amazing prodigy, she began playing violin in the Chamber Music Society of Oregon at age five. Currently, at age 31, she's already won four Grammy Awards. Esperanza continues to challenge herself, pushing the boundaries of her art in exciting new directions. An independent force on the music scene, Esperanza inspires other young women toward excellence and self-development.