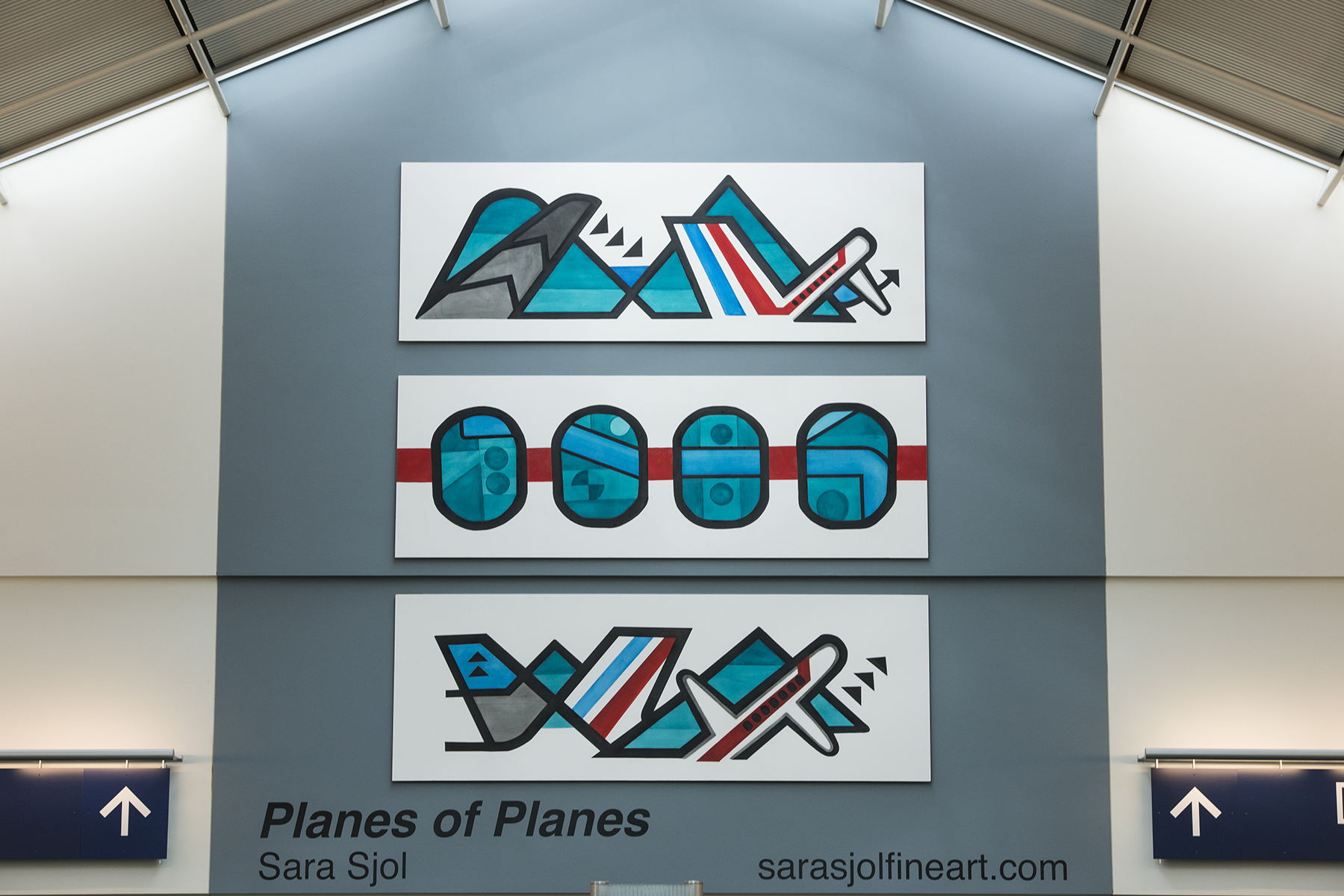 Planes of Planes, Sara Sjol, Concourse D, February 16, 2016 – February 16, 2017
Planes of Planes is an emotive expression of place created by Portland artist, Sara Sjol. As inspiration for this project, Sara spent hours at PDX observing travelers, watching planes land and depart, and thinking about her own experiences of flight.
From bottom to top, the three 42″ x 120″ panels are titled, "Taking Off"; "Fly-over States"; and "Here We Go Again". In creating her work, Sara considered the passengers, but also the pilots, flight attendants, airplane mechanics, and other internal staff that ensure these flights happen safely, again and again.
Sara is no stranger to creating work inspired by place – or even other art. In 2014, Sara was selected as Artslandia Performance Annual's Cover Artist. She was also featured in the magazine. Artslandia tasked Sara with a special assignment: see three performances (music, theater and dance), paint a piece inspired by each, and then blend those pieces into a painting that would grace the cover of the 2014-2015 Artslandia Arts Annual.
Sara explains, "I have always looked at the world through my own lens. I was first intrigued with graphics — shapes, squares, patterns, and form which lead me to countless creative endeavors. My technique evolved organically. From pattern and line doodles in notebooks, to some ink and watercolor experiments on a left-over piece of screen printing paper, to the paintings I am doing today."
Sara is also founder of The Recycled Rain Project; a Portland-based non-profit that curates a juried art show featuring new works created by incorporating rainwater. Each cycle features different local artists, with a percentage of sales donated to water-related charities.
Sara Sjol is represented by Gallery 903