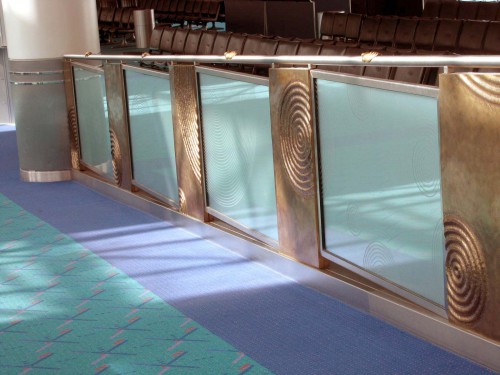 Trees and Rain, Concourse C
Have you ever noticed the bronze grips on the guardrails along Concourse C at gates C1 and C2? They're an invitation from artist Pete Beeman to interact with his artwork. Go ahead. Grip a handhold!  Watch the glass below change from opaque to clear!
How does that happen?
These two guardrails by Pete Beeman are made from stainless steel, cast bronze and etched glass. They feature Priva-Lite® changing glass that alternates between clear and opaque when the handhold is grasped.
Liquid Crystal film is sandwiched between two inner layers of glass. The crystals align when the electrical current is switched on causing the glass to appear opaque. When you grasp the handhold, your hand interrupts the circuit and the glass changes to clear.
Trees and Rain
Pete Beeman's artwork was commissioned as part of the Concourse C expansion in 2001, along with other works in the terminal from Larry Kirkland, Christine Bourdette and Miles Pepper. Together, their work celebrated our region's landscape, climate and adventurous spirit.
Pete's work is a tribute to our beautiful Northwest climate and industry. The changing glass in his artwork represents movement and growth. The north guardrail represents rain, as concentric circles span outward from central drops. Opposite Rain, the Trees guardrail on the South side on Concourse C represents the cross section of a tree.
Other works from 2001 included Larry Kirkland's Columbia, State of O and Tower; Miles Pepper's Homage to Flight: Phenomena I & II and Christine Bourdette's Time Flies Mural.