PDX Artist, Beth Kerschen, has been chosen as one of thirteen artists to represent Portland at The Artists' Repertory Theatre. The upcoming exhibit, Celebrating Portland–An Intergenerational Collaborative, runs July 1 – August 31.
Meanwhile, Beth's exhibit at PDX runs through January 13, 2017 along Concourse B. Her site-specific artwork at PDX, Portland: East Meets West (above),  examines issues of change and preservation as our city grows.
Portland: East Meets West features iconic buildings such as the Hollywood Theatre, the original Powell's Bookstore and Old Towne Storage. Many of the sites featured have been impacted by recent construction and redevelopment. The grey tones of the reverse-printed Plexi-panels lend a ghostly quality to this piece, reminding us of the transient nature of our surroundings. The layered panels reflect that development is a complex issue with no simple answers. Beth examines how recent development effects our experience of Portland.
"People move to Portland for a reason – there's a draw", Beth explains. "If we don't consciously make an effort to preserve what makes our town special, we could lose our soul to development. I'm not anti-development; I want to raise the issue of balance. Does progress mean growth or a richer quality of life? And how can we have both?"
Beth's work is evolving as quickly as the city is changing. Her new work has taken on stronger political overtones. Where her past work was more nostalgic and comforting, her new work feels futuristic – energized with movement and the unknown.
See Beth's recent work at Gallery 114 in the exhibit, It's Political.
June 2 – July 2 (Hours: Thursday-Sunday, 12-6pm)
1100 NW Glisan, Portland, OR. 97209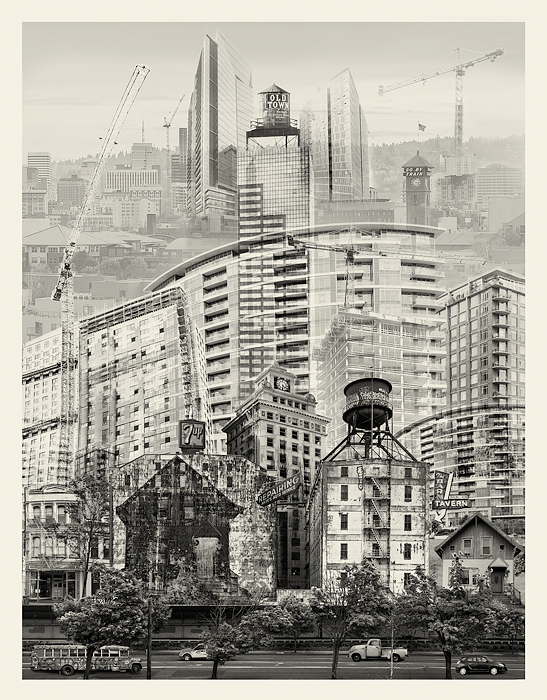 Until January 2017, you can see Beth's work along Concourse B at PDX.
Happy travels, Portland!