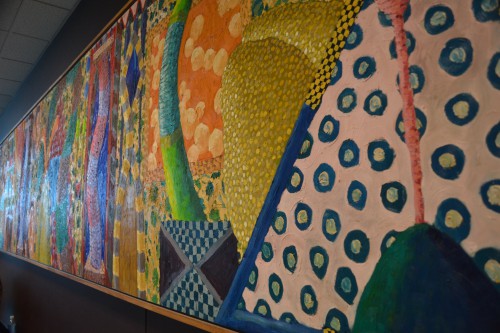 If you've ever made the trek to Concourse A, you've undoubtedly noticed the bright painting positioned at the end of Concourse B.
That painting, Provincial Narrative by Jack Portland, was commissioned in 1991 by the Port of Portland. The 4′ x 26′ oil painting was originally sited on a wood paneled wall on Concourse D. Sensitive to the work's environment, Jack intentionally used bright, lively colors to balance the darkness of the wood.
Years later, when the space became an international concourse, Concourse D was redesigned and dedicated to Oregon's former Governor Vic Atiyeh. As a result, Jack's work was relocated and now serves as a focal point at the end of Concourse B.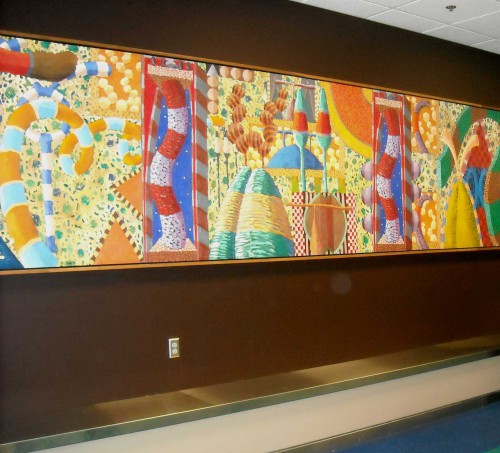 Jack Portland's painting style is very recognizable. His work is often whimsical and vibrant, encouraging viewers to join in his celebration of life . According to Jack, "My work portrays my interest in the rich, varied, and full physical environment of the Northwest, a sense of humor, generosity, duality of form and a desire to involve the viewer."
For many years, Jack has spent half the year in Portland and the other half in Italy. Like most painters, his images and forms are clearly influenced by his environment. In his recent work from 2015, notice the fruits, fields and trees. Note the blue clouds and coffee.
By incorporating familiar images in unfamiliar ways, Jack encourages the viewer to see his world anew. Along side these everyday forms, Jack also incorporates shapes that are universally symbolic such as pyramids and spheres.
One might ask, "But what does all of this abstract imagery mean?"
Short blog answer: artwork is subjective. While an artist will often have clear intentions behind his imagery, a viewer's takeaway is based on his or her own experiences. In short, we see our world through the filter of our minds – our beliefs and experiences. We never see the world as it is – we see the world as we are.
Speaking as a curator (and an optimist), this is my take-away: Despite our illusion of differences, travel often reveals the similarities of people and cultures. At the broadest level (our recognition of  spheres and pyramids), we are alike. Encouragingly, we are also alike in the details of our desires: who doesn't dream of  blue skies, the comforts of good food, and the hope of a bountiful harvest?
Jack's work, to me, speaks of optimism, universality, movement and abundance. His work has grown and developed over the years, but the constancy of his spirit remains true. Like Jack himself, his work is a call to celebrate life.
Jack Portland is represented locally by Laura Russo gallery.