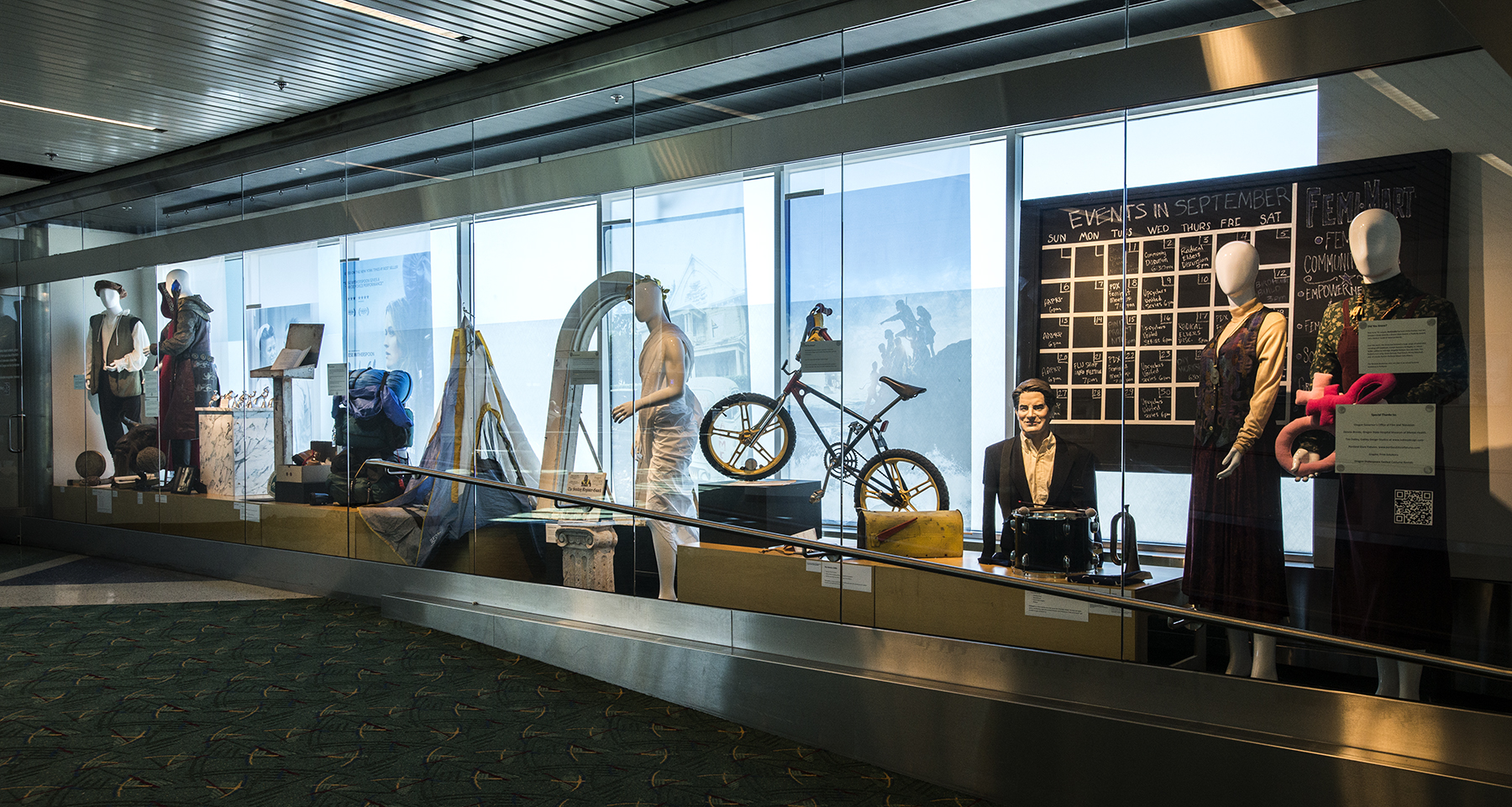 Six vignettes from films made in Oregon are on display on Concourse E through February 21st of 2017. Oregon Made Shows showcases artifacts, props and images from just a few of the 400+ feature films & television shows that have utilized Oregon as their production backdrop over the years.  From the early silent era films like "Fisherman's Bride" (shot in Astoria, 1908), to "Grimm", the popular NBC television series, film has been a major contributor to Oregon's creative economy.
To see all the feature films, TV shows and series that have shot in Oregon to date, visit the filmography here.
Oregon Made features the following film works:
The Librarians
The Librarians (2014-)
Created by: John Rogers
Produced by: TNT and Electric Entertainment
Starring: Noah Wyle, Rebecca Romjin, Christian Kane, Lindy Booth, John Harlan Kim, and John Laroquette
The Librarians series "centers on an ancient organization hidden beneath the Metropolitan Public Library dedicated to protecting an unknowing world from the secret, magical reality hidden all around. This group solves impossible mysteries, fights supernatural threats and recovers powerful artifacts, including the Ark of the Covenant, the Spear of Destiny and Excalibur." TNT.
The Librarians props and wardrobe are on loan courtesy of Ex Libris Productions, Inc., Electric Entertainment and the Oregon Shakespeare Festival, in Ashland, Oregon.
One Flew Over the Cuckoo's Nest
One Flew Over the Cuckoo's Nest (1975)
Based on the novel by Ken Kesey
Film directed by Milos Forman
Film starring: Jack Nicholson; Christopher Lloyd; Michael Berryman; Louise Fletcher; Danny DiVito; Scatman Crothers
One Flew Over the Cuckoo's Nest was adapted into a screenplay from the novel (written by Oregonian Ken Kesey) and the stage play by the same name.  The film was shot on location at The Oregon State Hospital in Salem, Oregon.
The Oregon State Hospital's Superintendent at the time, Dean Brooks, was a strong advocate for patients' rights.  He supported involving actual patients (with their approval) in the making of the film.   Brooks appears in "Cuckoo's Nest" as Dr. John Spivey.
With the creation of the film, Superintendent Brooks seized the opportunity to initiate a nation-wide dialog about mental health issues.
Brooks showed the film at the American Psychiatric Association's conference in 1976 remarking, "Fiction allows one to live an experience and to focus on problems in ways no other media can. "Cuckoo" …has exploded into consciousness the things we have refused to look at."
"Cuckoo's Nest" received 5 Oscars in 1976.
Mental Health & Hydrotherapy
Oregon State Hospital began using state-of-the-art Hydrotherapy equipment in the early 1960's. Hydrotherapy continues to be utilized today by world-class spas and medical facilities as an alternative healing modality.
The hydrotherapy machine in the exhibit at PDX is an exact replica of the machine used in the film. An actual hydrotherapy machine was used in parts of the filming of One Flew Over the Cuckoo's Nest, with a replica used for the final scenes.
The hydrotherapy machine used in the film is exhibited at The Oregon State Hospital Museum of Mental Health. The museum is open to the public Tuesdays, Fridays and Saturdays Noon – 4 PM.
Thanks to Dennie Brooks at the OSH Museum of Mental Health, and to Tim Oakley of Oakley Design Worldwide for crafting the replica exhibited at PDX.
 Wild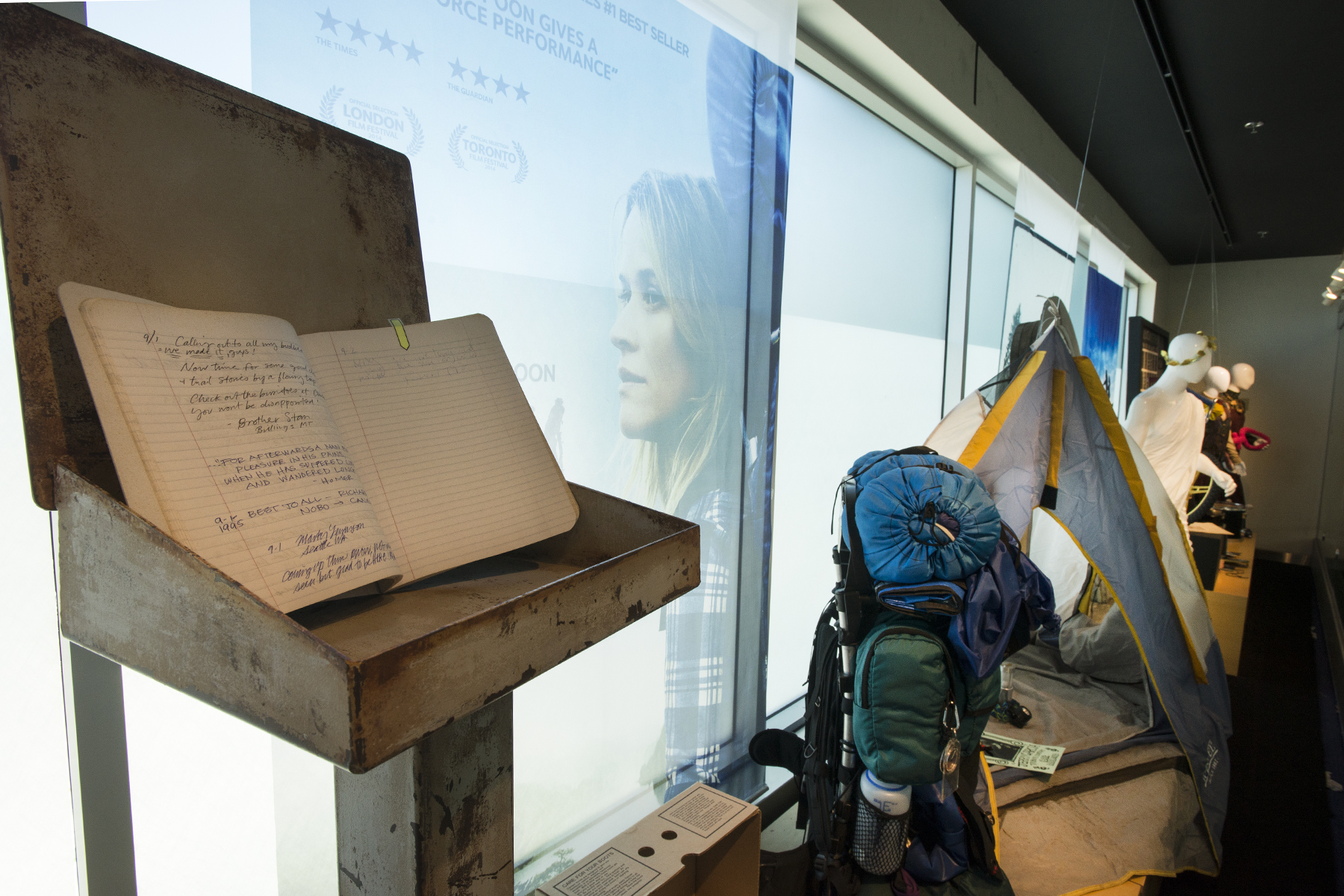 Wild (2014)
 Based on the memoir, Wild: From Lost to Found on the Pacific Crest Trail by Cheryl Strayed
Writer: Nick Hornby (screenplay)
Director: Jean-Marc Vallée
Starring: Reese Witherspoon; Laura Dern; Gaby Hoffman; Thomas Sadoski
Produced by Fox Searchlight Pictures and Reese Witherspoon's production company, Pacific Standard
A woman finds strength and healing upon undertaking a 1,100 mile solo hike along the Pacific Crest Trail.
 Wild shot from Crater Lake to the Bridge of the Gods, utilizing more Oregon locations than any other feature shot in the state of Oregon to date. 460 miles of the 2,650-mile Pacific Coast Trail are in Oregon. Oregon Wild locations included Crater Lake; Ashland; Smith Rock; Bend; the Portland metro area; the Columbia River Gorge and many others.
Interestingly, Cheryl Strayed, author of the memoir Wild: From Lost to Found on the Pacific Crest Trail, now lives in Oregon.
Props exhibited courtesy of 20th Century Fox Film Corporation.
  National Lampoon's Animal House
National Lampoon's Animal House (1978) 
 Directed by: John Landis
Writers: Harold Ramis; Douglas Kenney; Chris Miller
Starring: John Belushi; Karen Allen; Tom Hulce
In this comedy set in 1962, Dean Vernon Wormer is determined to expel the entire Delta Tau Chi Fraternity for their outrageous antics.
Released in 1978 by Universal Pictures, Animal House was shot in Eugene and Cottage Grove, Oregon.
The Palladian window arch, seen in the exhibit, is the only known remaining piece of the original "Delta House" location in Eugene. The house, owned by the Patterson Family, was donated to the University of Oregon where it eventually became a rented fraternity house. It was chosen as a key location for the film.
Ken Kesey (author of One Flew Over the Cuckoo's Nest and Sometimes a Great Notion) and his Merry Pranksters rented the original Delta House for a brief stint in 1957 after their own house burned to the ground.
Props are artifacts are on loan from Katherine Wilson.
 The Goonies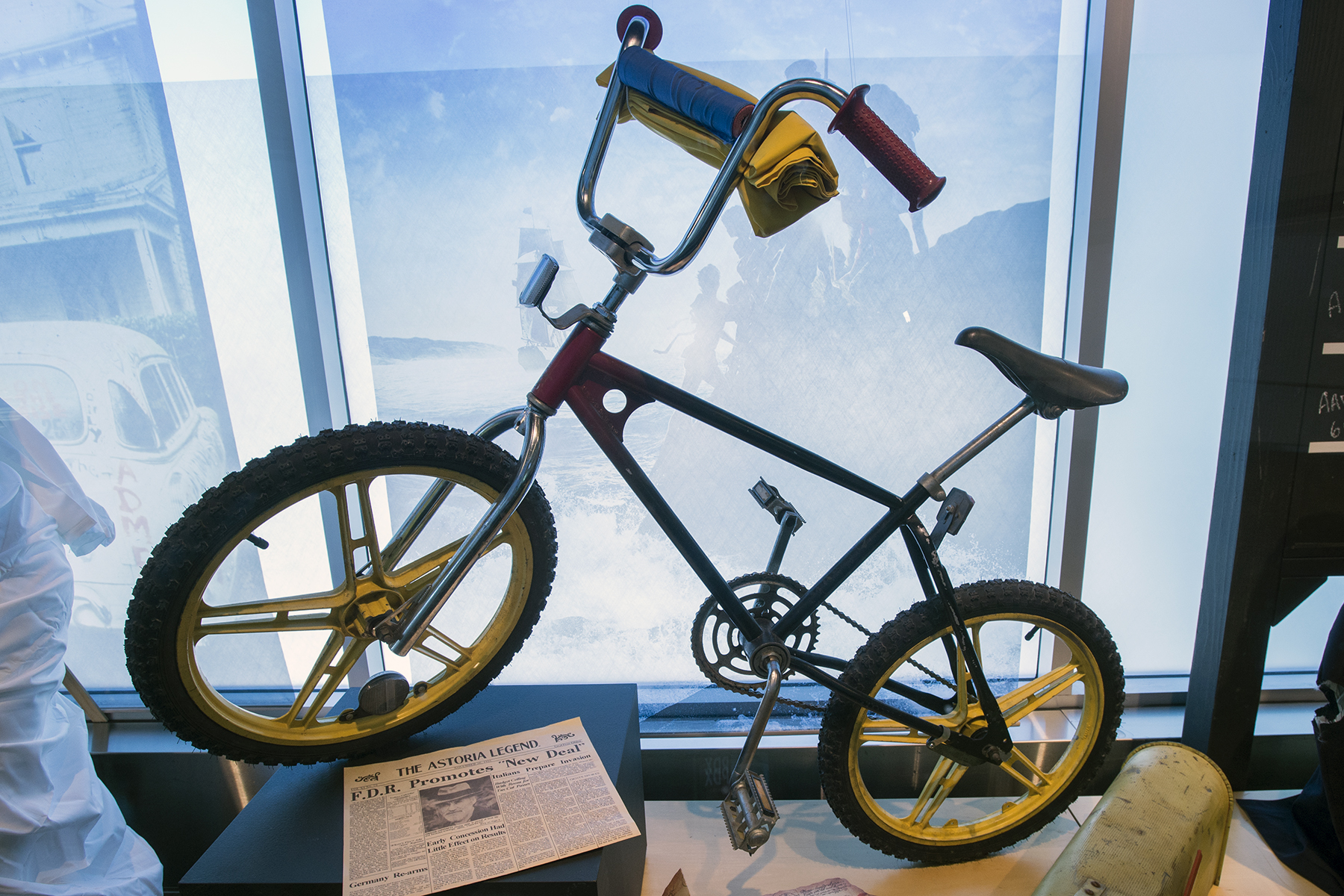 The Goonies (1985)
 Writers: Steven Spielberg (story); Chris Columbus (screenplay)
Director: Richard Donner
Starring: Sean Astin; Josh Brolin; Jeff Cohen; Corey Feldman
In this family comedy, a misfit group of kids follow a mysterious map to uncover a pirate's treasure with hopes of saving their home from foreclosure.
The Goonies shot almost entirely in sequence in Astoria and Cannon Beach, Oregon over 5 months. Only a few scenes were shot in Hollywood. As a tribute to this cult classic, June 7th is annual Goonies Day in Astoria, Oregon.
Props and artifacts are on loan from the Oregon Film Museum & Clatsop County Historical Society.
Portlandia
Portlandia (2011-)
Created by Fred Armisen, Carrie Brownstein and Johnathan Krisel
Portlandia is a sketch comedy series that spoofs life in Portland, Oregon. The show has developed a cult-following, especially among Portlanders who embrace the "truth of the spoof" and are able to laugh at themselves.
 Now in its 7th season, Portlandia has won three Emmys ("Outstanding Production Design" 2015, "Outstanding Costume Design" 2011, 2013), two Art Directors Guild Awards ("Excellence in Production Design" 2014, 2015), one Gracie Allen Award ("Outstanding Female Actor in Supporting Role – Carrie Brownstein", 2012), a Peabody Award (IFC, 2012), and a Writers Guild of America Award ("Best Comedy/Variety", 2013).
Over the years, the show has featured a long list of celebrities, including Jeff Goldblum; Kumail Nanjiani; Ed Begley, Jr.; Olivia Wilde; LaMarcus Aldridge; Brigette Nielsen; Gus Van Sant; Tim Robbins; k.d. Lang; Greta Gerwig; Paul Simon; Penny Marshall… and, of course, former Portland Mayor Sam Adams.
Costumes and props on loan from IFC and Sidestreet Entertainment.
Thanks to the following partners for helping make this exhibit possible:
Electric Entertainment
Ex Libris Productions
IFC
Sidestreet Entertainment
Turner Entertainment Networks, Inc., A Time Warner Company