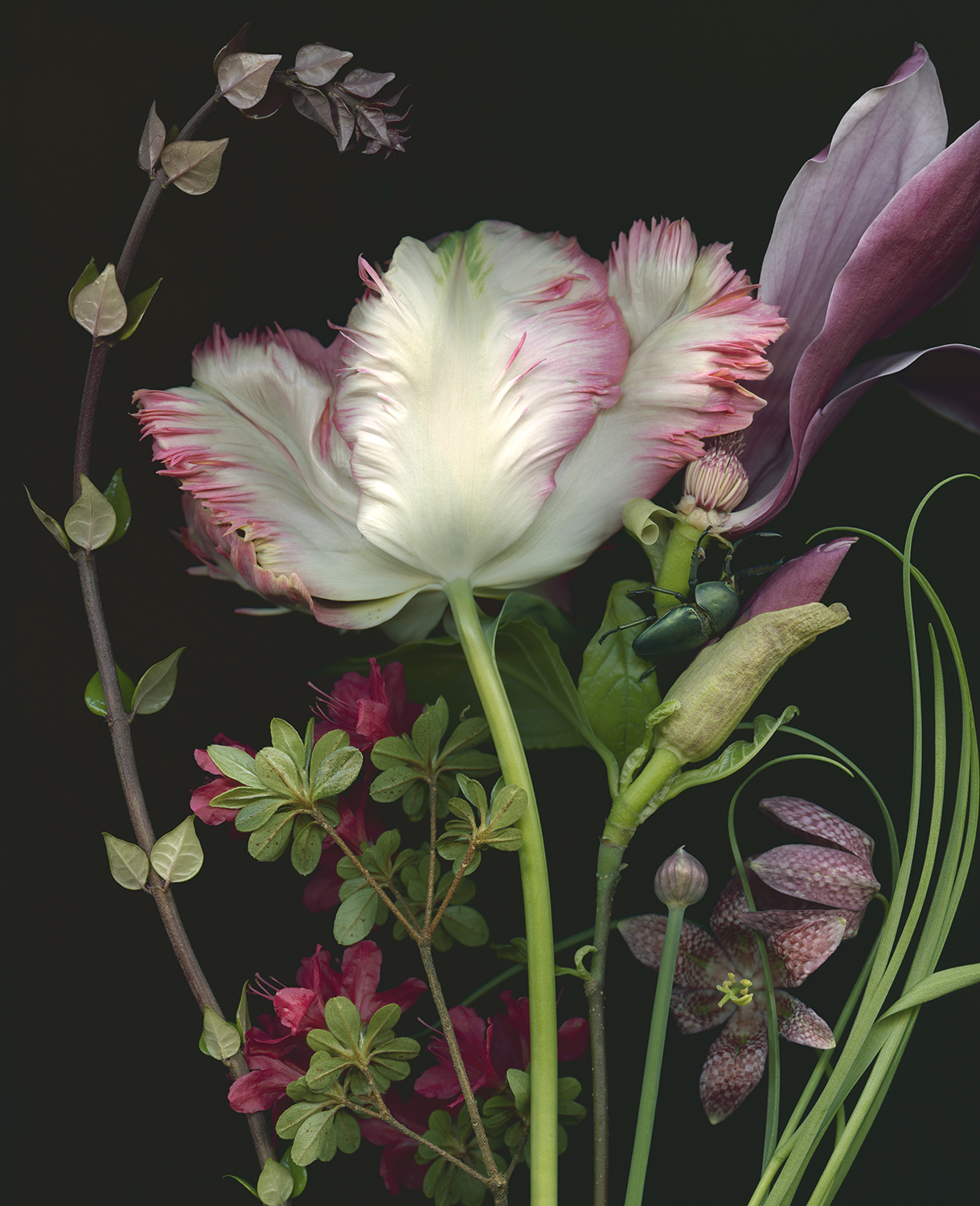 Enjoy abundance along the Concourse Connector from July 29, 2016 through July 15, 2017. This new exhibit, which includes a new installation area on the north end of the connector, features two artists who each focus on nature and growth in very distinctive ways.
A Year in the Willamette Valley, Deb Stoner
On the south end of the Connector, "A Year in the Willamette Valley" demonstrates Deb Stoner's fascination with detail. A jeweler by trade, Deb has a well developed eye for inspection. In her work, she freezes time and directs our attention to the minute and transitory nuances of the world we often take for granted.
Each piece in Deb Stoner's exhibit represents one month in the Willamette Valley, highlighting the changing flora that thrives in our region during each particular season.
I use the seasonal flora and tiny fauna of my Oak Grove, Oregon neighborhood as subjects in making the still life photographs of this series called "A Year in the Willamette Valley".  Thanks to the generosity of my neighbors and friends who let me roam their gardens with clippers in hand, I gather flora to make these imaginary visual landscapes. I collect the "fauna", and mount them in somewhat realistic poses so they act as dramatic characters in my photographs.

I'm interested in exploring and showing the viewer the surprising variety of natural forms revealed at high magnification under a patient gaze. As an artist in love with all things photographic, with over three decades of working with equipment ranging from homemade pinhole cameras to extraordinary digital gear, my current favorite "camera" is a high resolution scanner. As it focuses on subjects closest to the viewer, with depth of field falling off rapidly, it creates a picture plane that can be an unusual and mystifying viewing space.  Working with flowers as they actively fade on the scanner glass generates challenges that engage my creativity in making these lush, curious, and beautiful compositions.

As an artist, I use my skills as a photographer, a researcher, a gardener, and a computer nerd to make my work. I love knowing that next spring, I'll get to witness the cycles of change in the hellebores and the hydrangeas, while in the fall, I'll look forward to the transformation of the glory bowers and the oak leaves. I'm thrilled when friends show up with a bug in a jar for me to mount and reanimate. Hot tips on flowering fritillaria or caterpillar sightings are always gratefully received!"
Learn more about Deb Stoner in the Getty's Blog, Iris.
Garden Riot, Nancy Houfek Brown
The north end of the Connector features the work of Nancy Houfek Brown, an artist living in Hood River, Oregon. In a less representational style than Deb, Nancy Houfek Brown captures the energy and life of flowers from her garden. Her Poppies burst from the canvas in bright orange and fiery reds. Her Anemones glow vibrantly. Just as a vase of fresh flowers brightens a room, Nancy's work brings the same freshness and life into our shared space.
As a visual artist, I cannot help but respond to the environment surrounding me. Over forty years of painting, my subject matter has ranged from landscape to figure to still life to flowers:  mountains and rivers in Colorado, factories in Boston, people I have met, and objects I'm fascinated by.  I have used watercolor, collage, and oil paint, with layering for translucency and texture.

For the past decade, I have focused my painter's eye on the beauty of the garden.  When my husband and I first arrived in Hood River, OR, twenty years ago, I was stunned by the profuse and luxuriant gardens in every yard, on every street, at every corner.  Even the most humble business establishment had flowers blooming all summer.

Flowers are rich in movement and color and offer an infinite variety of shapes. By painting in a large format, I can delve inside the bloom and understand the shape and detail of each.  Using acrylic paint on canvas, I like to work slowly building up many thin layers to replicate the glow of blooms when they are in nature. I try to create a bit of whimsy, flattening out the images, using reality only as a springboard to give the viewer an experience of delight.  Now that our own garden has matured, I have an unending source of subject matter.

I created the pieces in this exhibition with the intent of bringing the brightness of the summer garden inside.  I want to bring a smile and a deep breath of the sweetest summer memories to people traveling though the airport even during the darkest parts of our Pacific Northwest winter.
As the curator of these exhibits, I've been thinking about flowers a lot lately. Yes, they're pretty and everyone loves flowers but they also possess, I believe, a more profound message. Flowers, to me, represent vulnerability. Often the word vulnerability is associated with weakness, but when you think of the crocus pushing through the icy ground of winter, one can hardly call it weak. The flower pushes through the hard ground in search of light and warmth. It pushes through to make its connection with life, and it pushes itself into the world with hope and vulnerability.
There's an inherent strength in vulnerability and the ability to be soft and receptive when the world calls out for us to be hard. When the society values speed, strength and competition, qualities like openness and stillness can be undervalued. But we, as humans, need a balance of both.
Not many of us will sit with a petal the way Deb Stoner does, but we can take a cue from nature to cultivate meaningful, reflective moments in the midst of our busy lives.
Look at a tree, a flower, a plant. Let your awareness rest upon it. How still they are, how deeply rooted in Being. Allow nature to teach you stillness.
ECKHART TOLLE, Stillness Speaks