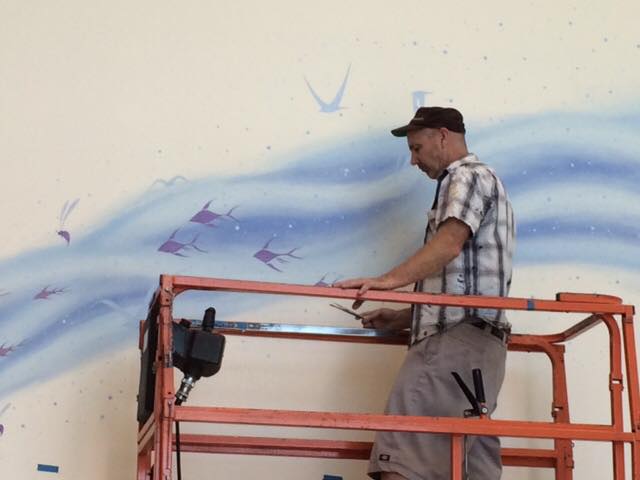 Most travelers don't expect to see an artist 20' in the air creating a mural in a working airport. At PDX, they're surprised and delighted to see artist J. Shea high above them in a scissor-lift creating a whimsical mural along Concourse A.
Artist J. Shea is one of many muralists participating in the annual Forest For The Trees NW Arts Festival. If you've noticed the many colorful murals that grace the buildings and alleyways of NE Alberta or Sandy Boulevard, you might have already seen work from past FFTT festivals. Next time you see a mural you love, look for "FFTT" by the artists' signatures. Without these many murals, our city would be lacking some serious character.
Forest For The Trees was established in 2013 as a non-profit project dedicated to the creation of contemporary public art in Portland. The festival brings together local and international artists in a collaborative setting and provides them with the freedom and resources to create artworks in environments that are freely accessible to the local community.

Forest For The Trees hopes to pull Portland's residents away from their daily routines and provides them a moment of appreciation for the creativity that surrounds us in the Pacific Northwest.

Forest For The Trees is organized by artist Gage Hamilton, curator Matt Wagner of Hellion Gallery and event producer Tia Vanich. They believe that by improving the visual landscape of the city through quality artwork and providing opportunities for the artistic community, Forest For The Trees will encourage the people of Portland to be active participants in establishing their city's creative identity.
This year's event locations include NE Glisan, NE Couch, Interstate Ave and many others, including Portland International Airport. From August 22 to 25, J. Shea is on site creating his art installation on Concourse A.
Shea's installation, Flight, features a fanciful mural and fourteen sculptures handcrafted to capture the imagination and the experience of flight.
"I'm usually on a ladder painting murals," says Shea. "Having a lift is a treat. It makes things a lot easier." Shea doesn't use stencils or projectors to trace his images onto large walls. He hand-paints every character and swoop from nothing, delicately bringing his images to life with subtle highlights and thoughtfully placed accents.
"That fish was a football," Shea says, describing his sculptural process. "That one was a gourd." Shea looks for unusually shaped, lightweight objects from which to build his sculptures. He uses layers of air-dry clay and paint to transform everyday objects into fanciful creatures.
Shea is always on the hunt for small, detailed objects to incorporate into his work. If you notice the sculpture hanging from the three birds, it has diamonds on the soles of its shoes (a nod to Paul Simon?) and watchbands around its ankles.
Today, J. Shea's work is still a work in progress, and progressing nicely! Lucky for us, it will be in place until August 2017, post-security, on Concourse A.
If you're not traveling before next August, look for the next PDXArt Blog to see the finished installation. If you're looking for a Portland adventure, explore the other FFTT art sites around town.