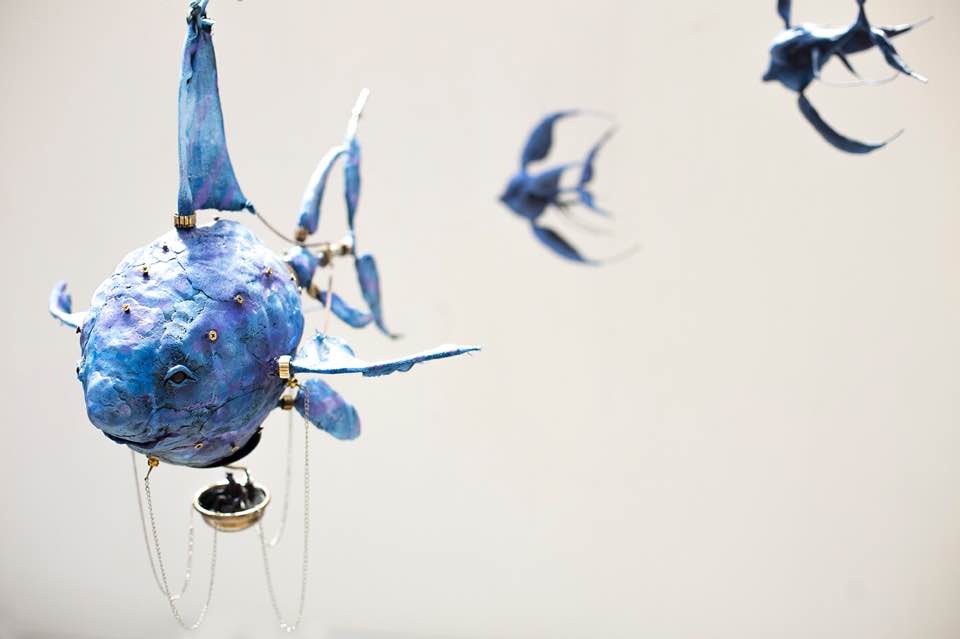 Artist J. Shea has just completed a mural that will delight passengers traveling along Concourse A through September 2017.
J. Shea is a mixed media artist based in Portland,OR. Known for his mixed media sculpture that is fabricated from recycled bric-a-brac and found objects, Shea creates 3-dimensional installations and large-scale on-site murals around the country and abroad.
"Flight", Shea's work at PDX, features an assortment of winged creatures from birds and bees to spiny-winged fantasy beings on which smaller creatures ride. High above travelers' heads, purple fish float alongside a buoyant elephant. Midstream, a flying pig joins the animated scene.
Shea created "Flight" on-site along Concourse A over the course of a week. The concourse, current home to Alaska-Horizon flights, is especially utilized by frequent travelers. This project allowed travelers to witness Shea's progress as the installation unfolded day by day.
Shea's hand-painted mural of fish, birds and bees serves as the backdrop to his hanging sculptures. The 30′ long mural was painted over the course of four days.
To complete the work, Shea carefully hung his hand-crafted clay creatures in the foreground.
Together, the sculptures and mural create a fantastical scene as these strange beings flow, float and fly from one destination to the next. The whimsical scene reminds us that traveling in the air – no matter how often we do it – is still a miraculous thing!
J. Shea's installation is part of the annual Forest For the Trees mural festival in Portland. PDX is excited to host, for the first time, one of the many Forest For The Trees mural locations in Portland.