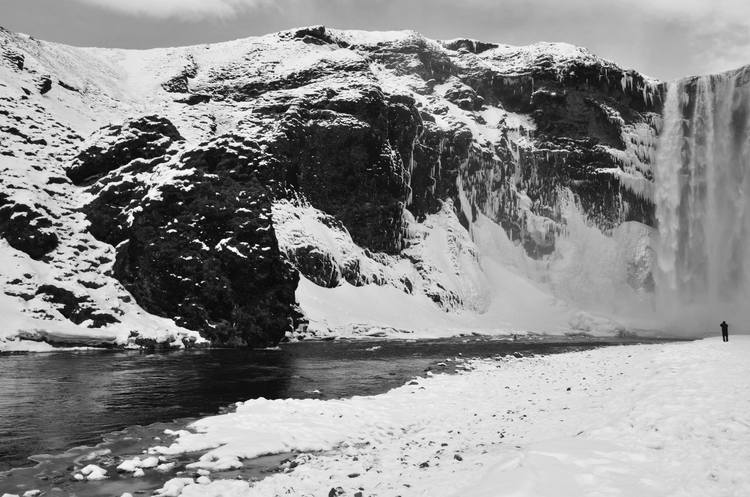 Now until fall 2017, deplaning international travelers will be greeted by Justin Mayo's photographs of beautiful Iceland as they enter the PDX baggage claim area.
"Iceland" is a series of photographs celebrating the beauty and unique character of one of PDX's more recent direct flight destinations.  In his exhibit Justin Mayo, the photographer, captures the fragile, constantly changing landscape of one of the most sparsely populated countries in Europe.
Although Iceland is quickly becoming a popular travel destination, most people just think of the area as "cold". As Mayo's images reveal, there is so much more to discover!
Salmon and trout fishing are huge attractions in Iceland, as is trekking on the small but hardy Icelandic horse. These horses can navigate the rough and rocky terrain like no other.  In fact, parts of the country are still so rugged that American astronauts chose Iceland as a training ground to prepare them for landing on the moon.
Do you think the Northwest has a lot of volcanoes? Iceland has the most active volcano area in the world! Hekla is Iceland's most active volcano. Coincidentally, (or perhaps not!) Hekla is also a common name for females in Iceland.
If you want a long life, maybe Iceland is for you… Iceland's population has the longest life expectancy in the world, perhaps proof that hot springs really are beneficial. Politically, Iceland is ahead of the curve as well, boasting the first democratically elected female president in the world!
Thanks to the work of Justin Mayo, this exhibit, located on the north end of baggage claim, offers viewers a peek into the world of Iceland.
Mayo, an architectural designer, artist, and maker, uses photography as "an opportunity to train the eye to view the world in ways we might not otherwise see it; to observe and recognize beauty."
Photography is just one of the ways Mayo shares his vision of the world. Mayo expresses himself prolifically through sculpture, design, illustration and painting.
Through these various mediums, Mayo attempts to capture the essence of movement. His designs consider the natural flow of the human form, of water, of air and of landscape. Through his work, he shapes his world to blend in harmony with the flowing gestures of the world around him.
Creating forms – buildings, furniture, and spaces – that flow effortlessly requires a careful observation of existing surroundings. In Mayo's photographic exhibit, "Iceland", we all benefit from his thoughtful reflection, his eye for beauty and the generous spirit that prompts him to share his vision.
Enjoy seeing "Iceland" along the International Arrivals Hallway in the north baggage claim area now through November 2017.