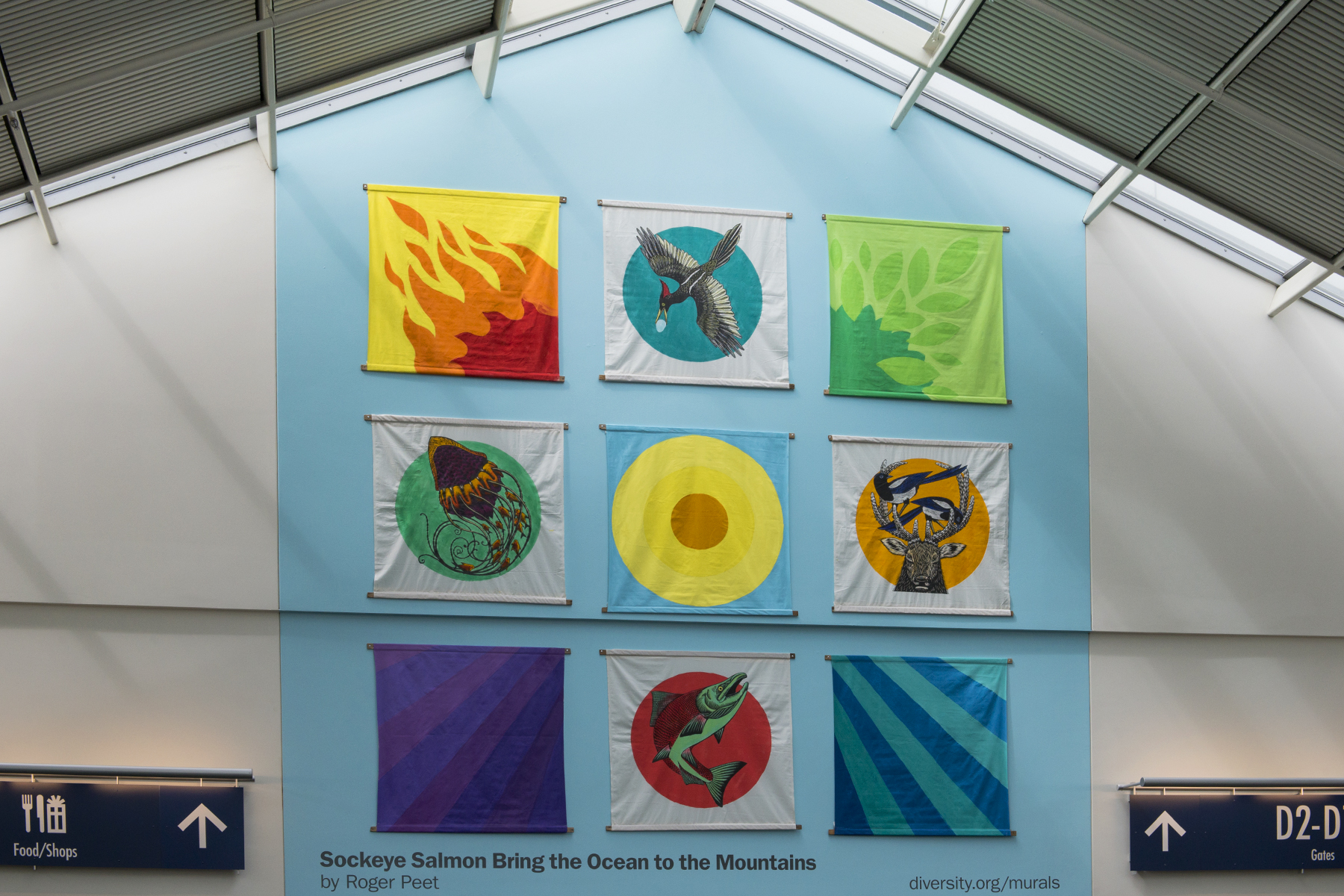 Roger Peet | Sockeye Salmon Bring the Ocean to the Mountains
Concourse D | April 4, 2017 – April 6, 2018
Located in Concourse D of PDX, Sockeye Salmon Bring the Ocean to the Mountains is a spirited new mural installation by Portland, Oregon based artist Roger Peet. The multicolored nine paneled muslin fabric mural is intended to evoke the great and ancient process by which migrating salmon species, including the Sockeye salmon depicted in the mural, bring the nutrients from the ocean far up into the heart of our continent during their travels upstream to mate and spawn. The transit of salmon from oceans to the high reaches of rivers brings fertile qualities to soils and watersheds of areas far from the sea. As salmon ascend the waterways, spawn and then die in their natal creeks, they enrich the food web and contribute to increased biodiversity. This profound journey has become much more of a challenge for the salmon over the last sixty years.
Sockeye Salmon Bring the Ocean to the Mountains is intended to inspire travelers and communities to collectively work together to help these noble fish maintain this prehistoric process–an integral process that is one of the many reasons why our region is so bountiful and beautiful.
Sockeye Salmon Bring the Ocean to the Mountains is part of a larger collaborative project between Roger Peet and the scientists and activists of the Center for Biological Diversity titled The Endangered Species Mural Project. This exceptional project aims to create bold and beautiful murals in communities around the United States that call attention to the endangered fauna and flora that make the places that we love so unique. The ultimate goal of the mural project is to inspire people to protect the diversity within their homes, communities and regions. The remarkable installation of Sockeye Salmon Bring the Ocean to the Mountains at PDX marks the 12th completed project in the collaborative series, which can be viewed in its entirety at diversity.org/murals.
Roger Peet is an artist and printmaker based in Portland, Oregon. His practice includes collaborating with artists, activists and scientists worldwide. Peet's work primarily addresses the contemporary crisis facing biodiversity and what can and can't be done about it, as well as contemplating possibilities for a more generous collective future for all within a wilder world, one that includes diversity of species, between species, and of ecosystems.
Roger Peet is a founding member of the Justseeds Artists' Cooperative, a group of North American artists producing art and graphics for social and environmental movements. Peet is also the President of the Board for the Flight 64 Printmaking Studio in Portland, Oregon.
For additional information about Sockeye Salmon Bring the Ocean to the Mountains please contact:
Roger Peet | Website: toosphexy.com | Email: toosphexy@gmail.com | diversity.org/murals