In February of 2017, Portland's historic nonprofit Hollywood Theatre opened a free 17-seat movie theater in Portland International Airport. The first-of-its-kind microcinema was developed in collaboration with the PDX Art Program at the Port of Portland.
The theater is open to travelers around the clock, showing an hour-long program of short films from Oregon filmmakers, including documentaries, music videos, animations, and short fiction. Admission is free to any ticketed traveler; the theater is located past security in Concourse C.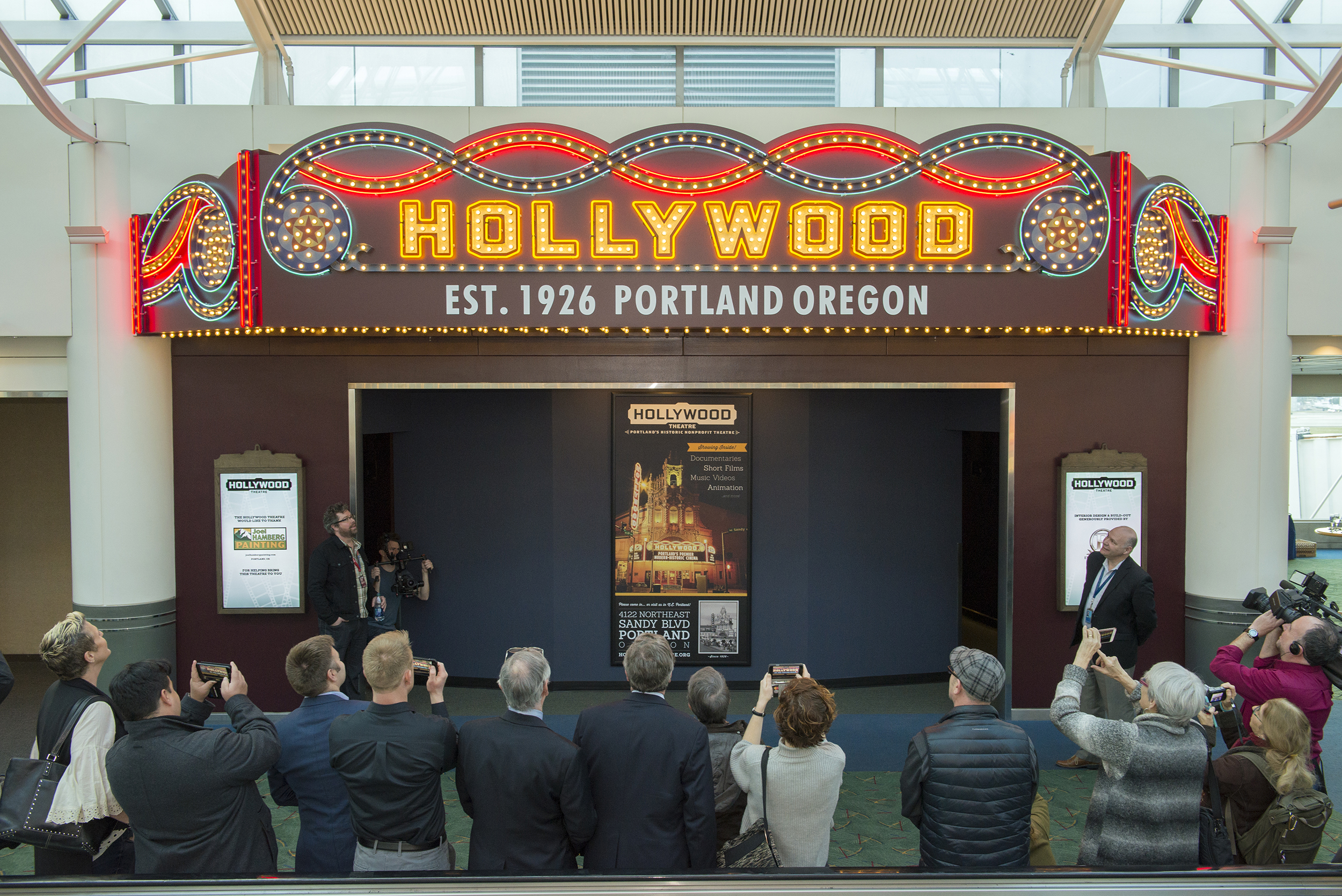 On Friday, June 9, the Hollywood at PDX will launch a new program of Oregon-made short films. The diverse program includes shorts about beekeepers and slugs; power lifters and circus mice. It features filmmakers Alicia J. Rose, Joanna Priestley, and Kyle T. Bell, music videos from Mic Crenshaw and Dirty Revival, and more.
The program will run 24/7 throughout the Summer. A public screening of the new program will be held at the Hollywood on Sandy on July 10 at 7:30pm. For preview access to the program, press tours of the theater, interviews with filmmakers, or other inquiries, contact Alison Hallett: alison@hollywoodtheatre.org.
HOLLYWOOD THEATRE AT PORTLAND INTERNATIONAL AIRPORT
SUMMER SHORTS PROGRAM
THE MOUSE THAT SOARED, Kyle T. Bell (5:45): A famous flying circus mouse reflects on his humble beginnings in this classic tale of hope and goodness. This six-minute animated short tackles adoption, blended families, and nature vs. nurture. It demonstrates that nothing is more powerful than unconditional love.
A STREET ROOTS STORY, Street Roots (3:07): Learn how Portland's Street Roots , a nonprofit street newspaper, provides opportunity, hope and community for Marlon and other people living in poverty. As Marlon shares, "Every single person who buys the paper helps humanity grow and grow."
I DON'T KNOW YOU ANYMORE, Alicia J. Rose (5:02): In this music video for Bob Mould's "I Don't Know You Anymore," the Decemberists' Colin Meloy offers guidance to Mould on how to promote his new album in the age of iPhones and social media, which sends Mould and his band off on a stealth mission of "hype" at Portland's own Music Millennium.
MOSSGROVE, Kurtis Hough (5:44) : A close examination into the locomotion of Oregon's banana slugs and mossy landscapes. Made with over 10,000 photographs taken in the Columbia River Gorge.
1850 LBS, Jin Ryu & Pete Gibson (7:04): Jesse Marvin is a 23-year-old powerlifter from Portland, OR, with a heart of gold. He is gunning to lift a total weight of 1850 lbs at an upcoming competition. This film shares his philosophy and determination as he reaches toward his goal.
SUPERHEROES, Mic Crenshaw (4:21): A collaboration between Mic Crenshaw and Dead Prez that highlights the fact that everyday people are heroic. The video features local professional dancers from Portland who are also parents. Each scene has emcees rapping poignant verses as dancers perform with their real-life children. Learn more at miccrenshaw.com.
BOTTLE NECK, Joanna Priestley (2:56): A luminous crush of still-life silhouettes, abstract shapes, and complex, interlocking patterns, BOTTLE NECK renovates the commonplace objects of a classical painting in a modern setting.
PIANO PUSH PLAY, Alex Thornburg (3:01): Short docu-style piece about Piano Push Play 's public pianos in Portland, OR.
CPR, Kimberly Warner (6:26): While watching lifeguards perform rescue drills at aneighborhood pool, a woman faces her own need to be saved.
LAY ME DOWN, Isaac King (4:24): The song "Lay Me Down," by Portland neo-soul band Dirty Revival, focuses on drug addiction and its effects on people and families, as well as how little help society offers to those who are struggling. The video illustrates a prologue to this; as rents skyrocket and wages stagnate, too many Portlanders are living on the brink of collapse.
THE BEE HUNTER, Jotham Porzio (7:36): Driving across Portland with approximately 10,000+ honey bees in her Toyota truck at sunset, Wisteria knows she has done it again. She has successfully captured a swarm of wild homeless honey bees. We ride shotgun in this short documentary as we follow Wisteria on a swarm call, showing us just how unique and personal the process is.
About the Hollywood Theatre at PDX:
The Hollywood Theatre at PDX has been made possible through the generous support of community partners and sponsors including the Fred W. Fields Fund of the Oregon Community Foundation, the Oregon Cultural Trust, the Oregon Arts Commission, Security Signs, Blue Chalk, HouseSpecial, Travel Oregon, Calligram Foundation, and others.
The microcinema features state-of-the-art projection and sound, thanks to a top-notch crew of technical partners. CEDIA (Custom Electronics & Design Installation Association) has adopted the Hollywood PDX project as its own to create a very special cinematic experience at PDX. CEDIA assembled a group of the electronic industry's premiere manufacturers to donate equipment for this state-of-the art cinema. These include Portland-based speaker manufacturer Triad Speakers' Cinema Reference 9-speaker surround system; (CEDIA Chair) Dennis Erskine Group for design; Barco's Optix Cinemascope M Projector; Portland-based Planar digital displays and media servers; Stewart Filmscreen screen; Middle Atlantic Rack and Power Isolation, Crestron Processor, Amplifiers, & Control System; Access Networks, server; Milestone AV Technologies, mounting hardware; and others including Newberg-based Lewis AV for installation and REAL AV for calibration.
About the Hollywood Theatre:
The Hollywood Theatre is a not-for-profit organization whose mission is to entertain, inspire, educate, and connect the community through the art of film, while preserving a historic Portland landmark. From our historic building in Northeast Portland, we offer screenings of new and classic films, special events, guest appearances, and innovative series like Hecklevision and Kung Fu Theater. Additionally, we're the only theater in the state of Oregon capable of showing films in 70mm, a format we believe offers the best possible viewing experience. The Hollywood Theatre is located at 4122 NE Sandy Boulevard in Portland. For general information, call 503-281-1142 or visit hollywoodtheatre.org.
About CEDIA:
CEDIA is the international trade association and central touch point for 3,700 member companies who design, manufacture, and install technology for the home. CEDIA is committed to helping members at every level set a pathway to prosperity by offering industry-leading education, training, and certification; delivering market intelligence through proprietary research; providing opportunities to foster community within the channel, and cultivating awareness with industry partners and consumers. CEDIA founded the largest annual residential technology show, now in its 28th year, and co-owns Integrated Systems Europe, the world's largest AV and systems integration exhibition. CEDIA members deliver technology solutions that allow people to have their best moments in life from the comfort of their own home. Life Lived Best at Home. To learn more about CEDIA, visit www.cedia.net.