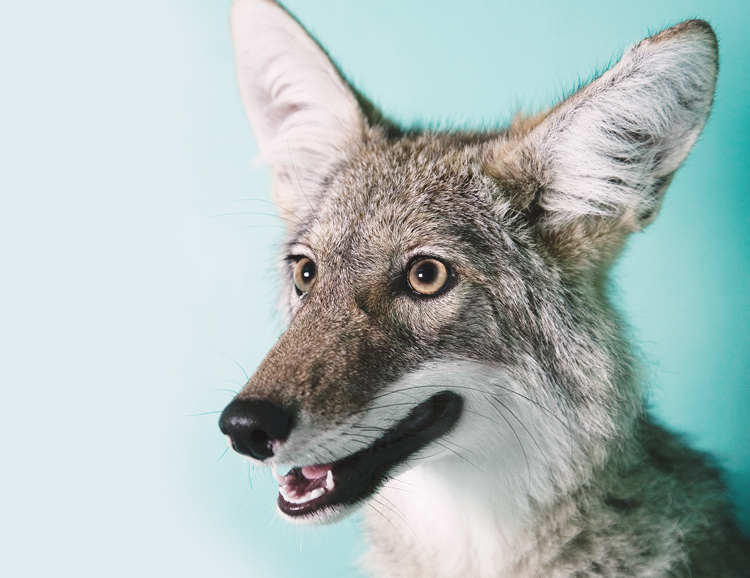 Feature photograph by Annie Marie Musselman titled Rescued Coyote, 2008, Archival pigment print, 30 x 30 inches. Image courtesy of Charles A. Hartman Fine Art.
LUMINOUS NATURE | CONCOURSE A 
MARCH 3 – AUGUST 31, 2017
A new group exhibition titled Luminous Nature, in collaboration with Charles A. Hartman Fine Art of Portland, Oregon, is currently on view within Concourse A in the fourteen PDX Art Program display cases. The exhibition showcases a dynamic variety of twenty-one highly crafted contemporary 2D art works from five accomplished and regionally celebrated visual artists who successfully utilize and depict the wondrous diversity of the natural world.
Photographer Annie Marie Musselman composes striking large-scale color photographic portraits of wildlife that delightfully honor rescued Northwest fauna.
Fantastically constructed collaged paintings of magical utopian scenes by Anna Fidler vibrate in the corridor cases.
Daniel Robinson produces masterfully crafted oil landscape paintings of the Columbia River Gorge and surrounding areas that are contemporarily reminiscent of the Social Realist art movement from the early 20th Century.
Also featured are two powerful and subtly elegant paintings by Eva Speer, one paintings depicts a colorful representation of the cosmos while the other invites viewers with lush green foliage.
Rachel Davis produces skillful watercolor paintings featuring gorgeous minimalist scenes of flora, Chinese influenced temple architecture and DNA.
Luminous Nature is a carefully curated selection of quality art works providing travelers with a perceptive collection of natural worlds to investigate, contemplate and enjoy – both real and imagined. The exhibition will be on view within Concourse A through August 31st of 2017.
About the Artists:
Rachel Davis – Portland, Oregon
Rachel Davis was born in 1970 in Cambridge, England and went on to earn a BFA from the University of Michigan School of Art. Her work has been exhibited across the United States, and is included in many noted private and corporate collections.
Anna Fidler – Portland, Oregon
Having spent most of her life in Oregon and Michigan, Anna Fidler paints landscapes that allude to the woods found in those states. Her series for the exhibit references the four seasons and occurrences of energetic exchange between individuals and the forests that surround them. Using historical photographs as source material, Fidler constructs figurative silhouettes by gluing together many layers of paper to make dimensional, topographic forms. These forms are less about the specific individuals and more about the energy emanating from their actions.
Annie Marie Musselman – Seattle, Washington
Annie Marie Musselman was born south of Seattle in a quiet town surrounded by deep forests and cold water. As a child, she accompanied her father as he captured the surrounding landscape in watercolors. She later majored in studio art at a small Midwestern college, and spent a year studying photography in Marseilles, France.
Annie's first book Finding Trust was published in 2013 by Kehrer Verlag in Germany. The book documents a Wildlife Rehabilitation Center 75 miles north of Seattle, Washington. Her second book titled Wolf Haven: Sanctuary and the Future of Wolves in North America documents a sanctuary for wolves and was published in fall 2016 by Sasquatch Books.
Annie has dedicated her work to compassionately documenting animals in sanctuaries around the world. It is her hope to raise awareness of the fragility and beauty of endangered/indicator species – animals which if preserved, would save countless other species in turn.
Annie's work can be seen in The New Yorker, National Geographic Magazine, Audubon, Wired, Travel + Leisure and Smithsonian among others.
Daniel Robinson – Fossil, Oregon
Daniel Robinson was born in Buffalo, New York, in 1963. The son of a part-time preacher, Robinson moved from New York to Colorado, Pennsylvania, Georgia, Idaho and then finally to Oregon, where he attended high school and later the Pacific Northwest College of Art and Portland State University, earning a B.A. in Fine Art from the latter in 1991. His first monograph, In Oregon, was published in 2004 by Nazraeli Press, a Portland-based publisher of books on the fine and applied arts. Mr. Robinson lives in Fossil, Oregon with his wife and two children.
Eva Speer – Portland, Oregon
Eva Speer earned an MFA in painting at Indiana University in 2006, and has exhibited her work in Seattle, Portland, Miami and Montreal. In 2008, Oregon Public Broadcasting produced and aired an Oregon Art Beat segment showcasing her conceptual approach and process. Publications that have recognized Speer's work include Art Ltd., Portland Modern, The Oregonian, Willamette Week, and the blog PORT.
For additional information about the individual art works and artists featured in Luminous Nature please contact:
Charles A. Hartman Fine Art | Website: www.hartmanfineart.net
Contact: charles@hartmanfineart.net  | Telephone: 503-287-3886