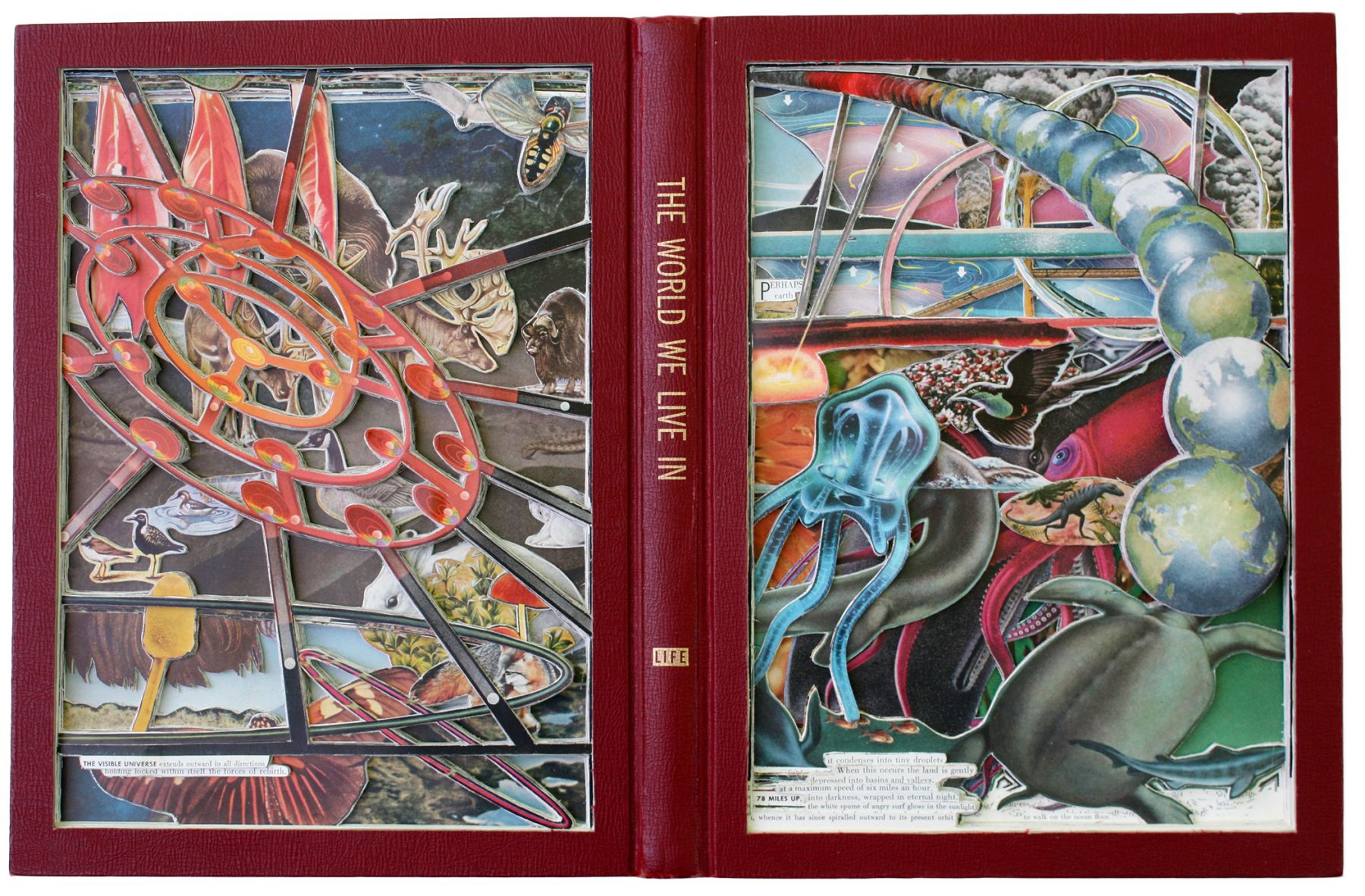 James Allen is a Portland Oregon based visual artist that produces wonderfully unique "Book Excavation" sculptures. Allen painstakingly transforms vintage books into sculptures brimming with carefully chosen words, phrases and images. Twenty-three of Allen's exquisite Book Excavations are currently on view post-security in Concourse A through the PDX Art Program. This outstanding exhibition, appropriately titled Booked, runs through September 30th of 2018.
James Allen, Portland Trolley Years, 2016, Book Excavation, 14.25 x 21.25 inches framed
Allen begins each sculpture with a discarded book or volume often found at one of Portland's used bookstores. He then carefully cuts through layers of illustrations and images page by page to create fascinating multi-faceted sculptural displays. Allen thoughtfully combines the mined pages of words and images to allow a new visual story to emerge from inside each classic book. To complete his fine works for exhibition, he also produces the handcrafted shadowbox frames to complement the Book Excavations.
James Allen, Typographic Ornament, 2017, Book Excavation, 9 x 8 x 2.5 inches
"Each Book Excavation begins by cutting a hole in the cover of a book with a scalpel or X-ACTO blade. I cut my way through the pages selectively keeping fragments of images and words to create a composition using the content of the book as it emerges. In this way, a sculptural relief emerges as I carve my way through the pages. The composition emerges intuitively. As I cut I consider both narrative and compositional dynamics to create a new vision of the book's content. I enjoy how these Excavations turn the linear format of a book into a flat window through which to observe many pages at once."
James Allen, Moths and Butterflies, 2015, Book Excavation, 6 x 4 x .5 inches framed
James Allen was born in 1977 in Illinois. He earned a BFA from the University of Wisconsin Milwaukee in 2000. Allen currently lives and works in Portland, Oregon. Allen's artwork is included in Art Made from Books: Altered, Sculpted, Carved, Transformed published by Chronicle books. His work was exhibited at the Bellevue Arts Museum in The Book Borrowers: Contemporary Artists Transforming the Book in 2009. His Book Excavations can be found in Public collections at UCLA, Johns Hopkins University, Ringling College of Art and Design, University of Puget Sound, University of Colorado Boulder, Baylor University, and University of Wisconsin Milwaukee. He has also exhibited across the country in New York, Seattle, Chicago, Milwaukee, Portland, Miami, and San Francisco.
James Allen, Fashion, 2009, Book Excavation, 17.25 x 15 inches framed
For inquiries and additional information, please contact the Russo Lee Gallery: gallery@russoleegallery.com.
James Allen, Puget Sound, 2016, Book Excavation, 16 x 13.5 inches framed