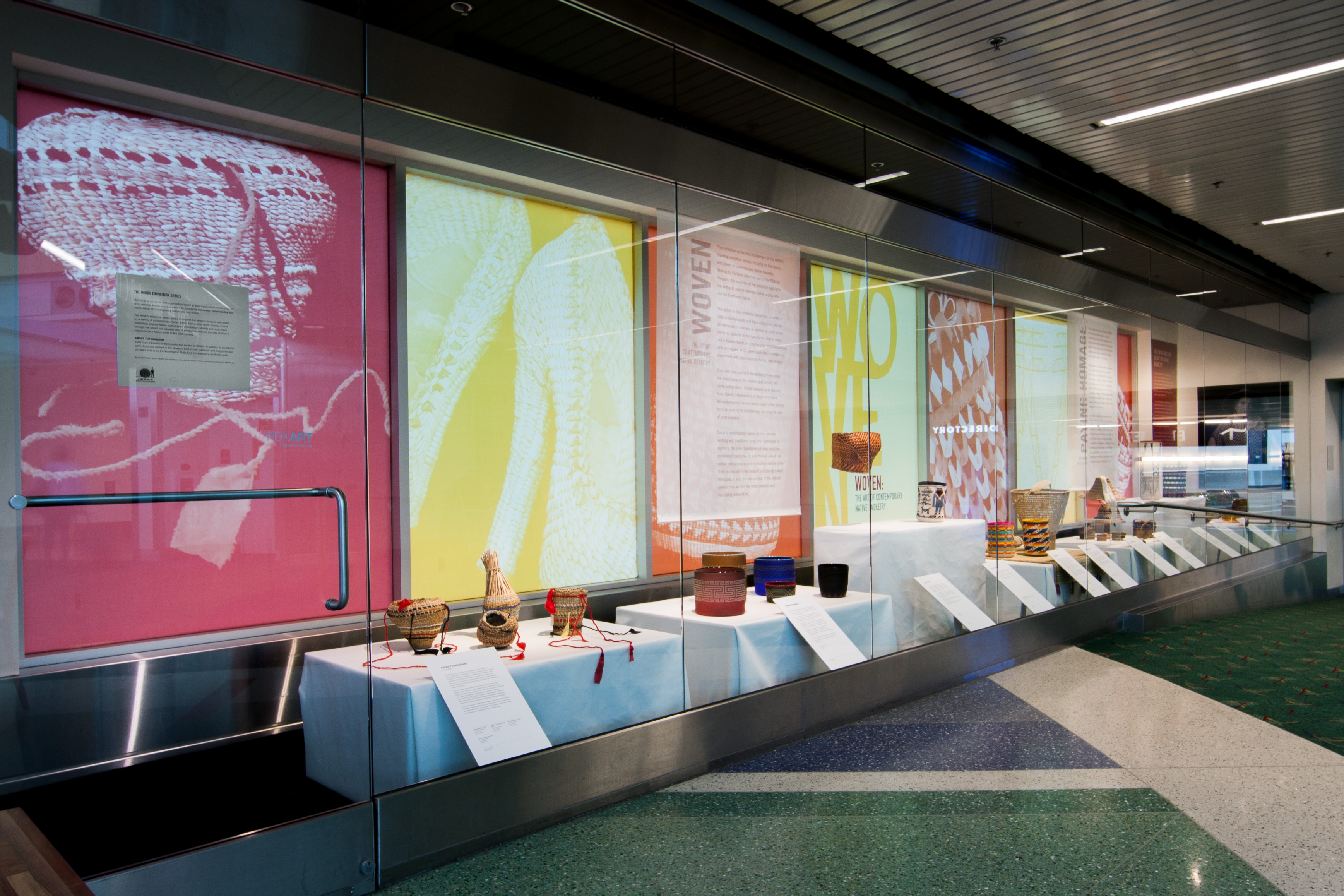 Featuring artworks from twelve Northwest based professional Native artists, this outstanding exhibition is the third installment of Curator Todd Clark's IMNDN traveling exhibition titled Woven: The Art of Contemporary Native Basketry.

The exhibition focuses on the power and beauty of contemporary Native basketry. Making a Portland Oregon debut as part of the PDX Rotating Art Program post-security in the Concourse DE Display Case, this captivating exhibition highlights the inspiring work of several talented Native artists who call the Northwest home.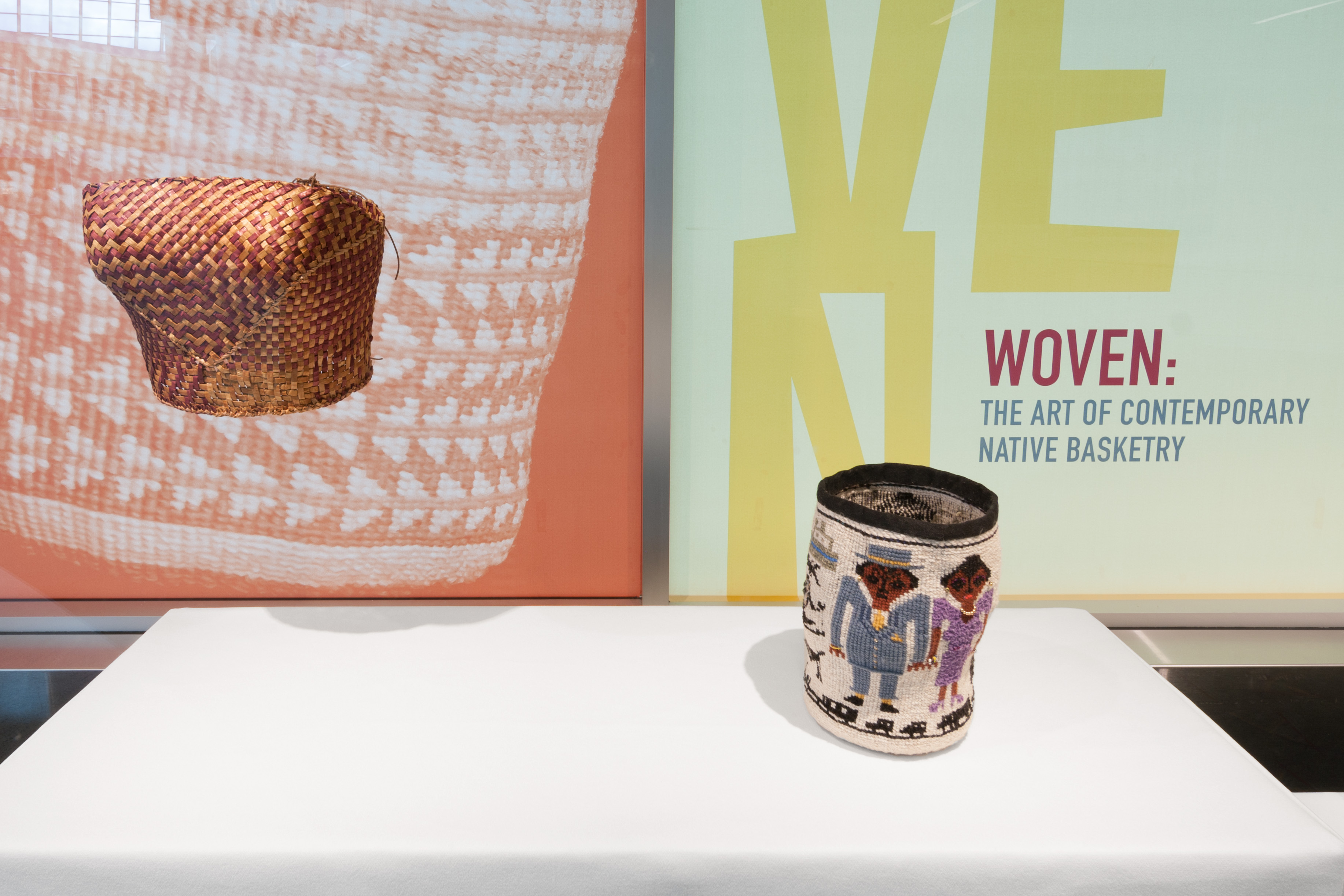 ​On view from April 2018 through March of 2019, the exhibition features highly crafted multimedia works by:
​Joe Feddersen (Colville Confederated Tribes)
Gail Tremblay (Onondaga, Mi'kmaq)
Ka'ila Farrell-Smith (Klamath, Modoc)
Lisa Telford (Haida)
Carol Emarthle-Douglas (Northern Arapaho, Seminole)
Pat Courtney Gold (Wasco)
Dan Friday (Lummi)
Joey Lavadour (Walla, Walla)
Bud Lane (Confederated Tribes of Siletz)
Patti Puhn (Squaxin Island)
Preston Singletary (Tlingit)
Loa Bilham'neex Ryan (Tsimshian)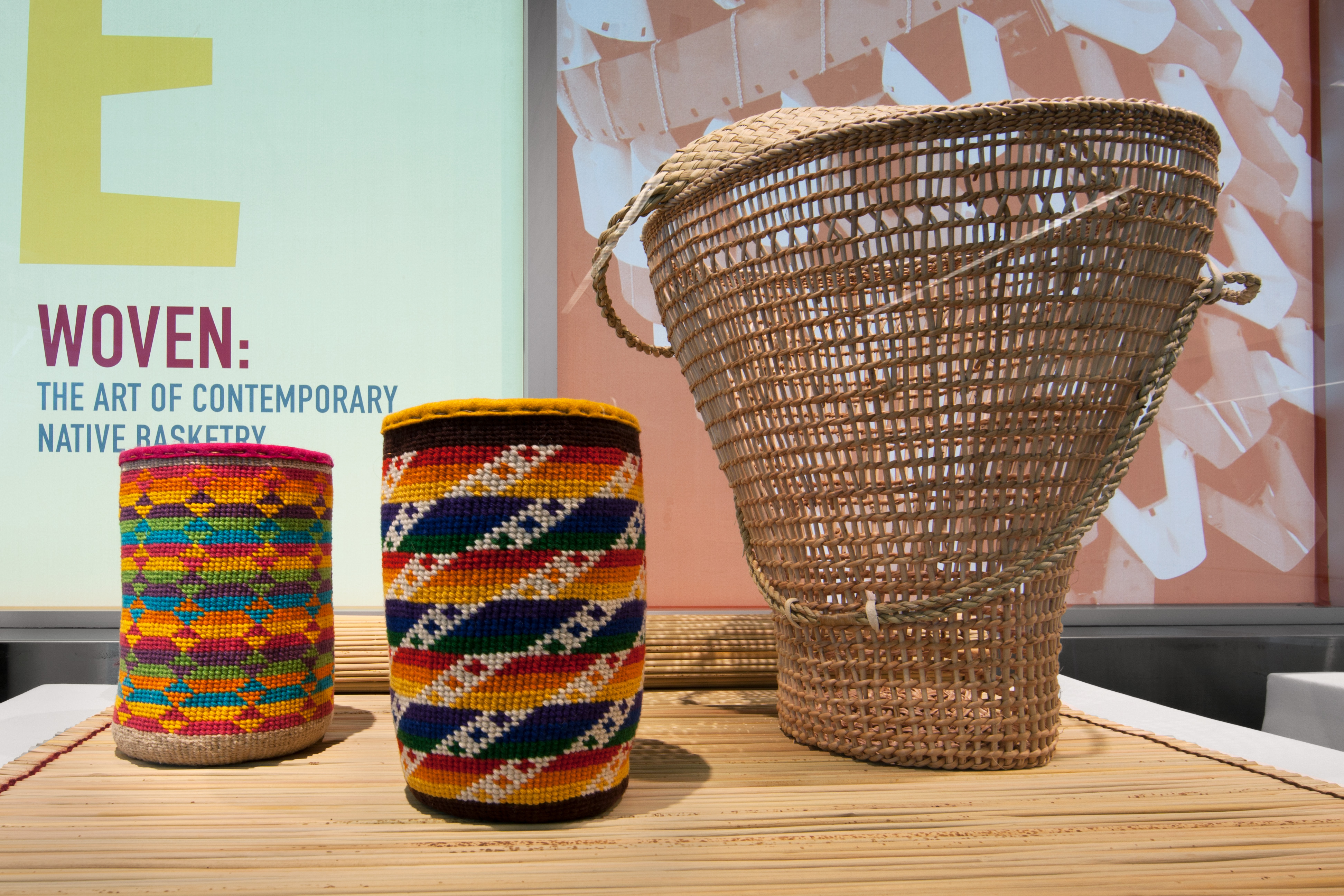 ​The artists in this compelling exhibition come from a variety of cultural backgrounds and tribal affiliations, yet are all connected in one way or another by their artistic bonds to basketry in its many forms. Some artists put a modern touch on time honored traditional styles and techniques, while others push the envelope and experiment with new materials, forms, designs and media including glass.
​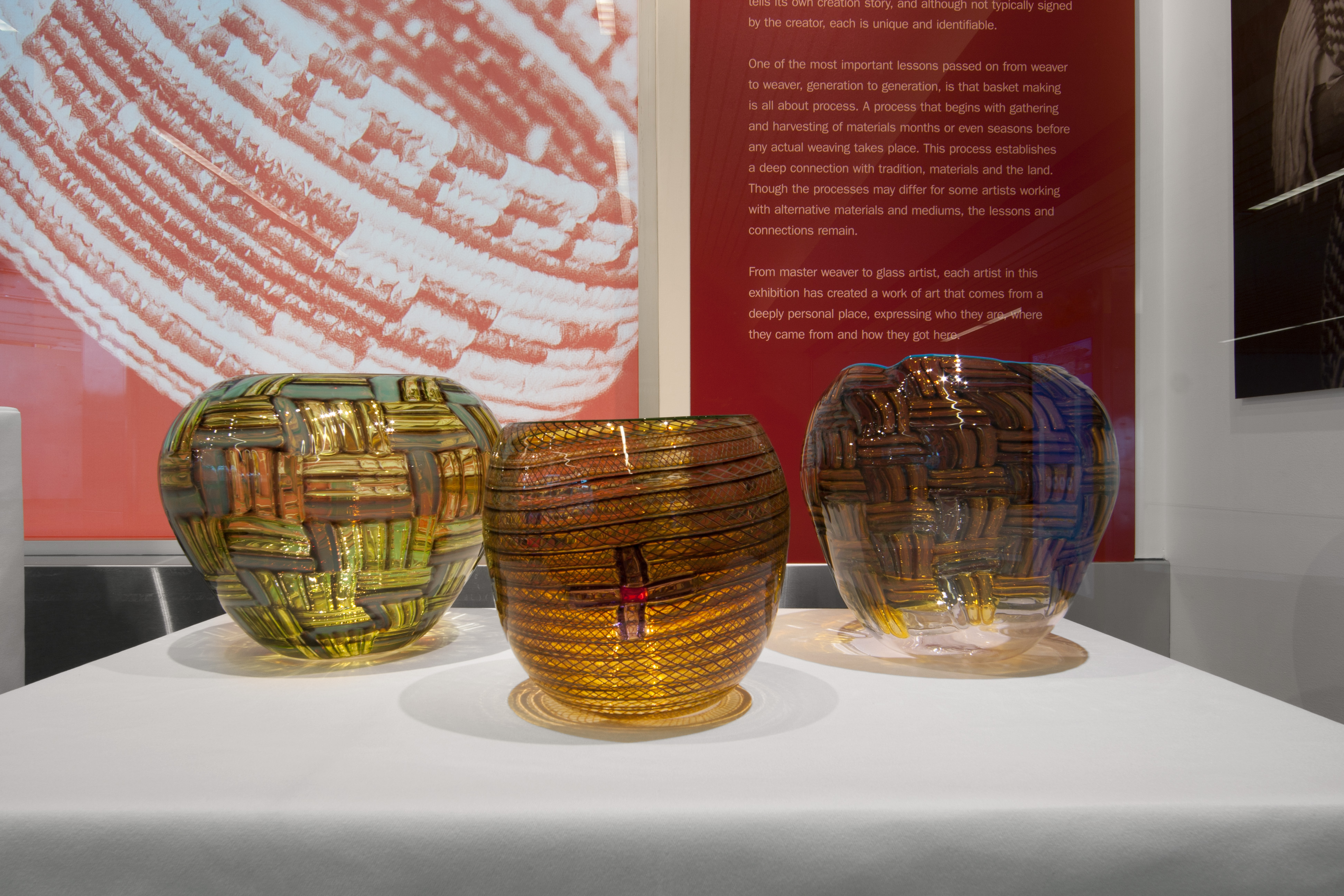 Each and every artist in this exhibition recognizes the importance of the weavers and artists who came before them. Master weavers and teachers have directly influenced all of those who follow. All contemporary basket makers learn either directly from an elder or by painstakingly studying the work of past weavers.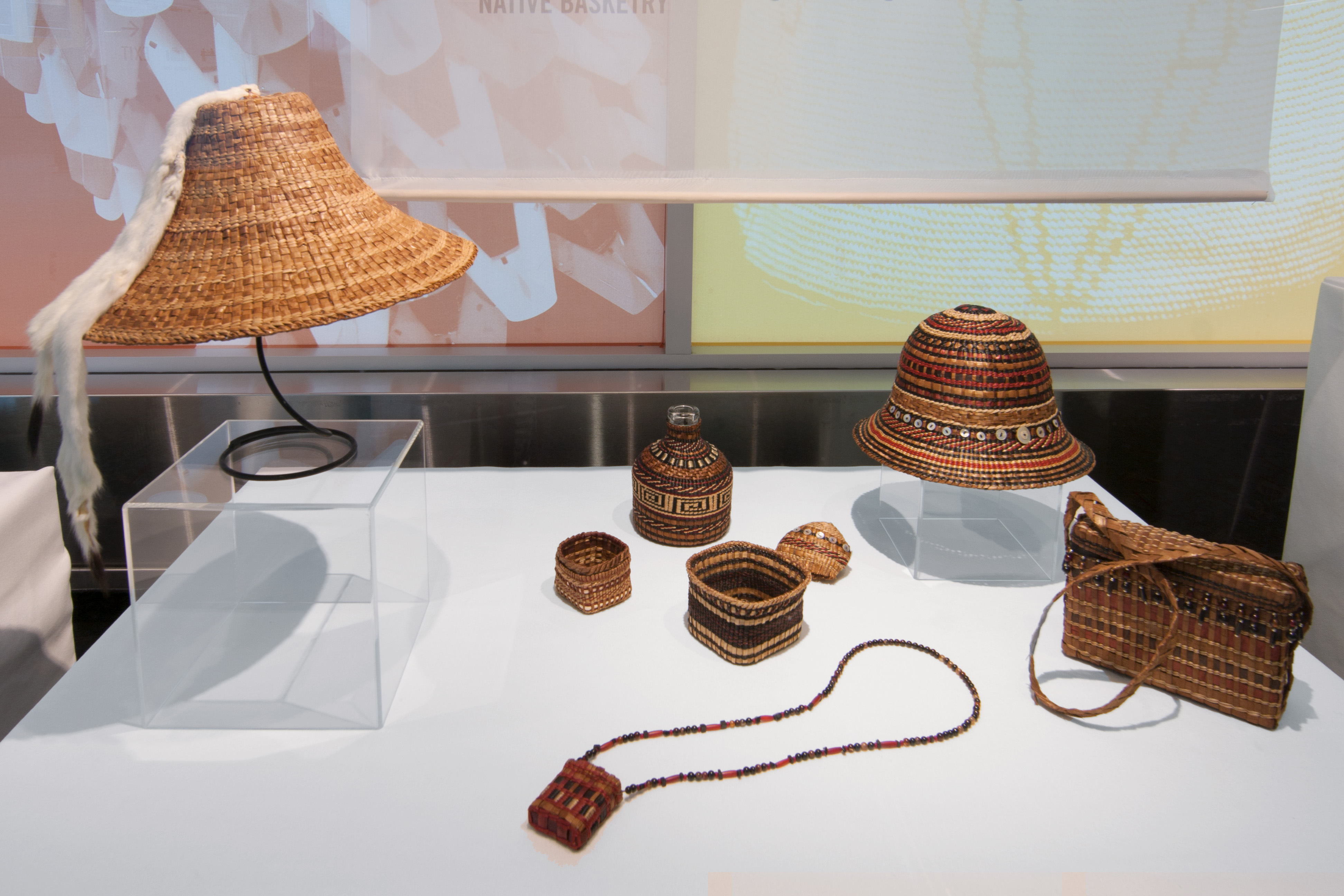 Today's contemporary Native artists, whether working with traditional forms and techniques or exploring the outer boundaries of what would be considered traditional, or even native, walk in two worlds: one deeply rooted in tradition and the other firmly connected to the present and looking toward the future. It is at the intersection of this delicate balance that we find the most beautiful and interesting works of art.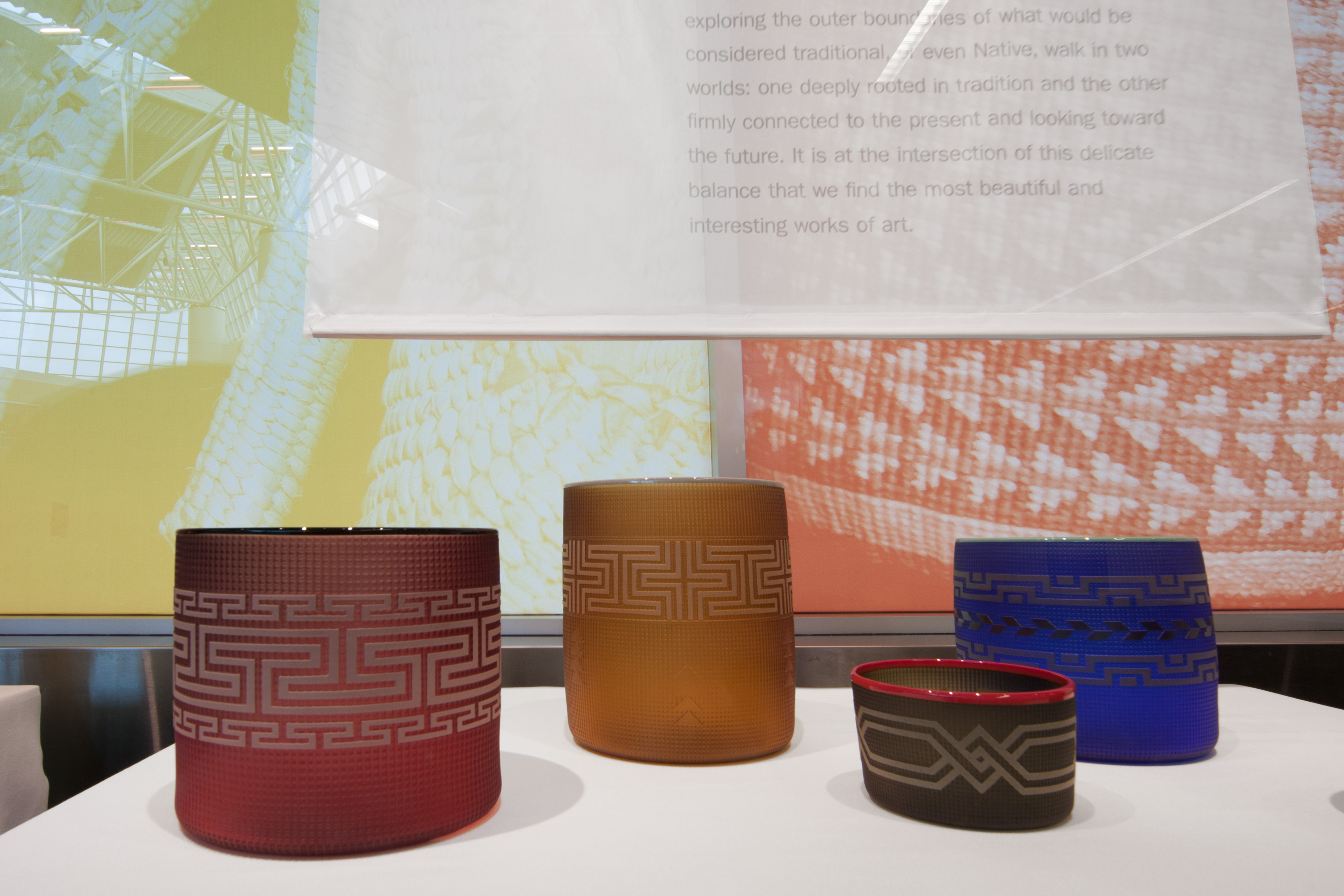 THE IMNDN EXHIBITION SERIES                                                                                                                                                  IMNDN is a non-profit arts organization based in Washington State whose mission is to promote Native arts and culture by increasing awareness, understanding and appreciation of contemporary Native arts and artists.The IMNDN exhibition series seeks to expand the viewer's horizons with works by a variety of contemporary Native artists from across North America. These exhibitions explore Native mythologies, colonization, identity and much more through the smart and talented lens of artists that embody the idea of what it means to be a Native artist in the 21st century.
ABOUT THE CURATOR
Todd Clark (Wailaki) is the founder and curator of IMNDN. In addition to his IMNDN work, Todd has worked in the museum field in both California and Oregon for over 20 years and is on the Washington State Arts Commission's curatorial roster.
More Information about Curator Todd Clark's IMNDN exhibition series, the featured artists and their individual practices (including contact information) can be found at IMNDN.org.
 Fran James, 1999, Archival pigment print, 47 x 37 inches Courtesy of Portland based artist Michael M. Jones. michaeljonesstudios.com
Fran James (1924-2013) was known by her Lummi name, Che top ie, but most people simply knew her as Aunt Fran. She shared her life and knowledge with anyone and everyone who wanted to learn. She loved the company of others and her home was constantly abuzz with visitors. She was a master weaver and taught her craft to the very end of her life. Fran walked on April 28, 2013.
We owe a great gratitude to the weavers of the past, such as Fran, who worked diligently and had the vision to keep the art of weaving alive. This exhibition is dedicated to them, and to all the "unknown artists" who's works are in museum collections around the world.