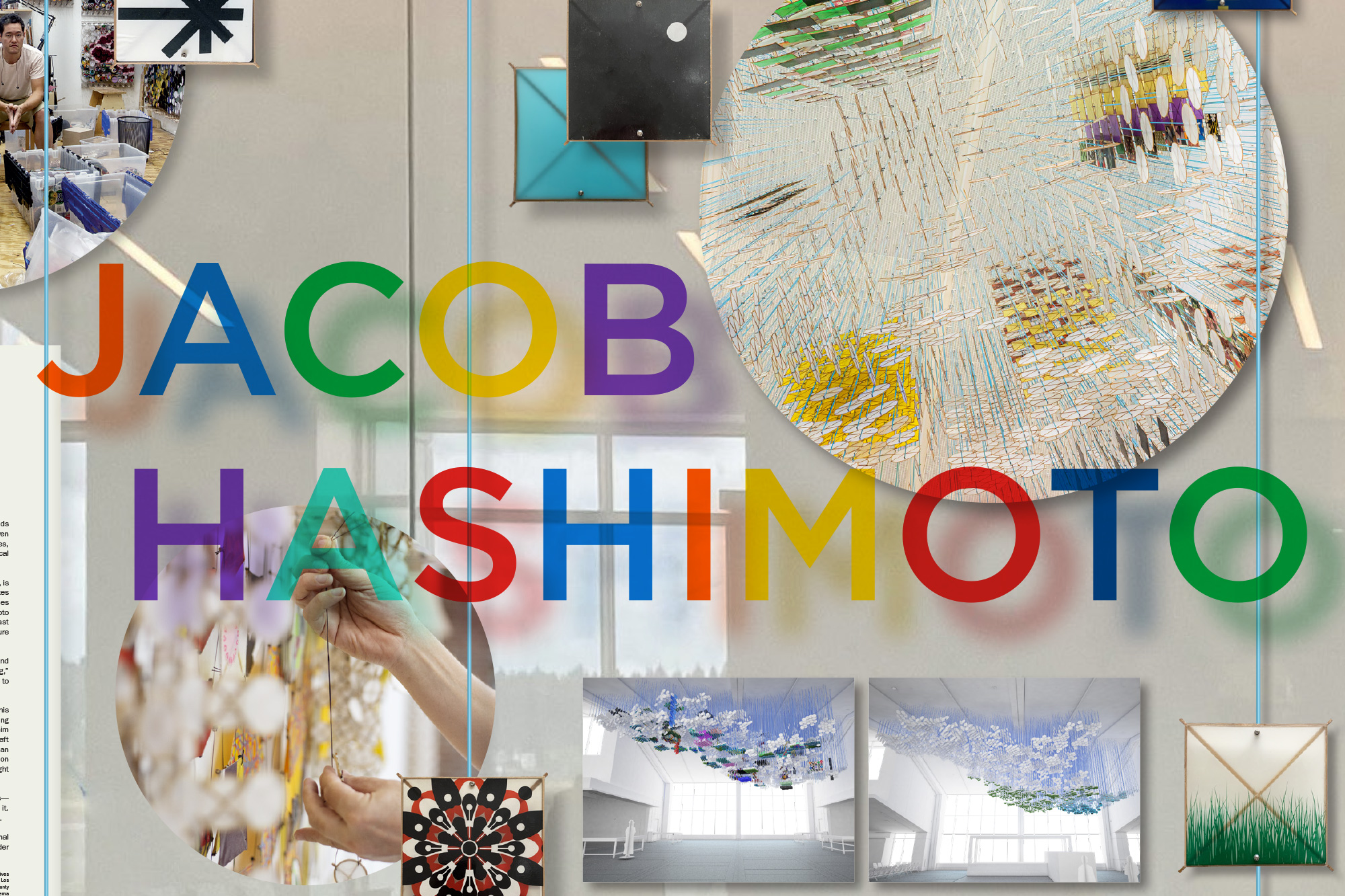 Utilizing sculpture, painting, and installation, internationally renowned contemporary artist Jacob Hashimoto creates complex worlds from a range of modular components: bamboo-and-paper kites, model boats, even astroturf-covered blocks. His accretive, layered compositions reference video games, virtual environments, and cosmology, while also remaining deeply rooted in art-historical traditions notably, landscape-based abstraction, modernism, and handcraft.
Jacob Hashimoto, Neutron Star (detail), 2015, Wood, acrylic, bamboo, paper, and Dacron, 66 x 60 x 8 inches
Hashimoto's permanent sculptural installations at PDX, titled The City and The Sky, is a nod to the neighborhoods and natural beauty that surrounds Portland—with kites tracing the paths of the Willamette and Columbia Rivers, while others feature roses and pearls, the city's flags and seals, and even the PDX carpet pattern. Hashimoto invites travelers to draw their minds away from the city and into the broad, vast expanse of the West. His goal is to remind travelers of the terrific potential of nature and the adventure that's just a flight away.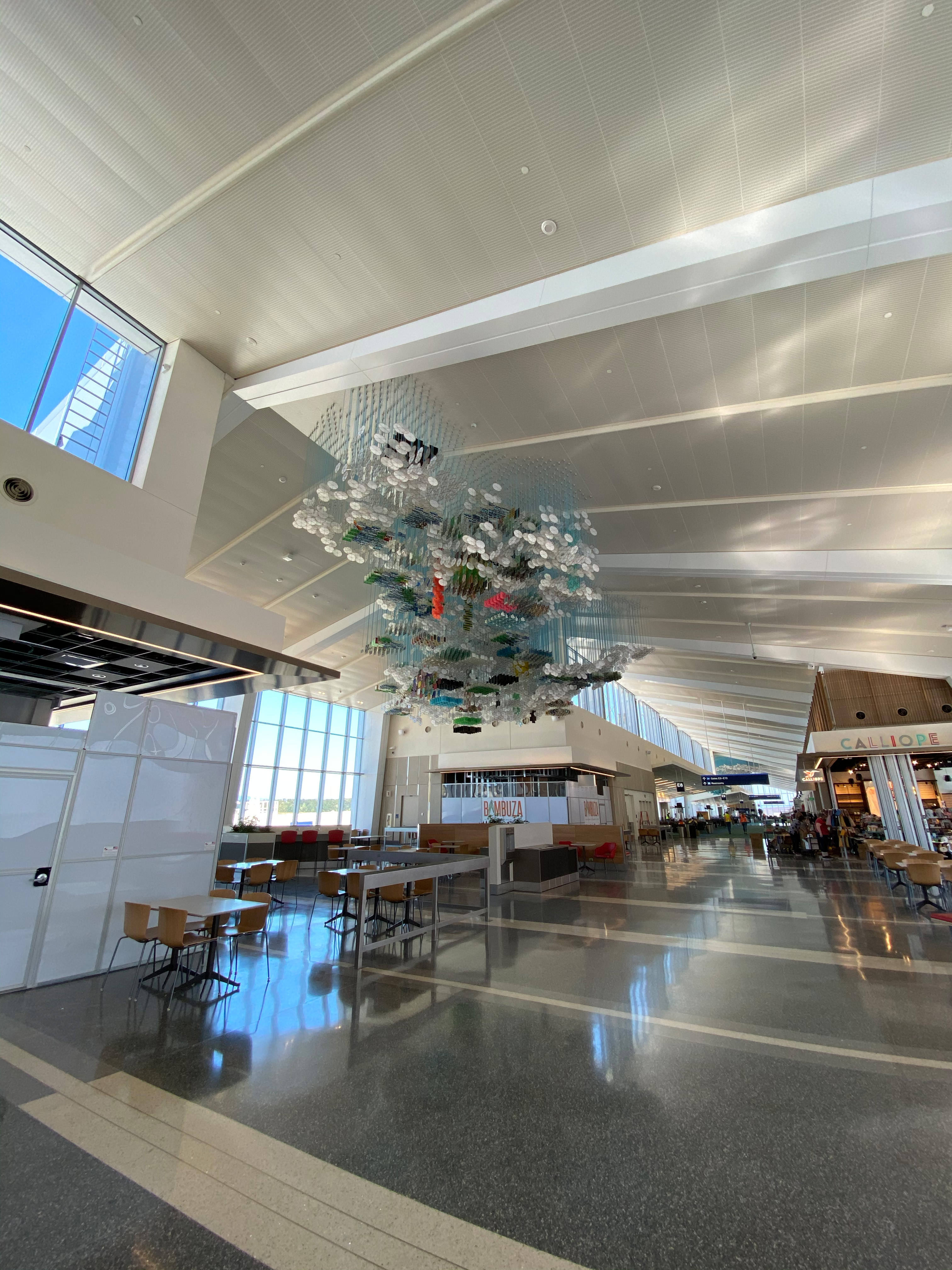 "PDX is an iconic space in my mind. It was the big city to me when I was a kid, and the opportunity to come and make artwork in collaboration with PDX was really inspiring," said Hashimoto. "I am interested in how I can design artwork that is a pleasure to discover as you travel through it visually."
Hashimoto's family inspired his artistic path and the signature mediums utilized in his work. In college, he had plans to become a minimalist painter, but like many aspiring artists, he felt like he was running out of ideas. Hashimoto's father encouraged him to keep studying and to start doing something with his hands. He chose to craft kites, something his grandfather started and his father continued to enjoy as an adult—flying them outside of his office window. This small act of creative inspiration became the backbone of Hashimoto's overarching artistic approach. It also brought new, youthful energy to his art, something that continues to drive him today.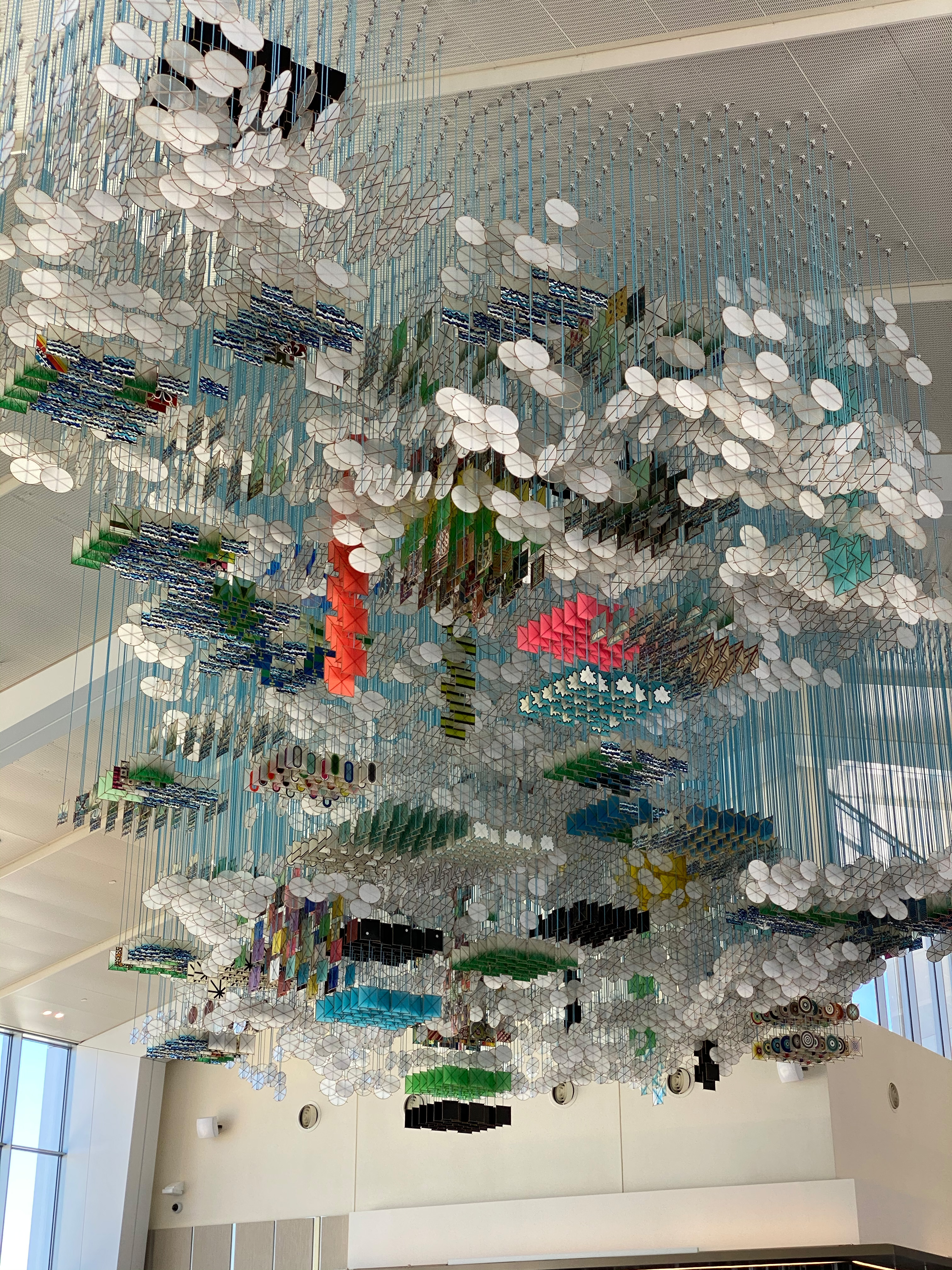 "It's important to me to create artwork that is generous on many different levels—parents can look at it as they're playing with their kids, or 12-year-olds can dig it. I think that's what you do in the West, you create possibility," Hashimoto shared. Hashimoto's authentic love for Portland, PDX, and the region, his professional background, artistic expertise, and clear vision were seamlessly integrated in order for him to obtain and realize this stellar new permanent artwork commission.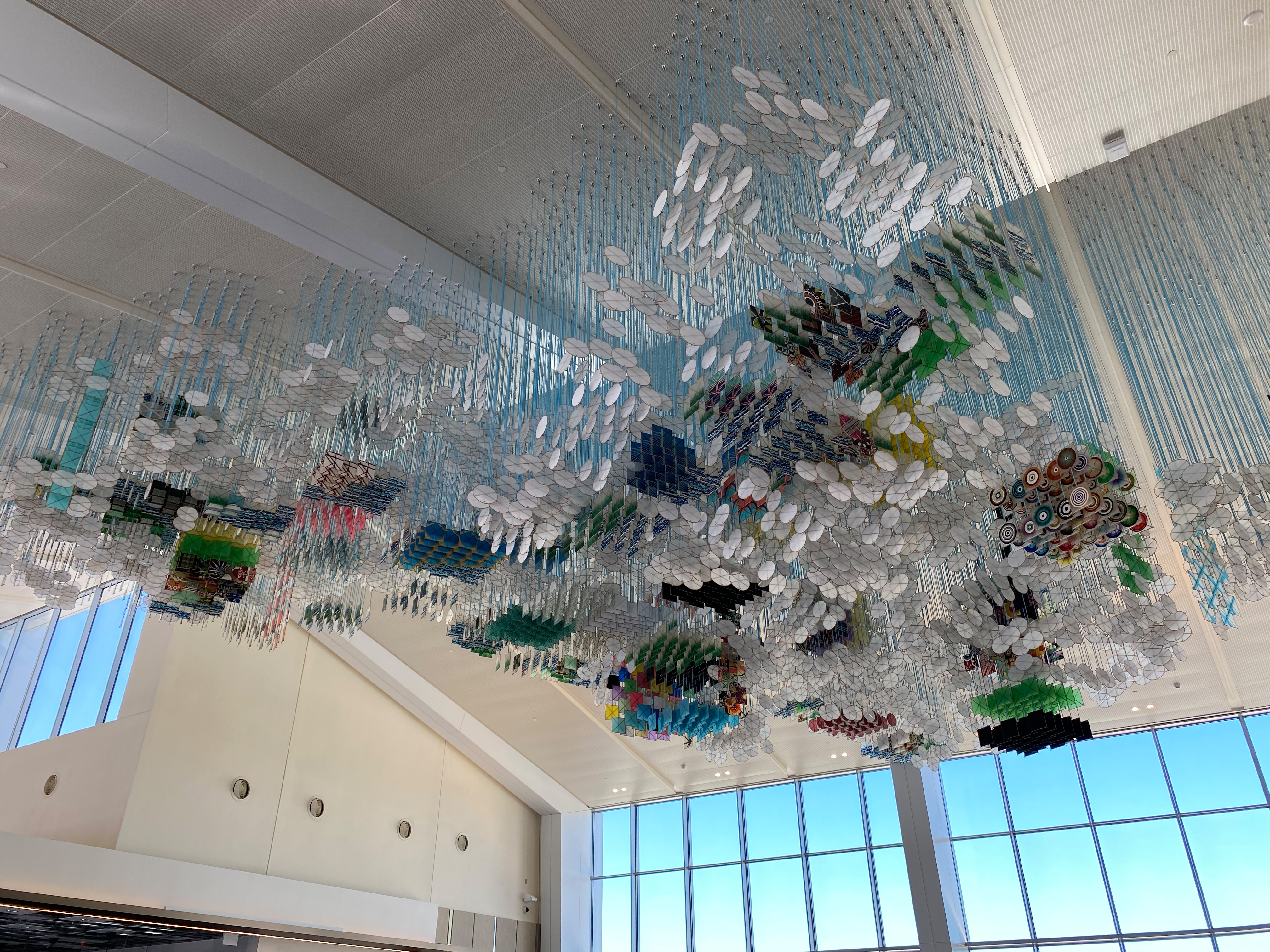 The Port of Portland and the PDX Art Program partnered with the Regional Arts & Culture Council (RACC) to select Jacob Hashimoto for this stunning project. To oversee the selection process and identify an artist, RACC published an open call to artists combined with targeted efforts and outreach to artists from underrepresented communities. The open call generated a total of 283 qualified applications. 
With RACC's help and the combined expertise of the Port's Permanent Art Jury Committee, a total of four artists were selected as finalists for the formal interview process. In the interviews, the individual artists/artist teams discussed their existing work and practices and then proposed new approaches and diverse solutions for a permanent large-scale suspended installation project at PDX.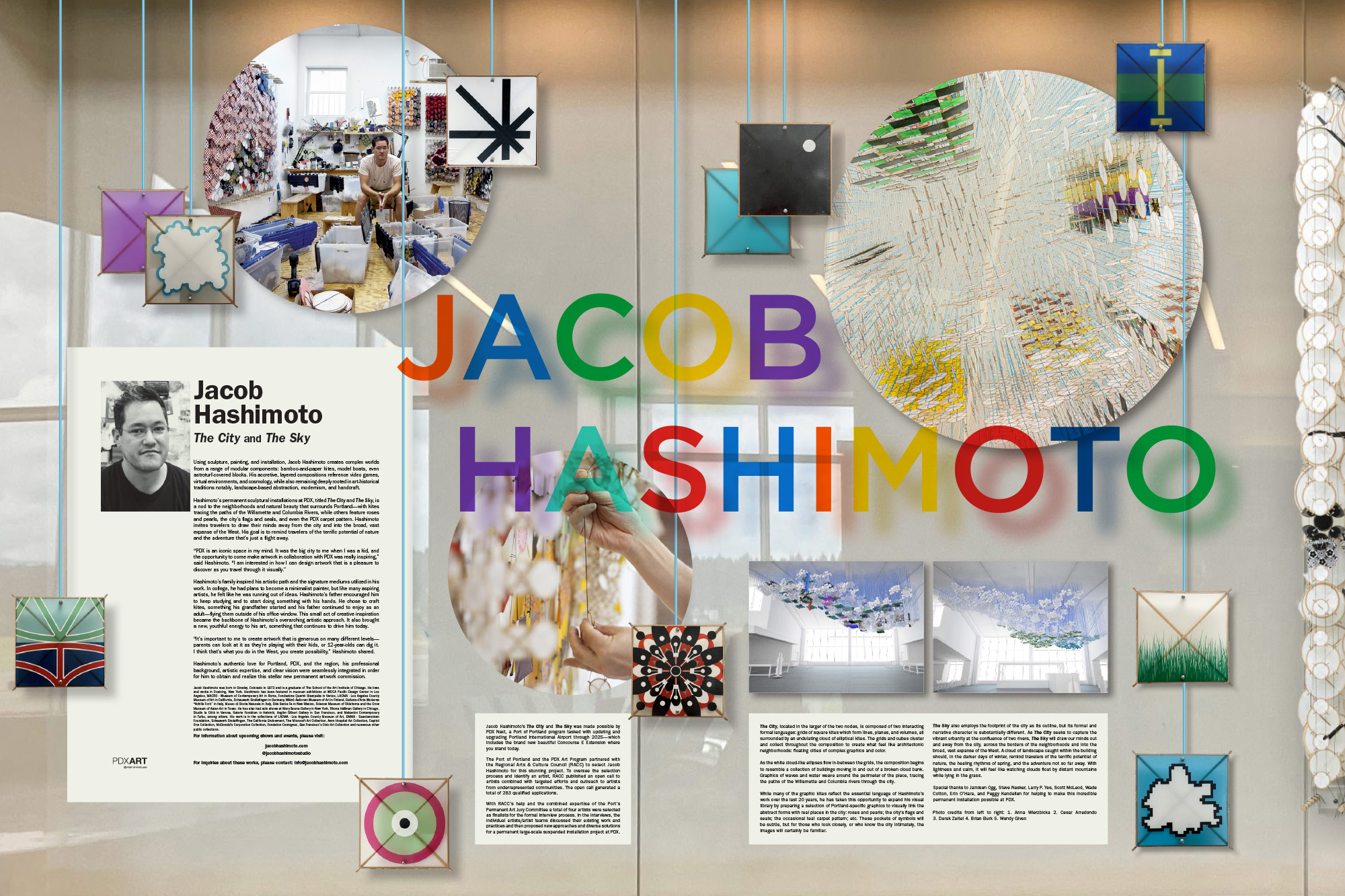 The City, located in the larger of the two nodes, is composed of two interacting formal languages: grids of square kites that form lines, planes, and volumes, all surrounded by an undulating cloud of elliptical kites. The grids and cubes cluster and collect throughout the composition to create what feels like architectonic neighborhoods: floating cities of complex graphics and color.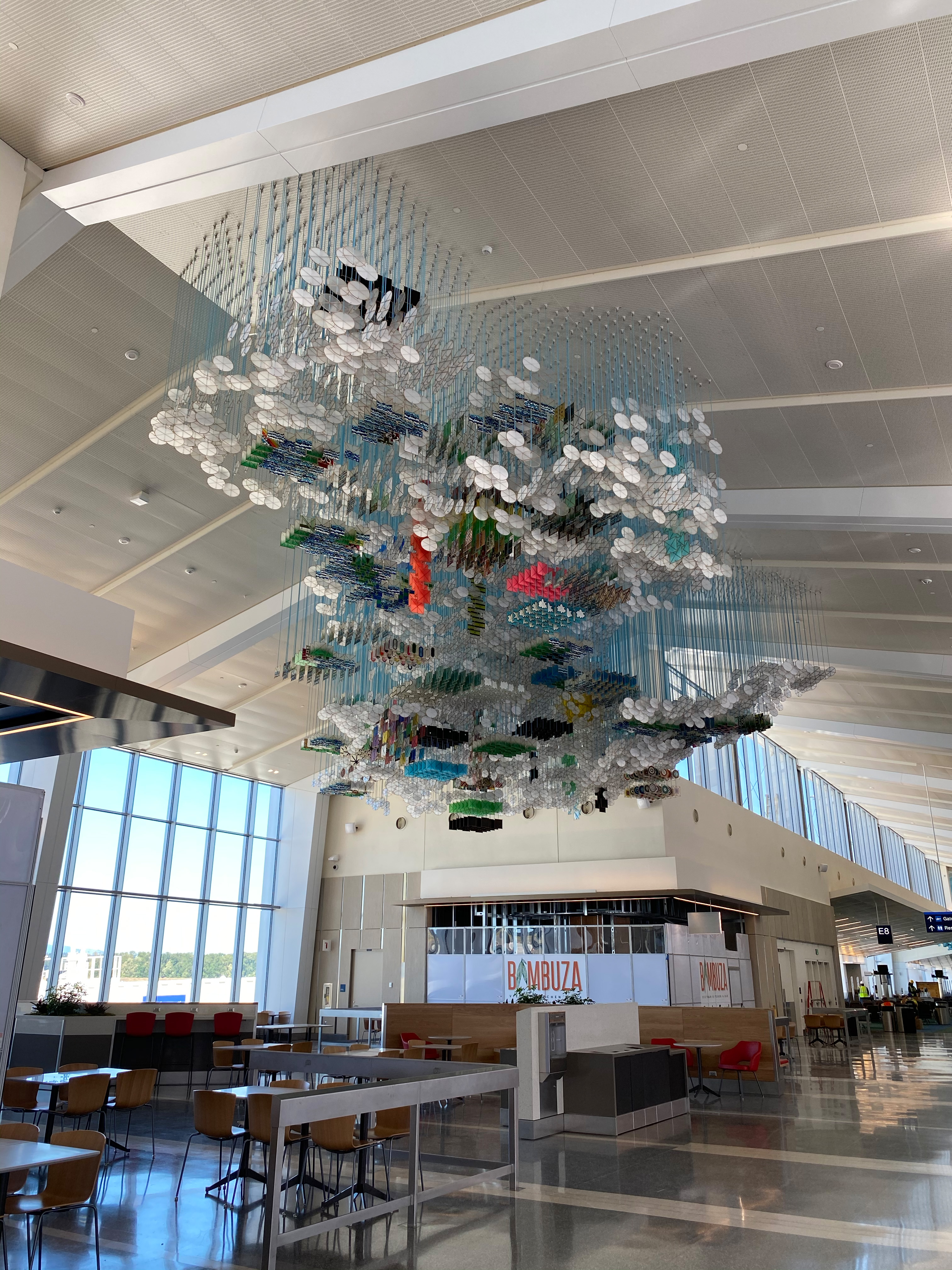 As the white cloud-like ellipses flow in-between the grids, the composition begins to resemble a collection of buildings moving in and out of a broken cloud bank. Graphics of waves and water weave around the perimeter of the piece, tracing the paths of the Willamette and Columbia rivers through the city.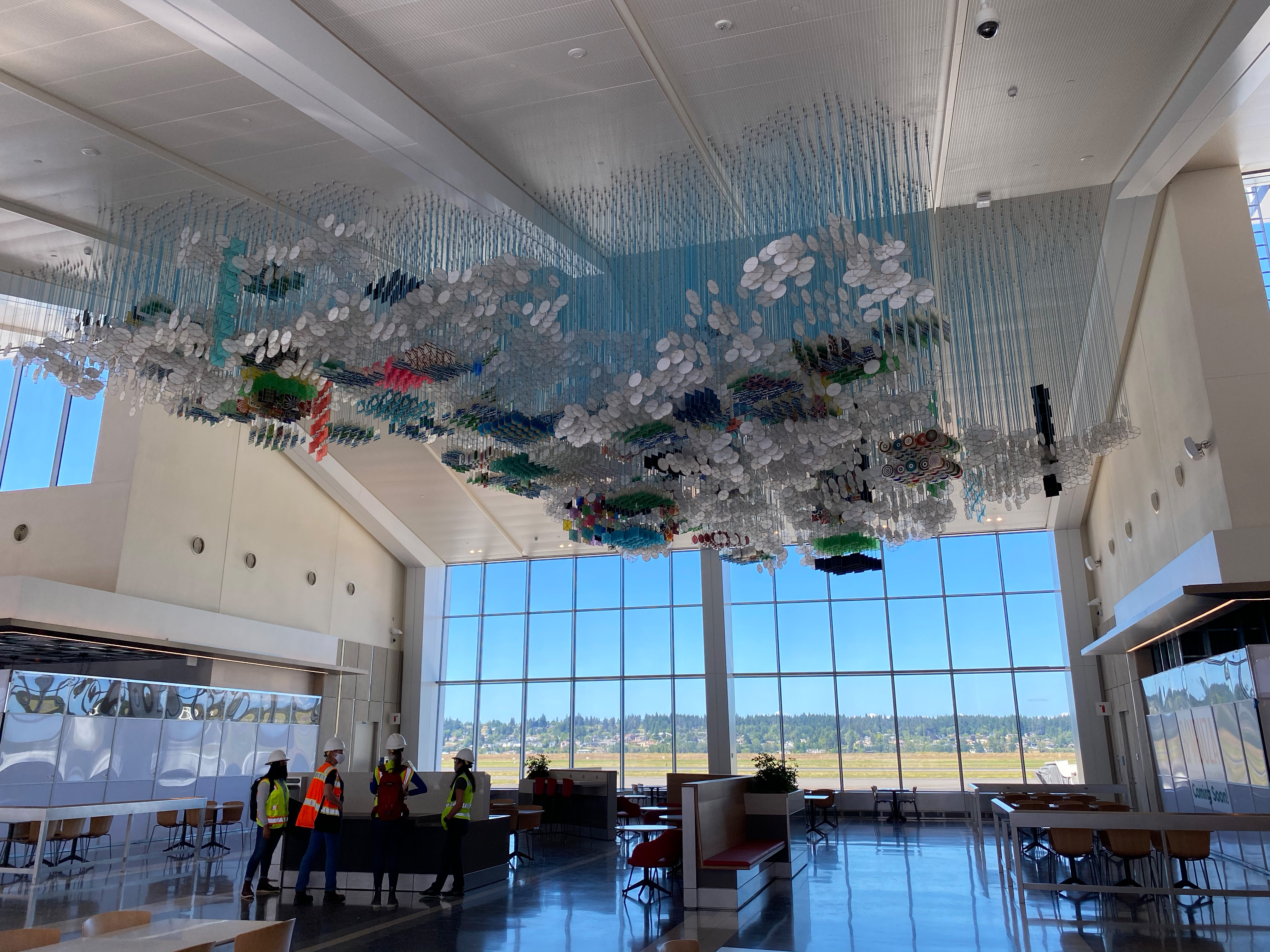 While many of the graphic kites reflect the essential language of Hashimoto's work over the last 20 years, he has taken this opportunity to expand his visual library by preparing a selection of Portland-specific graphics to visually link the abstract forms with real places in the city: roses and pearls; the city's flags and seals; the occasional teal carpet pattern; etc. These pockets of symbols will be subtle, but for those who look closely, or who know the city intimately, the images will certainly be familiar.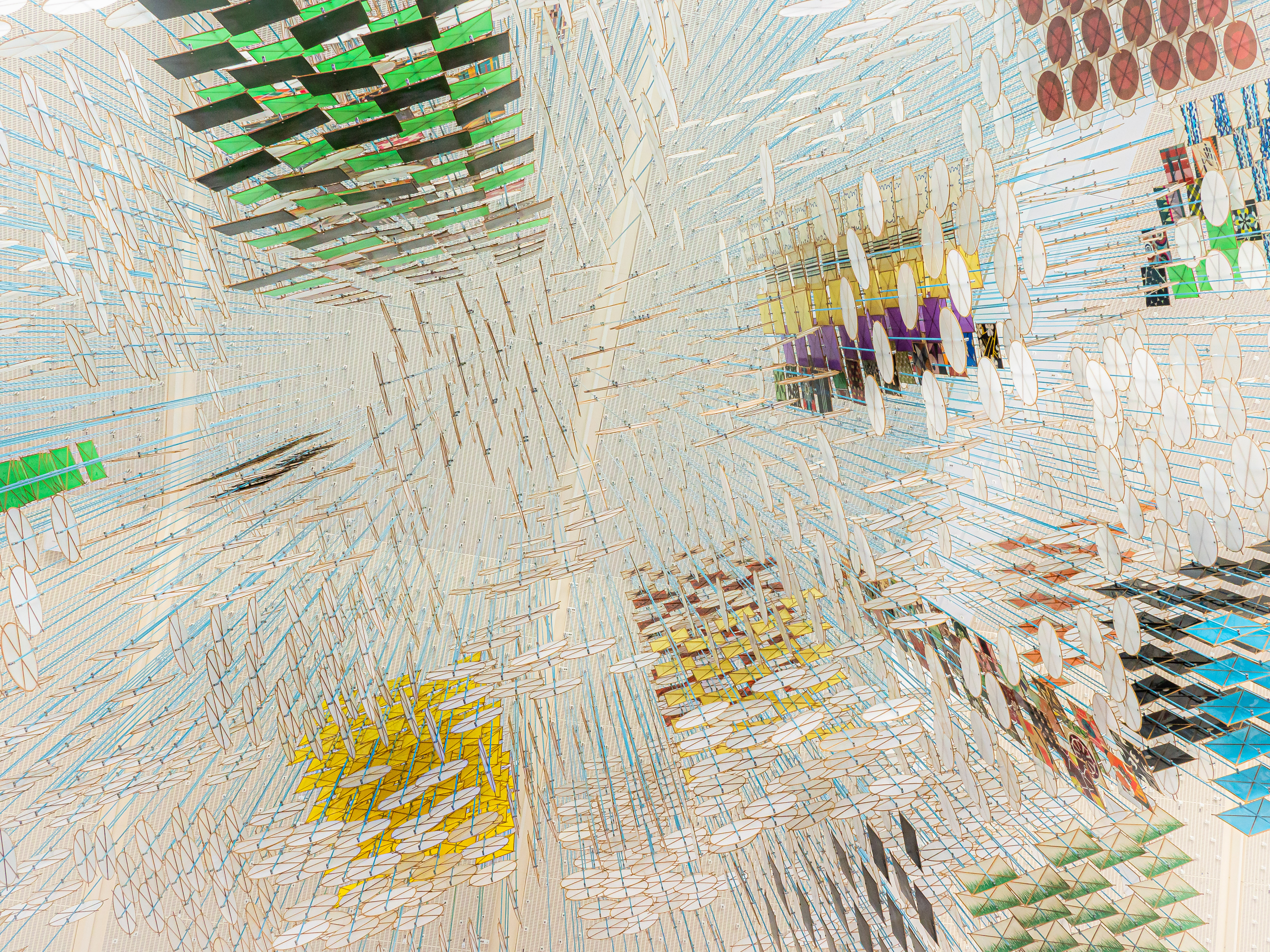 The Sky also employs the footprint of the city as its outline, but its formal and narrative character is substantially different. As The City seeks to capture the vibrant urbanity at the confluence of two rivers, The Sky will draw our minds out and away from the city, across the borders of the neighborhoods and into the broad, vast expanse of the West. A cloud of landscape caught within the building should, in the darker days of winter, remind travelers of the terrific potential of nature, the healing rhythms of spring, and the adventure not so far away. With lightness and calm, it will feel like watching clouds float by distant mountains while lying in the grass.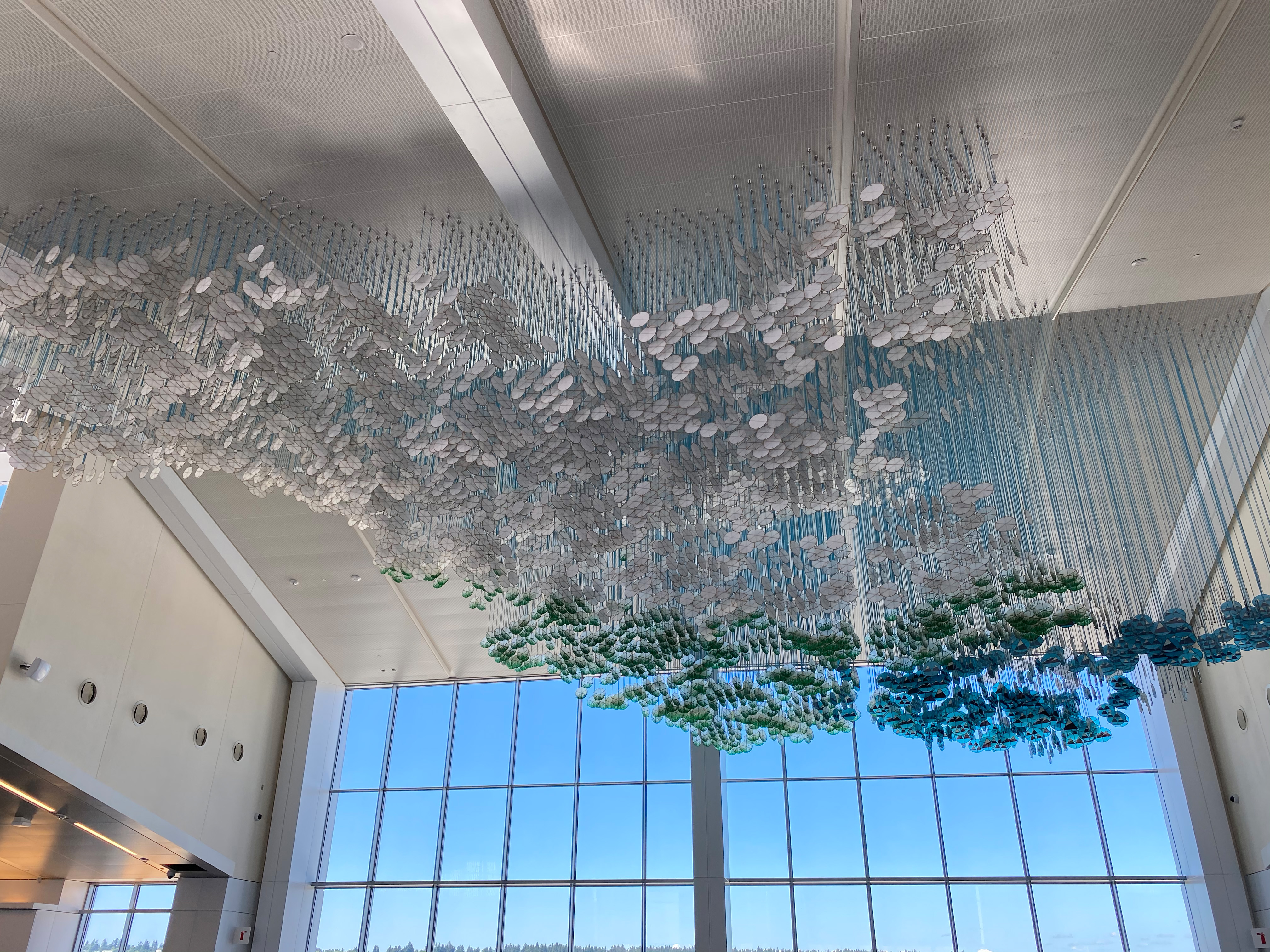 Each kite is handmade from bamboo and resin, many with graphics printed on their front. The kites vary in size and shape, including 7 x 9-inch ellipses and 8 x 8-inch squares. The kites hang from rod and fitting assemblies which connect to the ceiling panels' surface above. By subtly shifting the rods' lengths and adjusting the kites' locations on the rods, the kites appear to flow, cluster, and undulate through the space.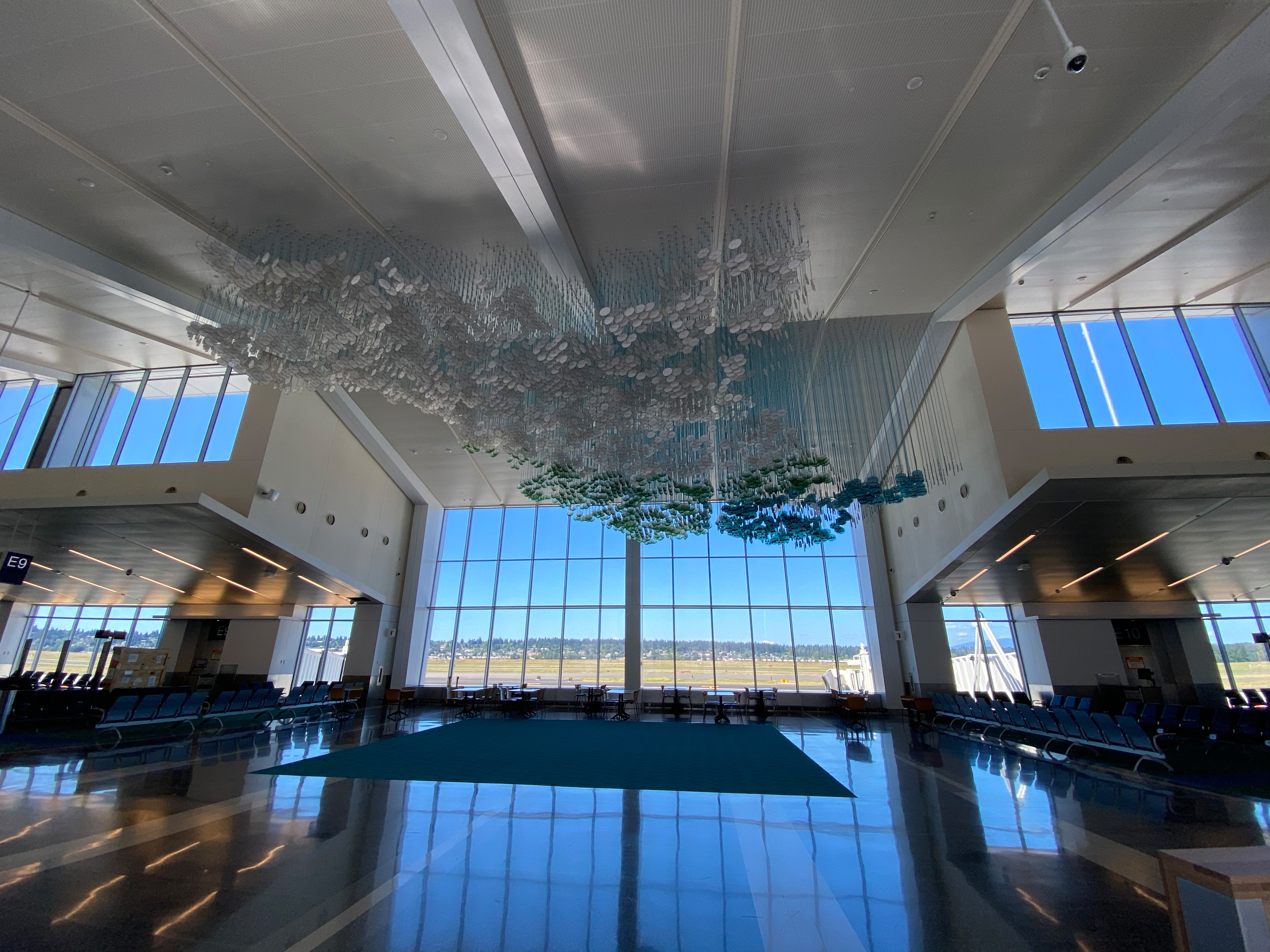 The majority of the individual pieces are composed of white and translucent-white kites. Many graphics are printed with UV cured ink on Asuka paper. Some are screen-printed with acrylic onto that same paper. The paper is embedded into a resin, creating a stained glass-like disc that allows light to filter through. The installations are comprised of approximately 11,000 kites total.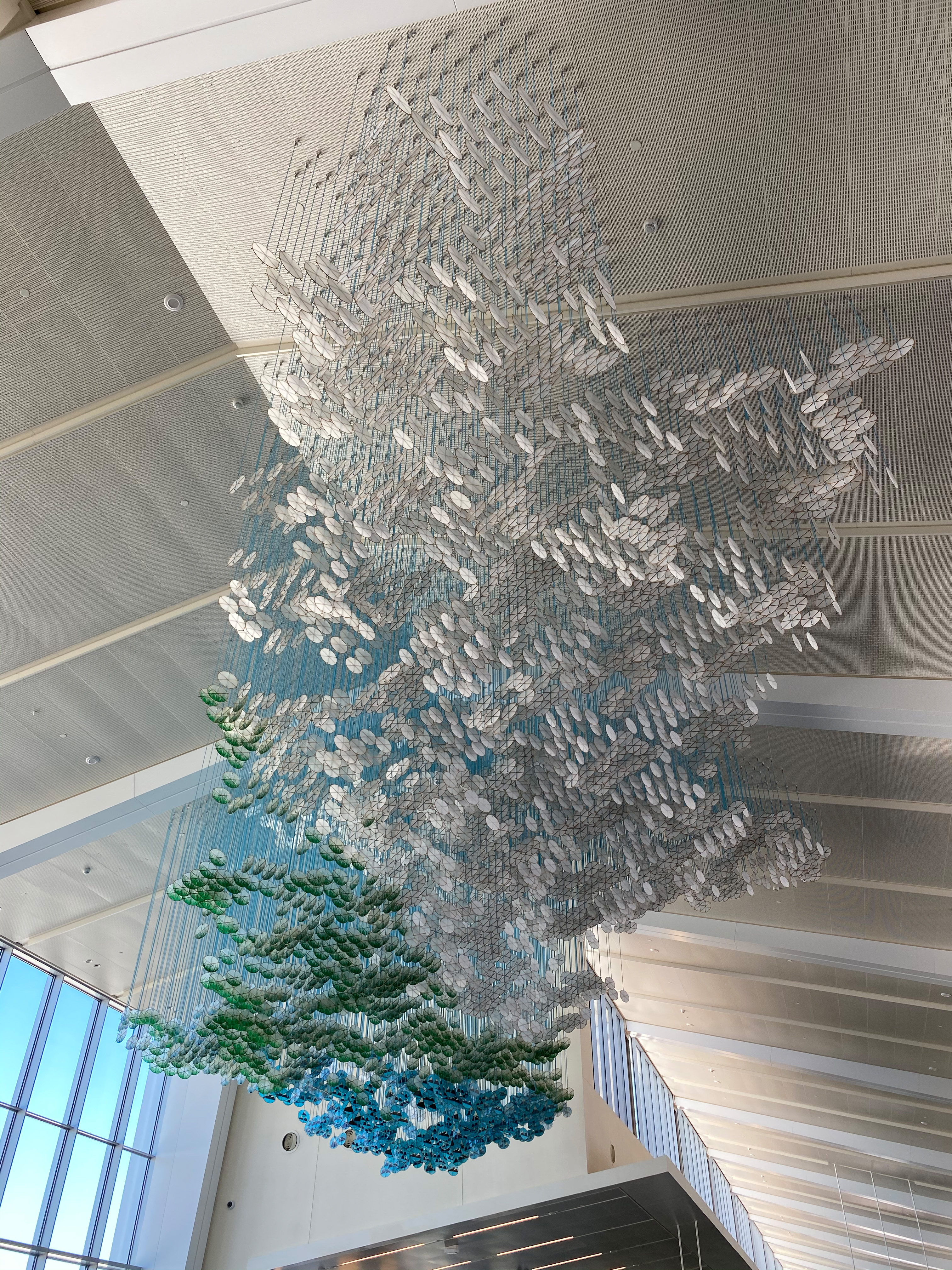 Jacob Hashimoto's The City and The Sky was made possible by PDXNext, a Port of Portland program tasked with updating and upgrading Portland International Airport through 2025—which includes the brand new beautiful Concourse E Extension. 
Jacob Hashimoto was born in Greeley, Colorado in 1973 and is a graduate of The School of the Art Institute of Chicago. He lives and works in Ossining, New York. Hashimoto has been featured in museum exhibitions at MOCA Pacific Design Center in Los Angeles, MACRO – Museum of Contemporary Art in Rome, Fondazione Querini Stampalia in Venice, LACMA – Los Angeles County Museum of Art in California, Schauwerk Sindlefingen in Germany, Wäinö Aaltonen Museum of Art in Finland, Galleria d'Arte Moderna "Achille Forti" in Italy, Museo di Storia Naturale in Italy, Site Santa Fe in New Mexico, Science Museum of Oklahoma and the Crow Museum of Asian Art in Texas. He has also had solo shows at Mary Boone Gallery in New York, Rhona Hoffman Gallery in Chicago, Studio la Città in Verona, Galerie Forsblom in Helsinki, Anglim Gilbert Gallery in San Francisco, and Makasiini Contemporary in Turku, among others. His work is in the collections of LACMA – Los Angeles County Museum of Art, EMMA – Saastamoinen Foundation, Schauwerk Sindelfingen, The California Endowment, The Microsoft Art Collection, Avon Hospital Art Collection, Capital One Collection, McDonald's Corporation Collection, Fondation Carmignac, San Francisco's Civic Art Collection, and numerous other public collections.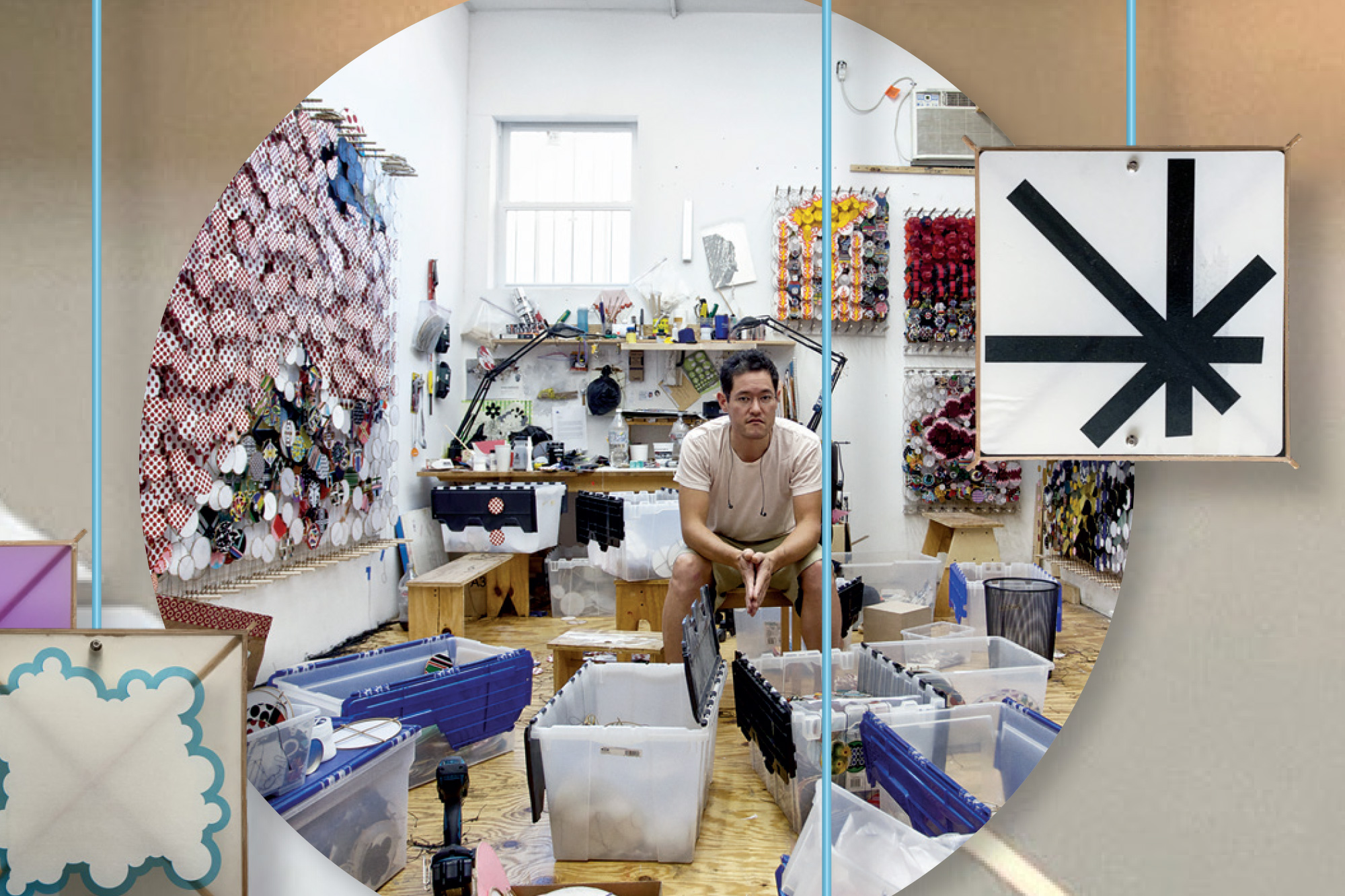 Special thanks to Jamisen Ogg, Steve Nasker, Larry P. Yes, Scott McLeod, Wade Cotton, Erin O'Hara, and Peggy Kendellen for helping to make this incredible permanent installation possible at PDX. 
For information about upcoming shows and events, please visit:
Instagram: @jacobhashimotostudio
For inquiries about these works, please contact: info@jacobhashimoto.com