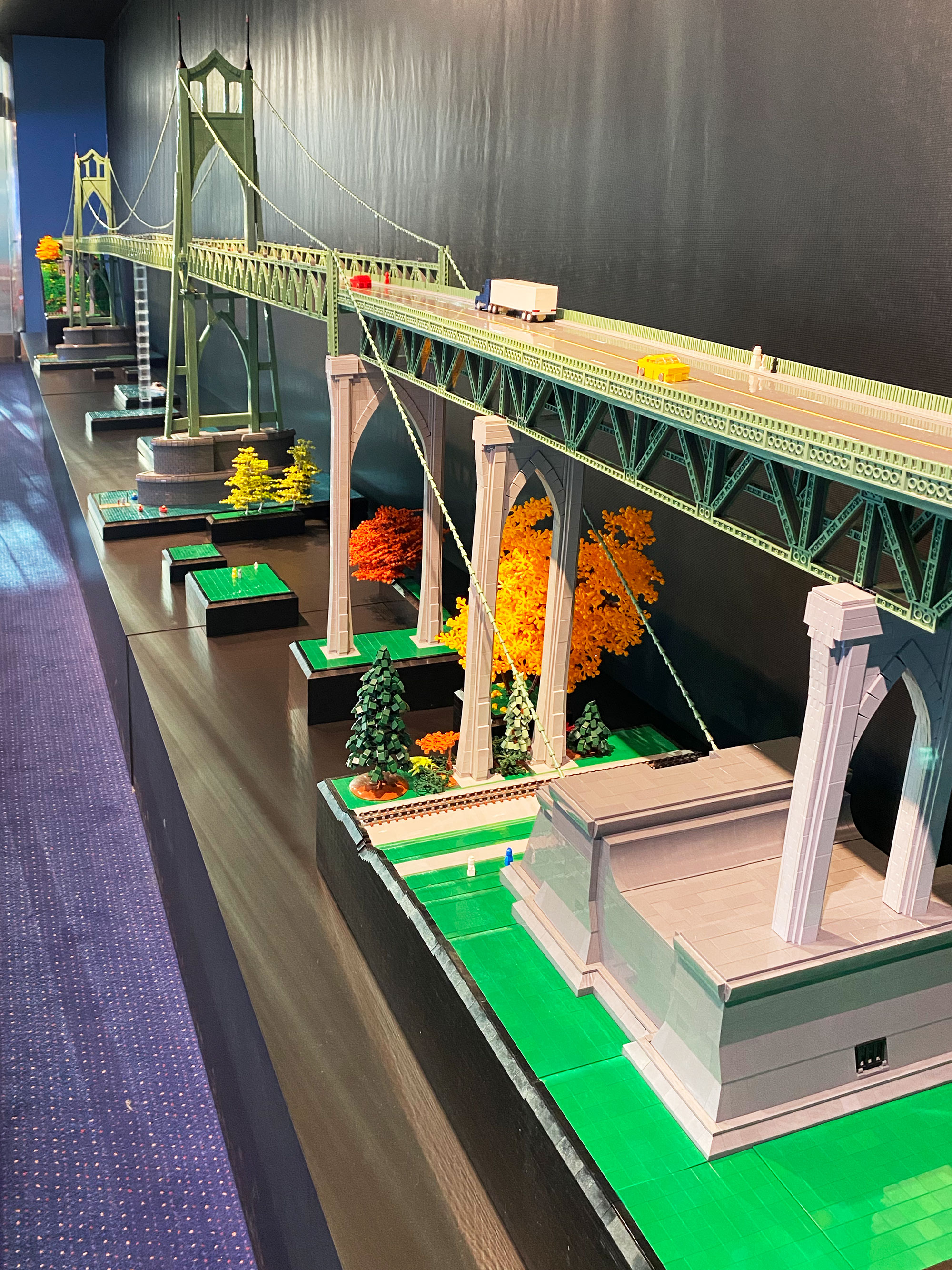 A very impressive LEGO scale replica of Portland's St. Johns Bridge is currently on view through August 2021 post-security within the Concourse DE display case for the PDX Rotating Art Program. Constructed by local LEGO artist Erik Mattson, this masterpiece is made up of approximately 120,000 LEGO elements and is 4 feet tall x 2 feet wide x 32 feet long. The LEGO suspension bridge sculpture is built to scale with one LEGO "Stud" equaling 1 foot.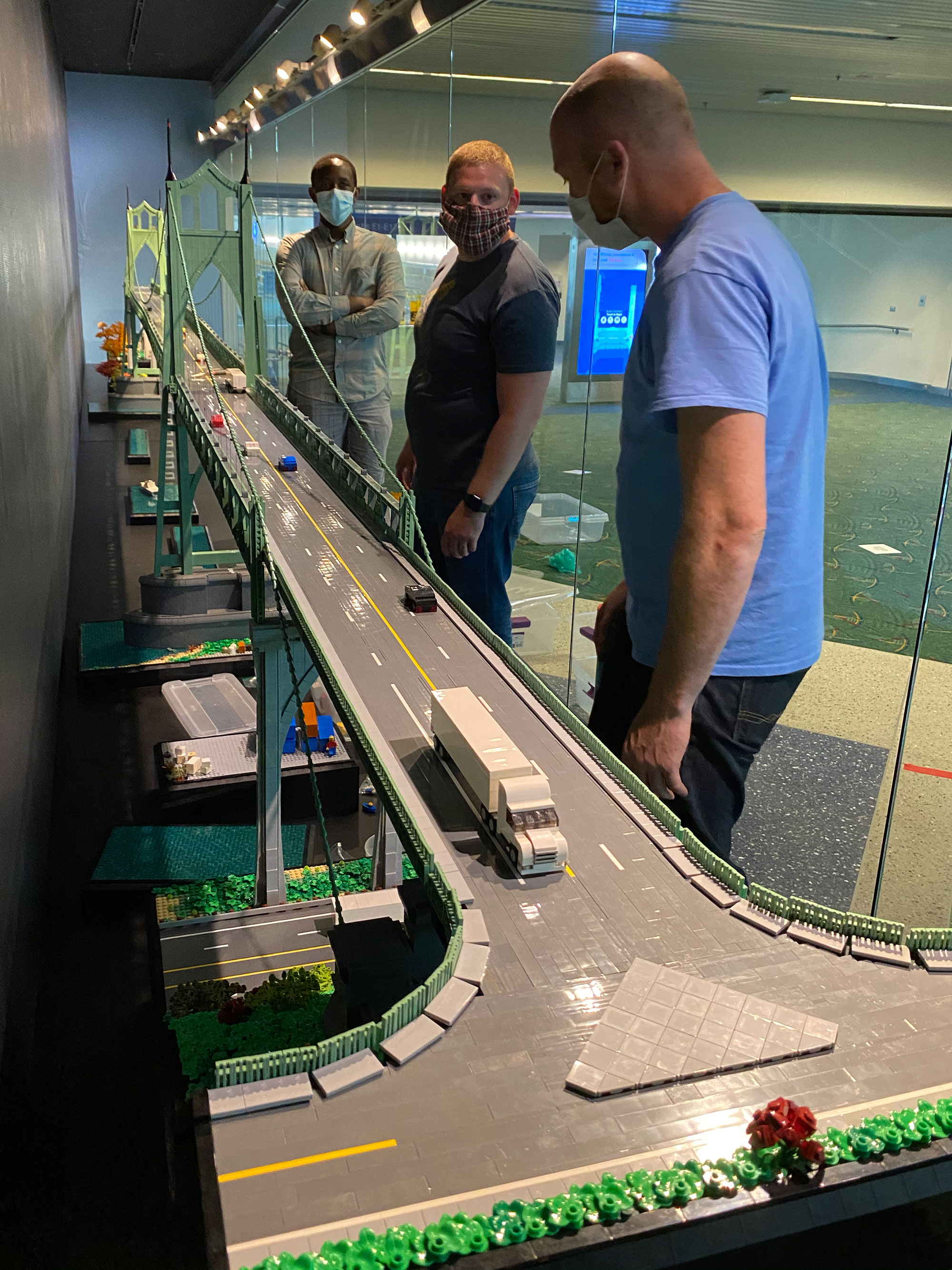 The bridge sculpture was in its planning stages for several years while the individual LEGO elements were being sourced. The actual building process of the LEGO bridge took approximately one year to complete and is built entirely from LEGO components except for the fishing line that was used for the bridge's suspension.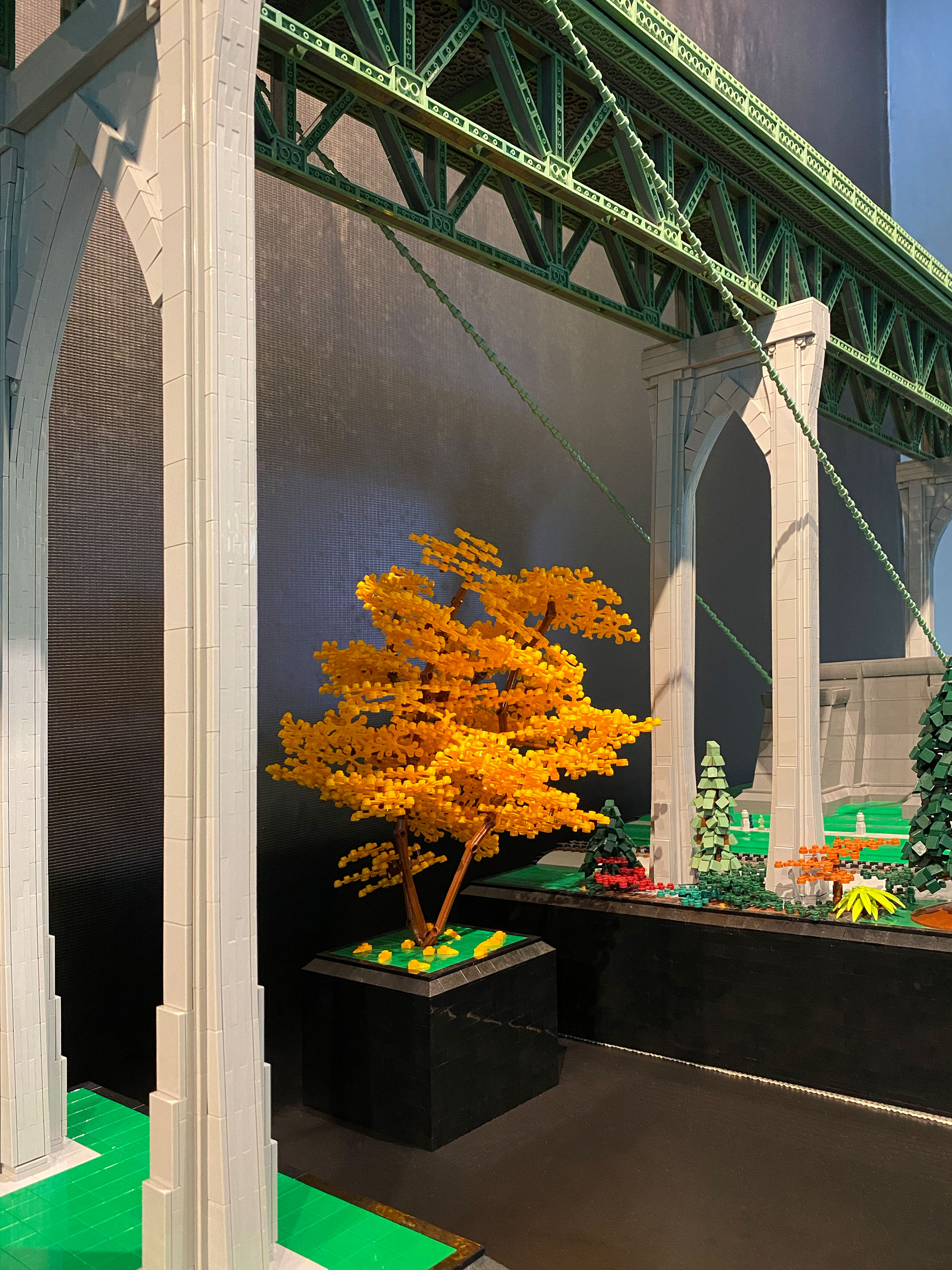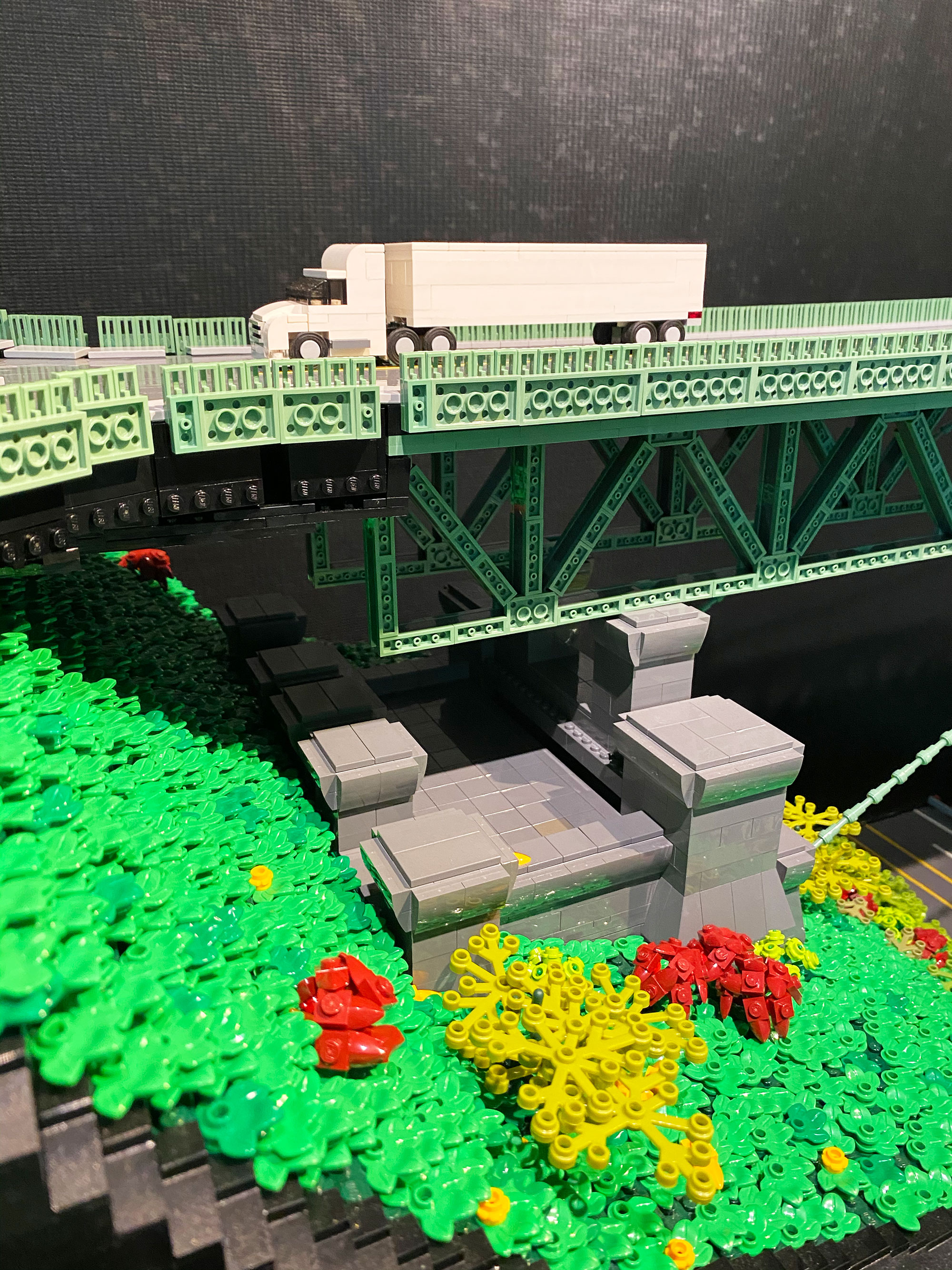 The actual St. Johns Bridge is a steel suspension bridge that spans the Willamette River in Portland, Oregon, between the Cathedral Park neighborhood in North Portland and the Linnton and Northwest Industrial neighborhoods in Northwest Portland. It carries the U.S. Route 30 Bypass and is the only major highway suspension bridge in the Willamette Valley and one of three public highway suspension bridges in Oregon. Designed by internationally renowned engineer David B. Steinman (1886–1960) and Holton D. Robinson, of New York, the St. Johns was the longest suspension-type bridge west of the Mississippi River at the time of construction. The bridge has a 1,207-foot (368 m) center span and a total length of 2,067 feet (630 m). It is the tallest bridge in Portland, with two 400-foot-tall (120 m) towers and a 205-foot (62 m) navigational clearance. The adjacent park and neighborhood of Cathedral Park are named after the Gothic Cathedral-like appearance of the bridge towers.
St. Johns Bridge photo by Sean Valentine from Pexels
Grownup Lego builders are known as AFoLs (Adult Fans of LEGOS) and their creations are called MoCs (My Own Creations). AFoLs typically spend months, if not a full year or more, working on their MoCs meticulously designing and building true works of art that can be enjoyed and appreciated by all ages.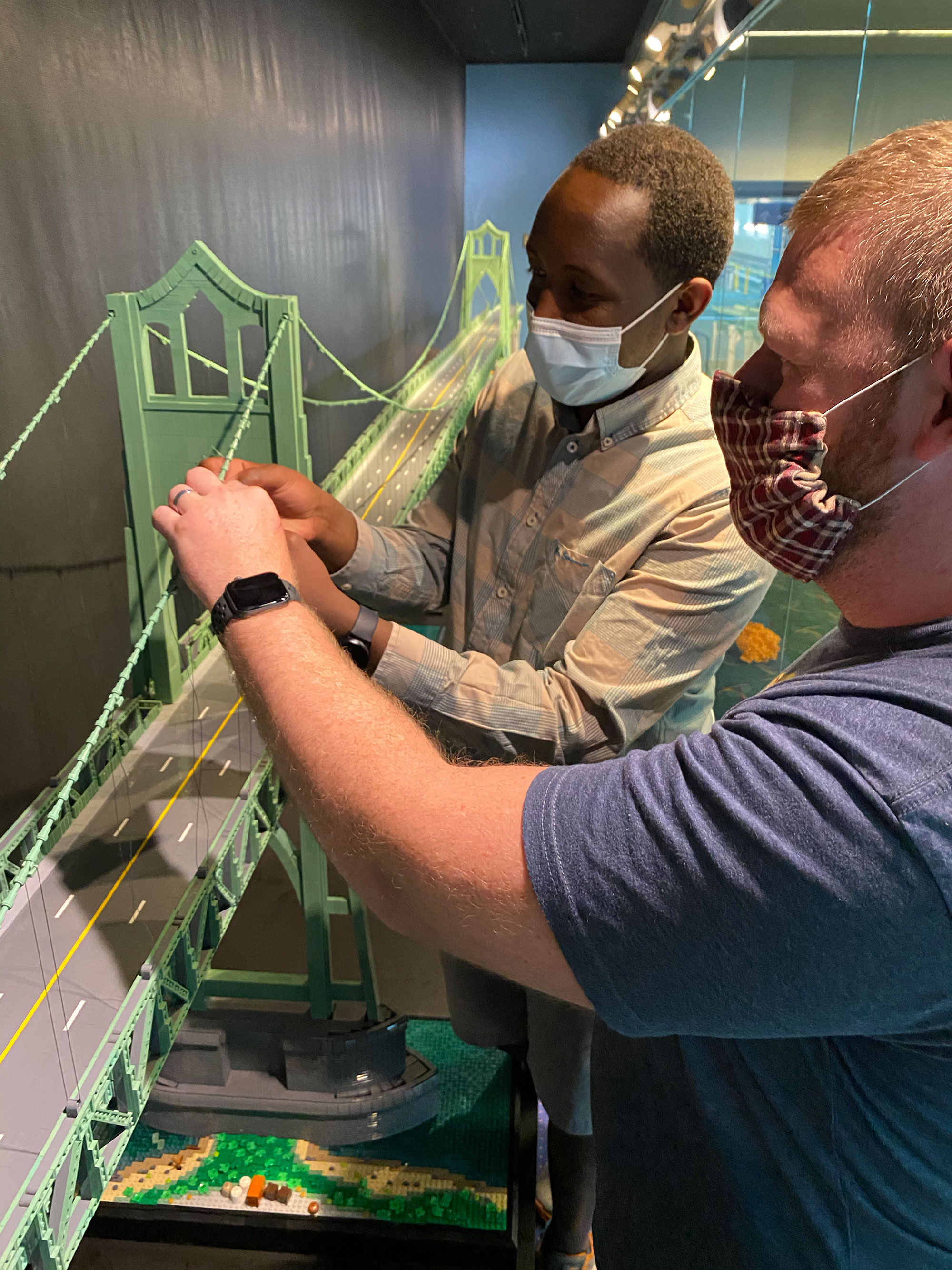 Special thanks to Ignace Mugabo and Devin Montgomery from KPFF Consulting Engineers pictured above as well as Gwen Montgomery from Murraysmith for their engineering expertise and helping hands.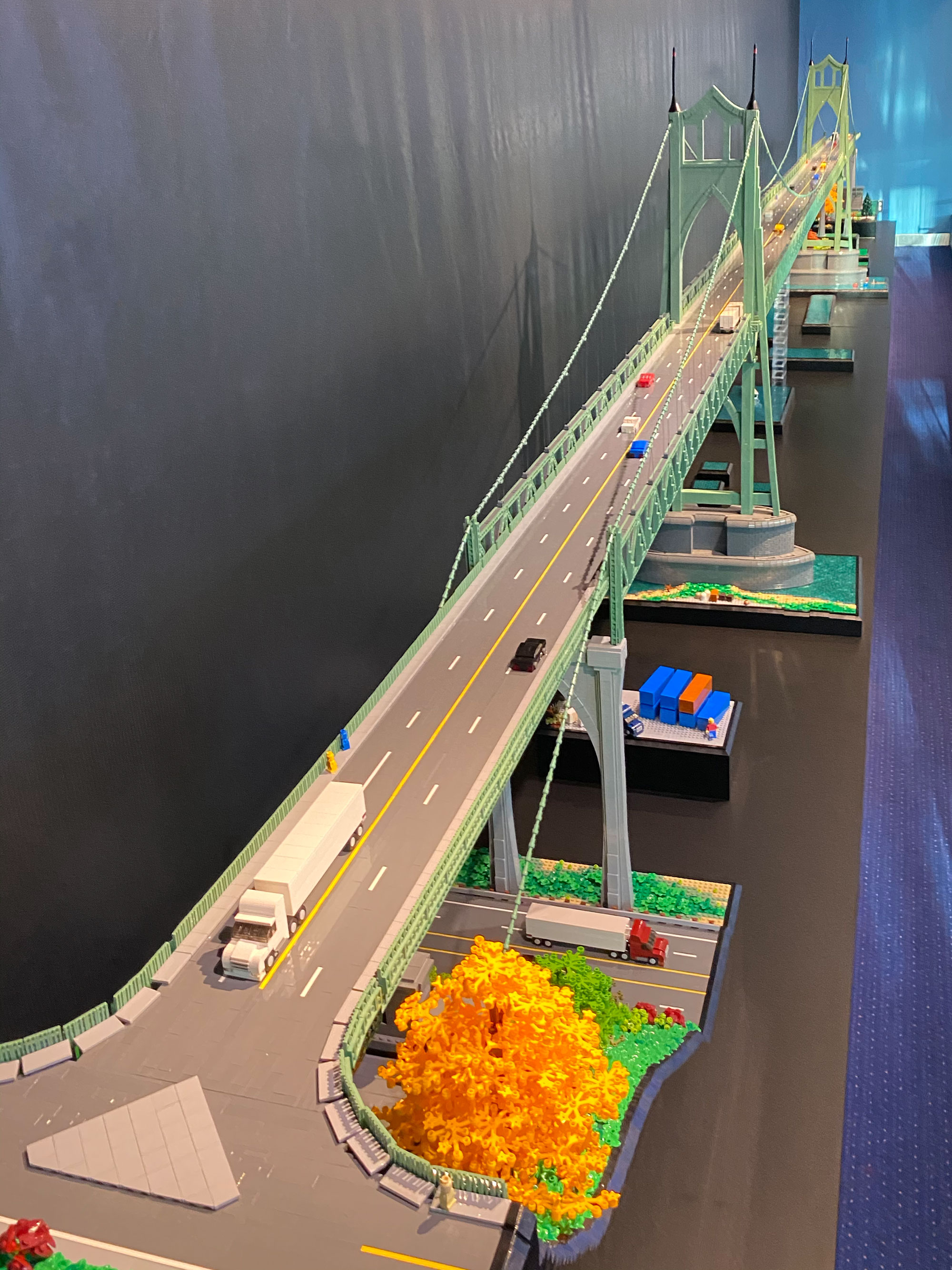 For inquiries about the LEGO St. Johns Bridge, please contact Erik Mattson:
emattson74@yahoo.com