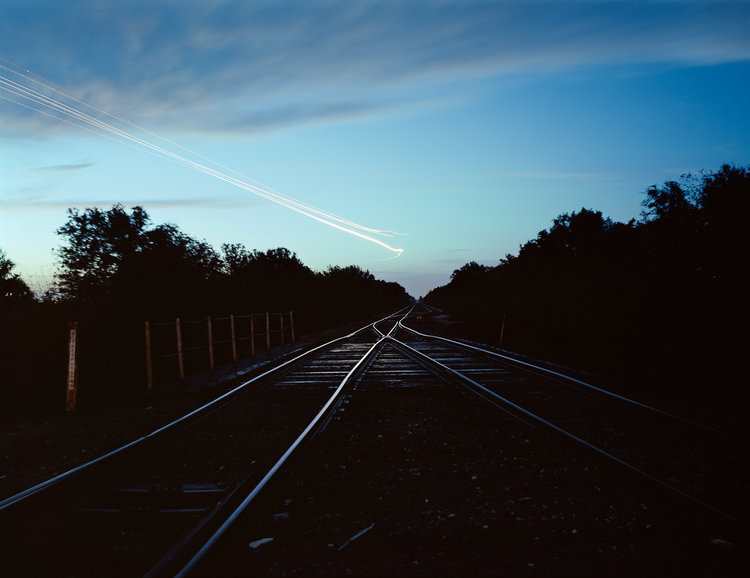 The PDX Art Program is honored to present a spectacular selection of ten large scale photographs by renowned international contemporary artist Kevin Cooley. Located pre-security in the International Arrivals area of North Baggage Claim, Cooley's series titled Nachtfluge (German for night flight) depicts long exposure photography of the light trails made by commercial aircraft in the dark skies of nighttime. Cooley's exhibition will be on view through November 4th of 2018.
  Kevin Cooley, Takeoffs LaGuardia Runway 4, 2009, 30 x 40 inches framed
By capturing the paths of airplanes traversing the nighttime skies, Nachtfluge investigates relationships between motion, distance, and time. Several minutes, sometimes even hours, may add up to construct a single image. The white streaks, created from airplane landing and navigation lights, mark the time it takes each flight to pass through the frame.
  Kevin Cooley, Takeoffs JFK Runway 13R, 2006, 30 x 40 inches framed
In photographing from residential, and marginal areas immediately surrounding large commercial airports, the photographs reveal a sense of grace, solitude, and tranquility in contrast to otherwise hectic airport environments. Gone are the long lines, the anxieties, and even the massive planes themselves, as the images merely allude to their presence. The juxtaposition between landscape and airport reflects upon our desire for escape, aviation's impact on society and the increasingly interconnected world in which we live.
  Kevin Cooley, Nachtfluge exhibition installation documentation at PDX
Kevin Cooley maintains a multidisciplinary art practice that questions systems of knowledge as they relate to our perceptions of the world. Through video, photography, sculpture, and installation, he creates platforms through which to observe experimental and performative gestures in order to decipher our complex, ever-evolving relationship to nature, and how it is increasingly mediated by technology.
  Kevin Cooley, Nachtfluge exhibition installation documentation at PDX
As part of this ambitious project, Cooley also has captured the aircraft light trails in two of videos.
Since 2014, Kevin Cooley has held solo exhibitions at the Catharine Clark Gallery, Disjecta Contemporary Art Center, Kopeikin Gallery, The Museum of Photographic Arts, The Nevada Museum of Art, Pierogi, Nuit Blanche Toronto, Ryan / Lee Gallery, The Savannah College of Art and Design, and Yerba Buena Center for the Arts. His work is featured in prominent public collections including The Guggenheim Museum, Los Angeles County Museum of Art, The Museum of Fine Arts Houston, 21c Museum, The Nelson-Atkins Museum, and The Museum of Photographic Arts, as well as private collections worldwide. Cooley lives and works in Los Angeles.
Please visit Kevin's website at: http://www.kevincooley.net/
For inquiries and additional information please email Kevin Cooley at kc@kevincooley.net.

 Kevin Cooley, Landings LAX Runway 24L, 2006, 40 x 30 inches framed