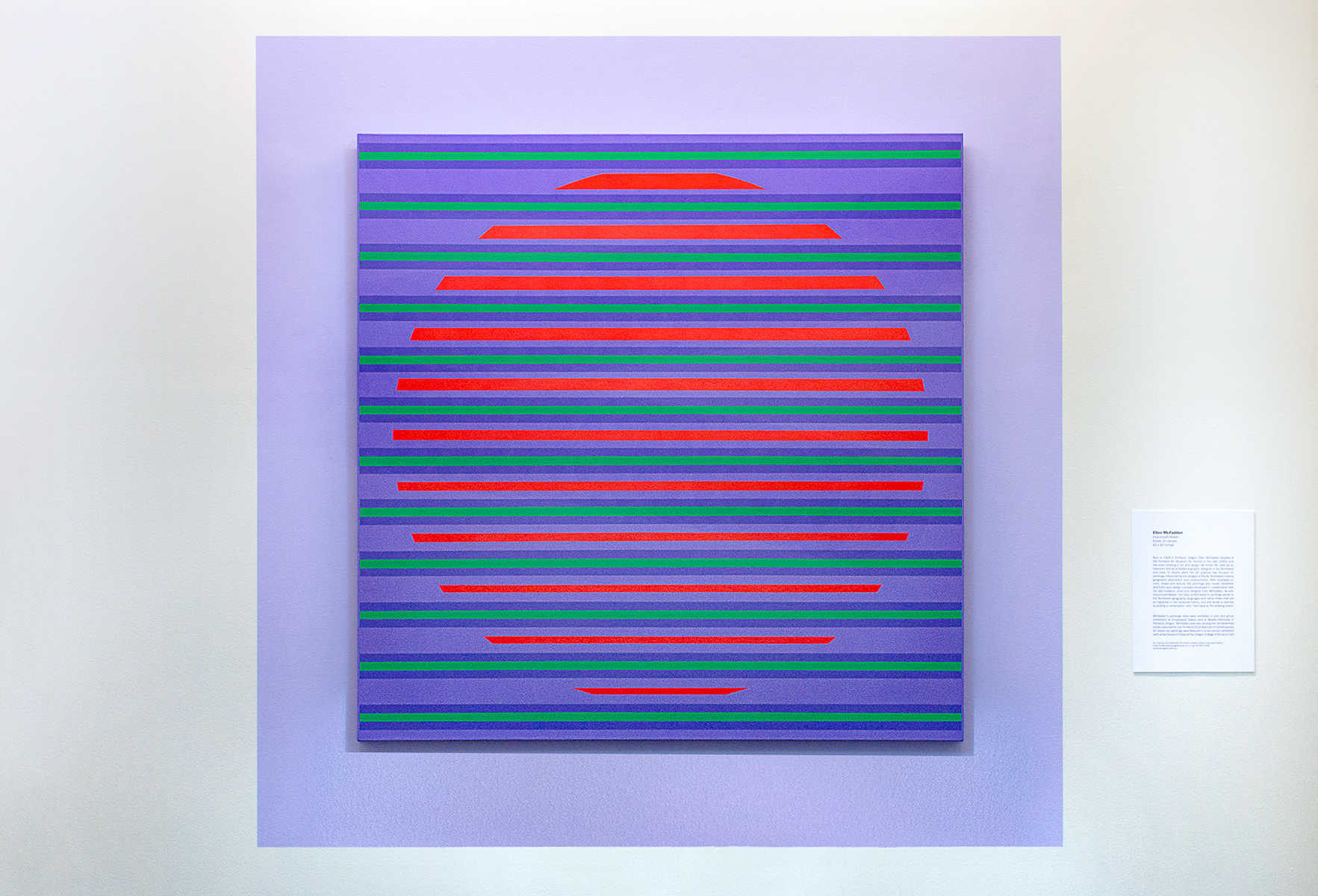 A vibrant new painting by the accomplished Portland, Oregon Fine Artist Ellen McFadden titled Esquimualt-Makah debuted on Friday, February 24th in Baggage Claim. McFadden's striking painting will be on view through February of 2018.
Born in 1928 in Portland, Ellen McFadden studied at the Portland Art Museum Art School in the late 1940s and has been working in art and design her entire life, both as an instructor and as a freelance graphic designer in the Northwest and Iowa. In recent years her art practice has focused on paintings influenced by the designs of Pacific Northwest Indians, geographic abstraction and constructivism.
With emphasis on color, shape and texture, the paintings also revisit, embellish and build upon design concepts developed in collaboration with her late husband, artist and designer Irwin McFadden. As with Esquimualt-Makah, the titles of McFadden's paintings allude to the Northwest geography, languages and native tribes that are so ingrained in her personal history, one she tends to dismiss by ending a conversation with "now back to the drawing board."
McFadden's paintings have been exhibited in solo and group exhibitions at Ampersand Gallery and at Wieden+Kennedy in Portland, Oregon. McFadden was also among the 34 esteemed artists selected for the Portland 2016 Biennial of Contemporary Art where her paintings were featured in a two person exhibition (with artist Howard Fonda) at the Oregon College of Art and Craft.
Image: Ellen McFadden, Esquimualt-Makah, Acrylic on canvas, 60 x 60 inches
For inquiries and additional information, please contact Ampersand Gallery in Portland, Oregon.
Email: info@ampersandgallerypdx.com or call 503.805.5458