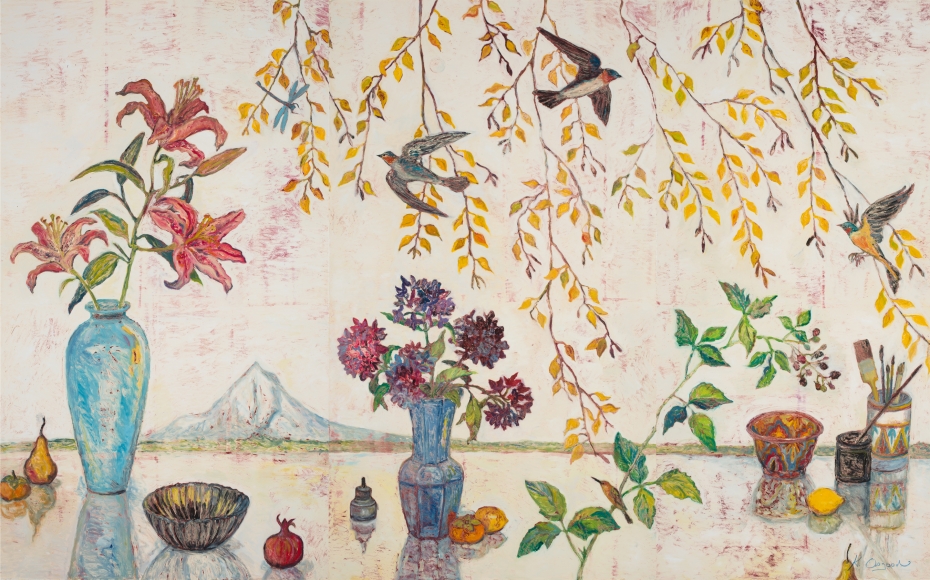 The PDX Art Program is pleased to present a truly unique and masterful monotype by Portland artist Kim Osgood, now on view pre-security within North Baggage Claim through September of 2019. Aptly titled Embracing Earth and Sky, this large-scale evocative print embodies and celebrates the iconic geography, flora, and fauna of Portland, Oregon and the surrounding bountiful Pacific Northwest region.
Embracing Earth and Sky ties together elements of fall-lilies and yellow birch leaves, and pomegranates, persimmon, and late season blackberries, along with little pieces of my daily life, including paint brushes and the view of Mt Hood from my neighborhood. They are icons that fill my work and my life. An icon is a visual form of prayer that seeks to inform us about the spiritual world. For me, painting is an act of prayer and meditation; everything is connected with the source of all life. Trees with their branches reaching towards the sky and roots deep in the earth are links between the earth and heaven.
I work both in monotype printmaking and painting. Monotype printmaking is a process of painting followed by rolling layers of ink onto plexiglass to create an image, which is then run through a press to transfer the image to paper. It can only be printed once to create a one-of-a-kind image. My paintings are begun directly from life—working on panel and paper outdoors surrounded by rhododendrons, oxalis, maidenhair ferns, and other native plants. In the reverse of monotype printmaking, I begin with paper coated with layers of color. Through the act of depicting nature, I become aware of a harmonious connection to the wholeness of life. This is the sensation that I hope to transmit to the viewer. I intend in my work to paint the world that I want to live in, a world filled with harmony, abundance, and joy for all. —Kim Osgood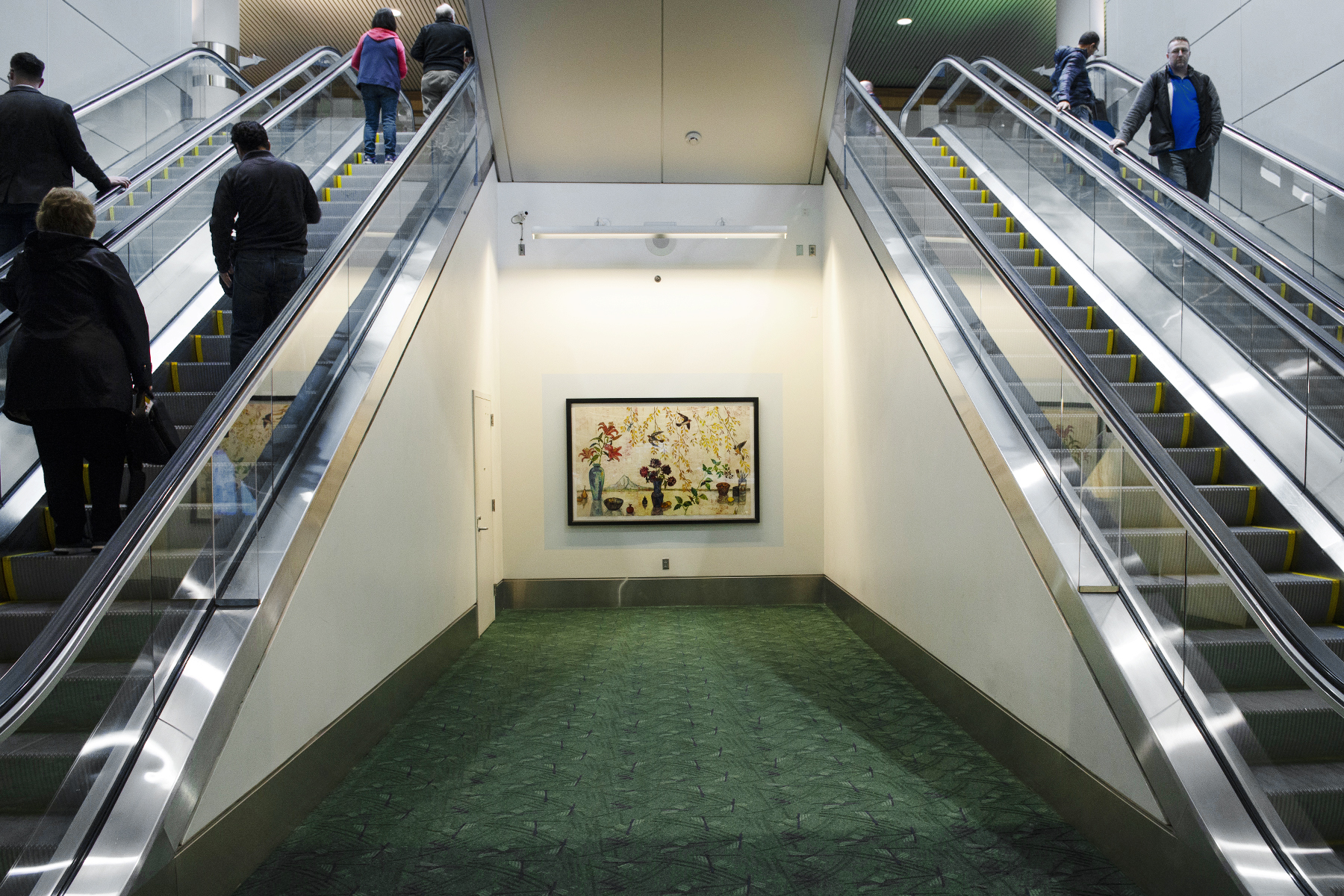 Kim Osgood has exhibited her artwork since the mid-1980s. Osgood's work has been part of exhibitions including the Oregon Biennial, Portland Art Museum; PICA; PVCA; Washington State University, Pullman; and Coos Art Museum, Coos Bay, Oregon. She studied at Skidmore College in Saratoga Springs, New York and the Rhode Island School of Design.
Osgood's artwork is part of numerous collections including the Bill and Melinda Gates Foundation in Seattle, Washington; Nordstrom Inc.(in multiple states); Legacy Emanuel Hospital in Portland, Oregon; Meyer Memorial Trust in Portland, Oregon; MOMO International in New York; Oregon History Center in Portland; Portland Art Museum in Oregon; and the Jordan Schnitzer Museum of Art.
Kim Osgood's latest local exhibition titled Tree Lessons  opens Thursday, April 4th and will be on view through Monday, April 29th, 2019 at the Russo Lee Gallery in Portland.
Instagram: @kimosgoodart
For inquiries and additional information please contact the Russo Lee Gallery:
gallery@russoleegallery.com or tel.503-226-2754
Kim Osgood, Embracing Earth and Sky, 2016, Monotype, 51.5 x 78 inches framed